Micheál Martin has held his first face-to-face meeting with British Prime Minister Boris Johnson since becoming Taoiseach during a visit to Northern Ireland.
The Taoiseach and the British Prime Minister discussed the fight against coronavirus and work on a sustainable economic recovery, as well as the UK's post-Brexit trade negotiations with the EU.
Mr Martin said he had a very warm and engaging meeting with Mr Johnson.
He said they discussed the resumption of the institutions in Northern Ireland, sharing the island in a way that respects the Good Friday Agreement.
Mr Martin said there was a good focus on the British-Irish relationship in the context of Brexit and they agreed to create new structures around the relationship to be ready post-Brexit.
Micheál Martin says he and Boris Johnson agreed to work on new structures for the British-Irish relationship post-Brexit. | Read: https://t.co/0xaERlnJCG pic.twitter.com/kul5dv52Y3

— RTÉ News (@rtenews) August 13, 2020
Mr Martin said that work has to get under way to fine tune the new post-Brexit structures.
He said when the UK was a member of the EU it was easy for relationships to be formed and there was regular contact between ministers and officials.
However, the Taoiseach said that they now need to form a new relationship.
He said there is a shared understanding that they do not need another shock to the economic system and that is what a no-deal Brexit would bring so a free trade agreement would be best for all concerned.
He also believes the British government is seeking such an outcome.
The Taoiseach said they agreed to set to work on these new structures immediately and described it as an important development.
We need your consent to load this rte-player contentWe use rte-player to manage extra content that can set cookies on your device and collect data about your activity. Please review their details and accept them to load the content.Manage Preferences
He acknowledged that good work has been done by the Northern Ireland Executive and Assembly and that the British and Irish governments need to work on their commitments to the New Decade, New Approach deal.
In relation to Covid-19, he said it was about sharing observations even though they are not "synergistic" about their approach to travel.
Micheál Martin says he thinks the British Prime Minister understands the issues around travel and Covid-19. He admitted that the approach between the UK and Ireland is not 'synergistic' - but that this is the case between all countries across Europe. | https://t.co/0xaERlnJCG pic.twitter.com/nghQ33jL4D

— RTÉ News (@rtenews) August 13, 2020
On the issue of concluding a deal on Brexit, Mr Martin said it was not his role to be the referee in talks between the UK and the EU, but he said he believes that "where there's a will there's a way" and he thinks there is a landing zone for both sides.
He said they agreed on the necessity for a free trade agreement and said the last thing they need is an economic shock to their systems after the impact of the pandemic.
On Brexit, a comprehensive free trade agreement is in the best interest of all concerned, says Micheál Martin. He says both he and Boris Johnson agreed the importance of the protocol for Northern Ireland. | Read: https://t.co/0xaERlnJCG pic.twitter.com/CDIV5Gbo8J

— RTÉ News (@rtenews) August 13, 2020
Mr Martin said it was particularly fitting the engagement was taking place so soon after the death of former SDLP leader John Hume.
"We remember John at moments like this because he did so much to facilitate these kind of meetings and make them much more regular in the normal course of events," he said.
Mr Johnson agreed that the meeting provided an appropriate moment to remember Mr Hume's legacy.
He said the pandemic had demonstrated the strength of the UK and added that Westminster and Stormont have worked closely together to get through the Covid-19 crisis.
"Together, we will make sure Northern Ireland is ready to take full advantage of the many opportunities that lie ahead and that no part of Northern Ireland is left behind," said the British Prime Minister.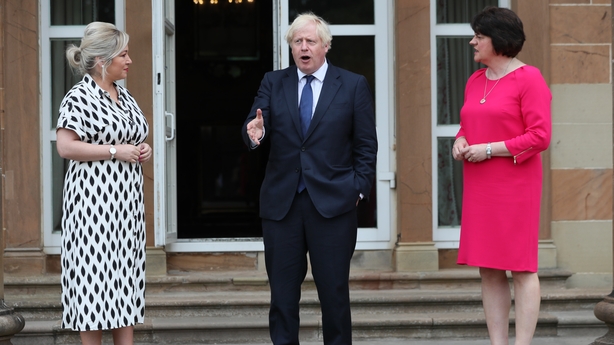 Northern Ireland's Deputy First Minister Sinn Féin's Michelle O'Neill said she discussed the Covid-19 response with Mr Johnson and talked about the economic recovery.
The Northern Ireland Executive will receive €2.2bn additional funding tMichelle O'Neill - Boris Johnson - Arlene Fosterhis year for its Covid-19 response.
She said she called for a British-Irish council meeting with urgency for a Covid-19 response and that it was met favourably by Mr Johnson.
Ms O'Neill said she got some assurances from Mr Johnson about the Irish protocol but that more work needs to be done.
During his visit, Mr Johnson will outline the first stage of Britain's 2021 plans to mark "the centenary of Northern Ireland's foundation" in May, 1921 following the partition of Ireland.
Northern Ireland Secretary Brandon Lewis said the centenary year would promote Northern Ireland on a world stage.
He added: "The establishment of a Centenary Forum and Centenary Historical Advisory Panel will offer us the opportunity to work with a broad spectrum of people from across the political parties, business, tourism and the voluntary and community sectors."
Mr Lewis said: "It is an occasion to promote Northern Ireland as an attractive place to visit, invest and do business - a place where our young people choose to stay and use their talent to build."