Met Éireann has issued a Status Yellow rainfall warning for seven counties over the coming hours.
Heavy thundery rain is forecast this evening and overnight in Kilkenny, Wexford, Cork, Kerry, Limerick, Tipperary and Waterford.
The warning will remain in place until 9am on Thursday.
The downpours could lead to spot flooding in places.
Weather Warnings
Status Yellow
Rainfall Warning for Kilkenny, Wexford, Cork, Kerry, Limerick, Tipperary and Waterford

Valid: 20:00 Wed 12/08/2020 to 09:00 Thur 13/08/2020 pic.twitter.com/2Ldu9YqdLz

— Met Éireann (@MetEireann) August 12, 2020
Hourly Cloud and Rain forecast from Wednesday afternoon until Friday afternoon. pic.twitter.com/f7gsz6K9TQ

— Met Éireann (@MetEireann) August 12, 2020
It comes after a day of high temperatures across the country with highs of 22-27C forecast.
Met Éireann's forecast model showed temperatures reaching 26C and 27C in parts of Cork and Kerry this afternoon.
It was due to be a little cooler on northwest coasts where temperatures were expected to reach 19C.
The warm temperatures are expected to last a few days, but it will be mostly cloudy with some heavy or thundery showers.
Meanwhile, England's heatwave is set to continue, with London expecting a top temperature today of 31C.
The UK is also experiencing heavy rain and thunderstorms with a yellow storm warning issued for all of England and the eastern half of Scotland, with a more serious amber warning for other parts of Scotland.
"Exceptional rainfall totals" of 60mm in an hour are possible in some areas of the UK with flooding in places.
Elsewhere, a melting glacier as large as a cathedral is at risk of breaking apart due to a heatwave, forcing the evacuation of part of an Italian alpine valley.
The alarm was raised today when experts in helicopters realised that the Planpincieux glacier, at an altitude of about 2,800 metres in the Ferret Valley in the Mont Blanc massif, was slipping dangerously.
A heatwave has created a layer of water under the glacier, which is made up of about 500,000 cubic metres of ice - roughly the size of the Milan cathedral - making it more prone to a break.
"There is an enormous block of ice resting on the rock and the danger is that it could detach in an instant," glacier expert Fabrizio Troilo told the Corriere della Sera newspaper's website.
About 75 residents and tourists in homes or hotels in hamlets in the threatened part of the valley were evacuated and police threw up roadblocks to prevent others from entering.
The threatened part of the valley was divided into a "red zone" that could take a direct hit and a "yellow zone" that could suffer from shock waves caused by the displacement of air and other secondary effects.
Many tourists in parts of the valley not directly threatened by an eventual collapse had already opted to leave, local officials said.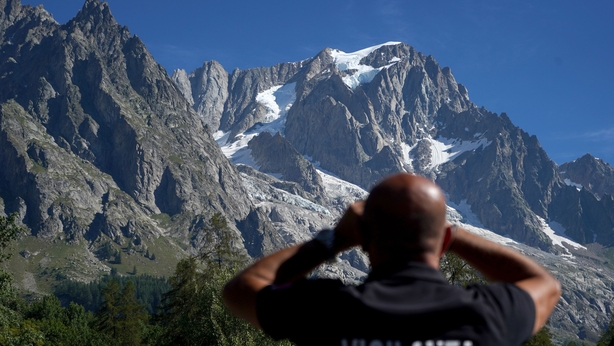 A similar evacuation took place last September when the same glacier showed signs of instability and lasted several days.
France has also been experiencing frequent heatwave episodes in recent weeks. Temperatures have soared to nearly 40C last week in some parts of the country, and forecasters predict them to reach 36C in the current days-long heatwave expected to last until today.
A warming climate has meant that the risk of wild fires breaking out has increased and the zone at risk has expanded from southern France to the north, scientists say.
Scientists who track forest and crop fires in France say that last year saw a small decline in the surface area affected, and this year has not seen any exceptional increase.
But they say that is largely down to good fortune; while this July was the driest in about 60 years in France, that has not coincided with the winds that stoke fires.
"But if the drought persists and if there is a lot of wind, the situation could quickly get worse," said Eric Martin of France's National Institute of Agriculture Research.
The fundamental pre-cursor for fires, according to scientists, is how much moisture there is inside vegetation.
Studies show that the moisture level has been dropping year on year, in step with rising temperatures.