Young people in Preston in north west England are being targeted with a "don't kill granny" message to slow the spread of coronavirus after the city had lockdown restrictions imposed.
Households mixing in pubs and homes has been blamed for a rise in cases, but locals suggest the restrictions will not be taken seriously.
Pubs were said to be busy last night despite the British government's intervention just hours earlier.
The UK Department of Health and Social Care (DHSC) announced yesterdayy that households in the city will be banned from mixing indoors or in gardens.
It comes a week after the same measures were brought in for residents in Greater Manchester, parts of east Lancashire and West Yorkshire, as well as Leicester.
The rules will remain in place for those areas for at least another week.
Officials said there had been a "significant" rise in cases in the under-30 age group in the Preston area.
Preston City Council chief executive Adrian Phillips told BBC Radio 4's Today programme: "I know our director of public health has said 'Don't kill Granny' to young people to try and focus the message.
"Young people often have less symptoms but they do take it back to their household.
"The community spread we are seeing, we believe, in many cases are young people taking it home and catching the virus."
He also wants councils to have greater powers to close pubs to slow the spread of Covid-19.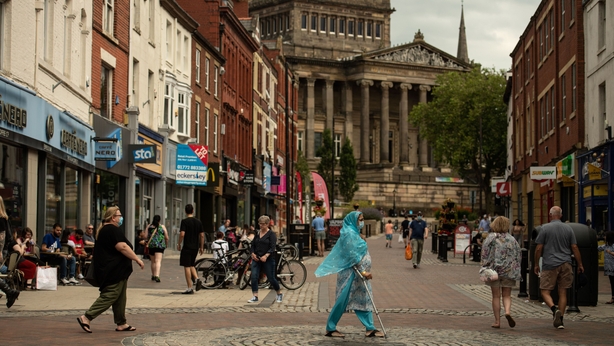 "You need responsive powers," Mr Phillips said. "It is useful to have something that can move quickly and we can make it entirely clear to the licensee or the operator what the consequences are."
Charlene Gardner, 38, was in Preston city centre today to buy school shoes for her two children.
She said: "I was happy the restrictions were brought in because I think we do need the police to get involved.
"The pubs around us were still 30 or 40 deep outside last night."
One man with a stand selling face masks, who did not want to be named, said the city was less busy than the previous weekend.
But he said he did not think people were taking restrictions seriously. He said: "You see the older people wearing masks but the younger ones don't.
"The problem is in the pubs and they don't wear masks there."
There were 61 new cases in Preston in the seven days to August 4, which is the equivalent of 42.6 cases per 100,000 people - up from 21.7 per 100,000 in the previous seven days.
Meanwhile hundreds of people have converged on central London to march for better pay for NHS staff and recognition of their work during the coronavirus pandemic.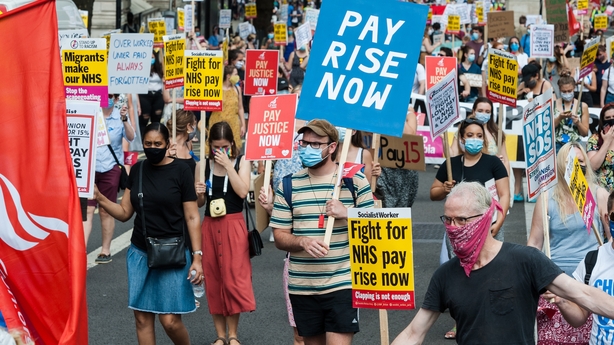 Crowds gathered on Horse Guards Parade ahead of the protest as a samba band led people in chants of "one two three four five, keep our NHS alive".
Protesters made their way along Whitehall towards Downing Street. A blue banner reading "End NHS pay inequality, together we win" led the march.
Heatwave continues to sizzle in Britain
It was a scorching Saturday in Britain as temperatures surged again, reaching 34.5C in places.
Yesterday was the hottest August day in 17 years in the UK, with the mercury hitting 36.4C at Heathrow and Kew Gardens.
The British Met Office said today's temperatures will "rise well above average once again, with a peak around 36C across south-east England".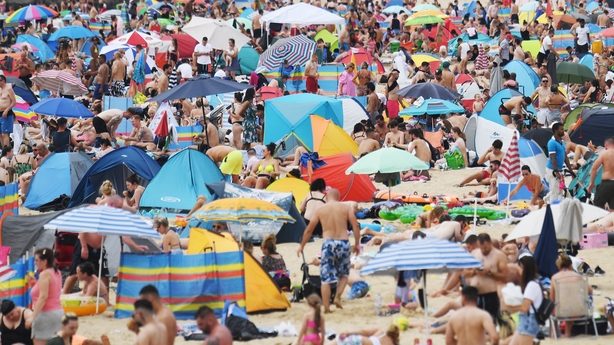 Bournemouth, Christchurch and Poole Council's beach check app showed many of its beaches today under red alert. This warns people to avoid the areas because safe social distancing was not possible.
It is a repeat of what happened yesterday, when crowds of sun-seekers headed for coasts across the UK, with images of packed beaches, traffic jams and full car parks shared widely on social media.