Trinity College Dublin has begun transforming its manicured front lawns on College Green into bee-friendly wildflower meadows after the public voted in favour of it. 
An online poll was held in February and attracted almost 14,000 votes, with around 90% (12,496) voting in favour of the conversion to native Irish wildflower meadows.
The meadow turf lawn includes 25 types of native Irish wildflower.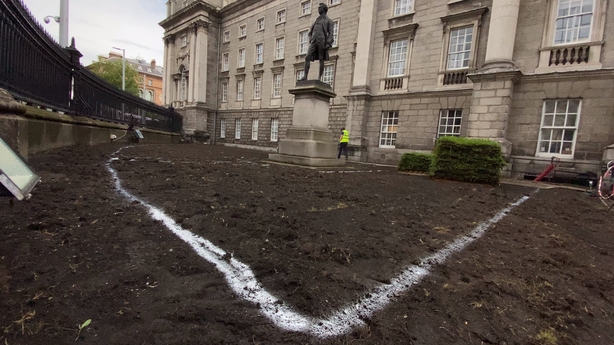 Professor John Parnell, botanist and chair of Trinity's grounds and gardens committee, hopes the urban wildflower meadows "will support greater biodiversity and pollinators in the heart of the city centre".
"We hope that this will be quite a bright and colourful area with things like Oxeye daisy, and cowslip, and wild carrot coming up at different times so there will be a sequence of flowering and that will offer the pollinating insects a menu that goes through the season.
"Hopefully, it will increase the number of insects that we see in the centre of the city," he said.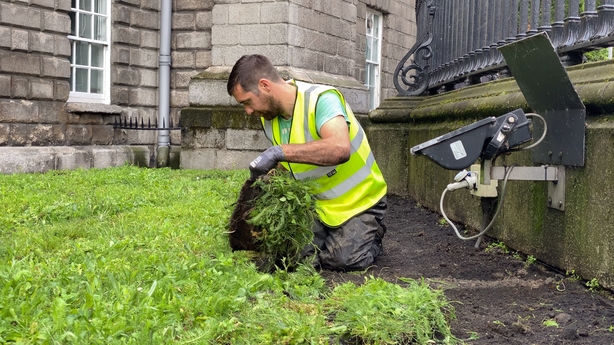 Michele Hallahan, Sustainability Advisor at Trinity, said the result of the February poll "was a resounding endorsement" for the project.
"It's clear that people are connected to nature. They haven't forgotten that. They want to see some biodiversity. They want to see some more native landscape around Trinity.
"I think it will be nice and green over the winter but to see it next year when it's in full bloom, I think it's going to be astounding," she said.