A garda from Trim in Co Meath is cycling 99km through nine villages in full uniform today to raise money for a charity that offers support to families affected by the death of a baby.
Garda Edel Dugdale came up with the idea after encountering a couple at a Covid-19 checkpoint when strict travel restrictions were in place.
Nickita and Anthony Farrelly from Trim lost their baby daughter Molly on 18 April.
"Our little girl Molly was born at 15 weeks, she didn't survive. She was born Easter Saturday and on Sunday we brought her home and we buried her Easter Monday," explained Nickita.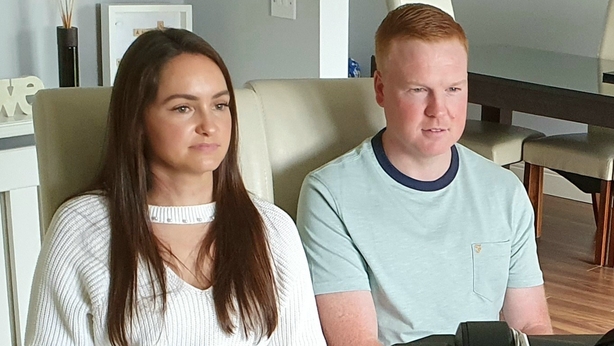 "It was so lonely. Even burying Molly, we couldn't have a mass, there was only ten members of the family allowed for the burial. People were afraid to hug us, we were afraid to hug people," she said.
"We felt without a proper funeral, people had forgotten her. It was horrible," she added.
The couple encountered a number of garda checkpoints on their way to and from the Coombe Hospital in Dublin that weekend.
"We'd been stopped a few times over the weekend. We were stopped at Blanchardstown. The garda got a shock. They would have seen the coffin on my lap and they waved us on", said Anthony Farrelly.
On Easter Monday, as the couple were preparing to bury their baby daughter Molly, Nickita's father was stopped by gardaí at a checkpoint in Trim.
Garda Edel Dugdale, a community garda based in Trim, was on duty.
"I stopped him as normal and asked him what was the purpose of his journey. He said he was going to see his daughter and jokingly I said, should she not be going to see you?" explained Garda Dugdale.
"No", he said, "we are on way to bury our grandchild today".
"My heart just sank. I just felt so sorry for him. He was trying to hold back the tears so I just asked him were the parents passing this way in the checkpoint and he said they were," said Garda Dugdale.
"When I saw them coming we formed a little guard of honour and waved them through. As the car went by I just saw parents carrying the little coffin on their lap. It would break your heart," she said.
"As a garda you're going to scenes and you see harrowing things but when it comes to a baby and a child, it pulls at the heartstrings a little bit more."
The encounter stuck with Garda Dugdale and she did some research on Féileacáin, a charity that supports families who are dealing with the loss of a baby.
She decided she would take on a challenge, alongside some of her colleagues in the emergency services, to raise money for the charity.
Today the Garda is cycling 99km across the Trim garda district in full uniform to raise funds for the charity.
Before this week, however, she had no idea who the couple were but she felt this was a way of helping.
A garda from Trim in county Meath has completed a 99 kilometre cycle through nine villages today in a bid to help families affected by the death of a baby. pic.twitter.com/4Ccrn15os1

— RTÉ News (@rtenews) July 26, 2020
On hearing about the challenge in the local newspaper, the Meath Chronicle, the couple contacted Garda Dugdale to thank her.
Molly's father Anthony will take part in part of the cycle today.
"We couldn't believe it, Edel was a stranger to us. She had only seen us in that brief second and she decided to do this, it's so lovely," said Nickita.
The couple want to thank Féileacáin for all support in recent months.
"The charity representative came to us and helped us in the hospital. They took pictures for us. Anthony wasn't allowed in for the birth so it had been really difficult.
"She gave us a memory box. She organised the funeral. She made all the phone calls. She did everything."
While Covid-19 has had an impact on every section of society, Jacinta Farrelly believes people need to hear about this side of the coronavirus.
"We've heard about people having Covid, we've heard about people recovering from Covid, we've heard about people having babies without partners, but we haven't heard this side of Covid.
"Babies still died during Covid. I just want people who went through this to know, you're not alone."
"All we want is to raise awareness of the charity and for our little girl to be remembered," said Anthony Farrelly.