Ireland's first outdoor flying trapeze school has opened in Dublin offering classes in the art of the famous circus act.
Located on the grounds of St Benildus College in Stillorgan, Flying Monkeys Trapeze is run by Mariana Rampazzo and Salla Vartia.
Mariana, who also runs an aerial acrobatics studio in Dublin, says the opening of the school "was a dream come true", and one which was delayed by the Covid-19 pandemic.
"We have been fighting, for about two years, to get insurance to be able to work here in Ireland but finally we got it sorted. But then Covid came," she said.
"So we started calculating when could we do it. All our staff arrived more than two weeks ago to quarantine. So yeah, the Covid was a little bit of a challenge.
"We had to spend extra money and wait and hope that people would - even with the new normal - come and fly with us," she said.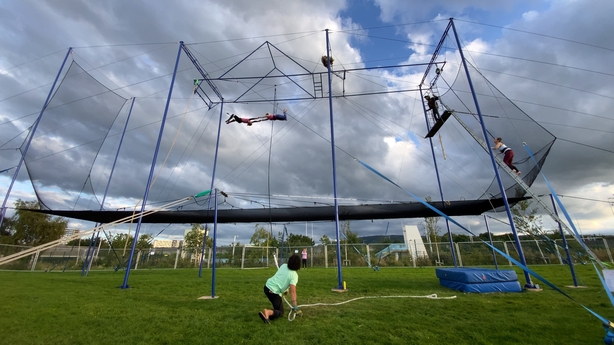 The flying trapeze is a specific type of trapeze in which a performer jumps from a platform with the trapeze so that gravity makes the trapeze swing.
The flier then performs one of many aerial tricks and is caught by the catcher, who is swinging from a separate catch bar. 
Each class at the Stillorgan-based school is led by three instructors.
"We have a massive safety net, each person is attached to safety lines. There is another teacher on the ground that is holding a rope that is holding your lines ,so even if you let go of the trapeze we can decide when you actually go down to the net," explained Mariana.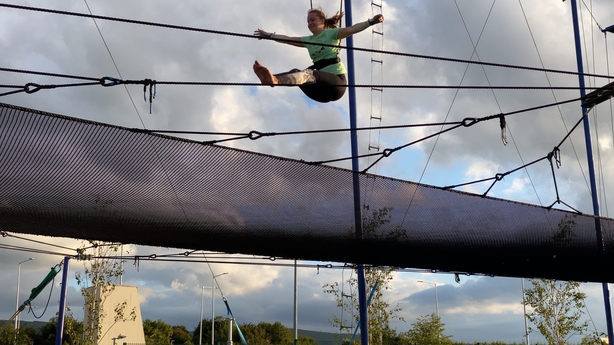 Rachel Stafford has signed up for classes at the school.
"When your toes are over the edge at the top is the most terrifying thing. Then once you let go, it's fine. You have to put all your trust in the two guys and when you do, it's really fun," she said.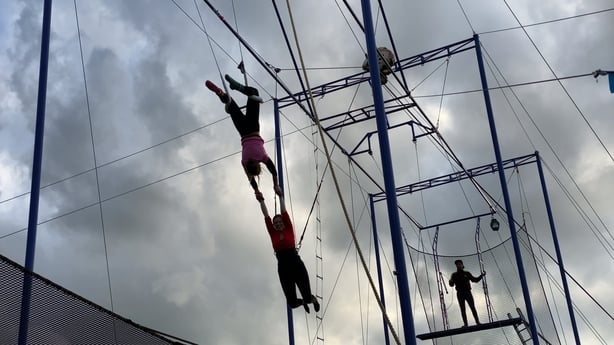 Another excited first-time flier is Lynn Scrampton who said "it's something I've always wanted to try, since going to the circus as a child. This is my moment!"
After her first flying trapeze exercise, Lynn said the experience was "amazing" and "absolutely feels like you are flying".
For Mariana, her outdoor flying trapeze school gives "the sensation of running away with the circus in a day".
"In London, I first discovered flying trapeze. After the first class I couldn't think about anything else. You feel like you can go to the Cirque du Soleil the next day.
"After the catch, especially, if you manage the catch in class, you say, 'yeah, I can run away with the circus,'" she said.