The former solicitor of the man accused of murdering Detective Garda Adrian Donohoe said his client told him he was involved in diesel laundering for approximately 15 minutes on the night of the murder seven years ago.
Danny McNamee was called to give evidence as a defence witness in the Central Criminal Court today.
Aaron Brady, from New Road, Crossmaglen in Co Armagh, has pleaded not guilty to the murder of Detective Donohoe and to a second charge of robbing €7,000 in cash and cheques at the Lordship Credit Union in Co Louth on 25 January 2013.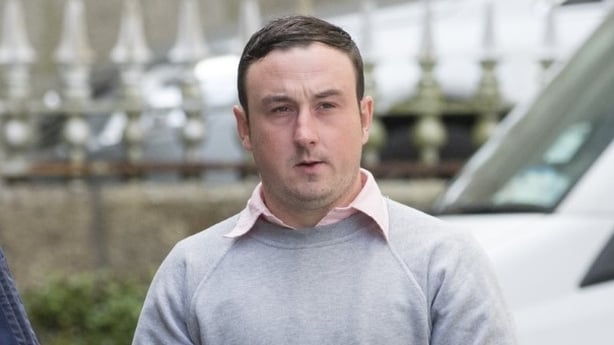 Mr McNamee told the court today he was a friend of Mr Brady's father, Tony, who called him because he was very concerned about reports on social media linking his son to the murder of Detective Donohoe.
The detective was shot dead during an armed robbery at the Lordshop Credit Union.
Mr McNamee said he called to the Brady home and had a lengthy discussion about Aaron Brady voluntarily going to Dundalk Garda Station to make a statement and that he advised Aaron Brady not to go if he had anything to do with the crime.
The solicitor said he attended the garda station with Mr Brady on 5 February 2013 when Mr Brady began the statement, but not on the following day when he completed it.
Mr McNamee said he was concerned that if Mr Brady admitted he had been involved in criminality he would be prosecuted and he discussed the issue with gardaí "to ascertain if it was safe for him to admit what he had been doing".
After gardaí told him they were not interested in prosecuting Mr Brady for diesel laundering, he told them he had been at a yard in south Armagh but left after approximately 15 minutes when he could not start a forklift.
The 29-year-old has since testified that this was a lie and now says that he did get the forklift started and loaded diesel waste cubes with it onto a trailer.
Mr McNamee told prosecution counsel Brendan Grehan today that he had no notes of his conversation with Mr Brady.
He acknowledged that Mr Brady told gardaí at the time he was in the yard in south Armagh for approximately 15 minutes, but he said he did not go into any detail about it with his client.
Mr McNamee also told the court that as a solicitor he also advised the two other suspects for the murder and a number of other persons of interest in the case.
"You're the common thread," Mr Grehan said to him.
"Yes," he replied. "We would represent most people in relation to customs affairs in the area."
Mr Grehan pointed out that this was a case of capital murder.
Mr Justice Michael White said it was clear that Mr Mc Namee acted to the highest possible standards in the execution of his duty and the prosecution accepts that.
The trial continues tomorrow.