The man accused of the murder of Detective Garda Adrian Donohoe was warned by gardaí and a judge that if he failed to mention any fact he would later use in his defence it could be used against him in court, the Central Criminal Court has heard.
Aaron Brady accepted that he was first told this by gardaí when he was arrested and questioned by gardaí on suspicion of murder.
He also accepted that after he had been charged a judge warned him in July 2018 he had 14 days to provide an alibi.
He subsequently claimed he was involved in diesel laundering at the time of the murder.
The 28-year-old from New Road, Crossmaglen in Co Armagh, has pleaded not guilty to the murder of Det Garda Donohoe at the Lordship Credit Union in Co Louth on 25 January 2013.
He also denies to a second charge of robbing €7,000 in cash and cheques on the same date and at the same location.
The court heard that 14 months after he was charged the State was informed that Mr Brady was submitting a late notice of alibi "outside the statutory period".
Senior Counsel Brendan Grehan said it was "one line", that "at the time of the commission of the offence the accused was at 155 Concession Road in Armagh".
The location is a diesel laundering yard in Co Armagh.
Mr Grehan also said a statement from Mr Brady was served on the prosecution on 17 February of this year.
Mr Brady admitted in it he had previously lied to gardaí in a voluntary statement he made to them a week after the murder.
In the new statement, he said he was loading diesel waste cubes into a trailer in the yard on the night and at the time the detective was murdered.
He said he "was reluctant to account for my movements on the record out of fear I might be prosecuted".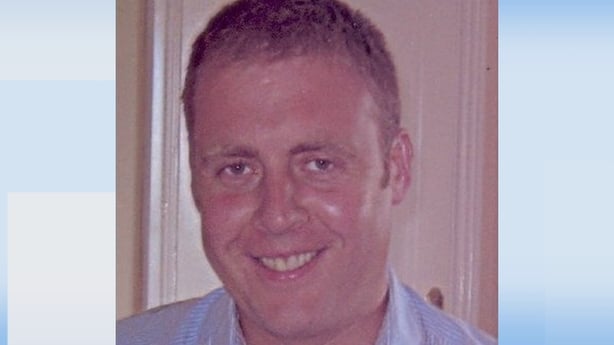 He accepted however that gardaí had previously told him they were investigating a murder and had no interest in diesel laundering in south Armagh.
Mr Brady also said today he was unhappy with the garda investigation into the murder and complained that they did not investigate the yard in south Armagh.
He insisted the getaway car used in the robbery and murder had not been there and said if gardaí had looked in the yard for tyre tracks for that car they would not have found any.
"I believe they should have checked 155 Concession Road for tyre tracks," he said.
Mr Grehan pointed out to him that the yard was muddy, it had been raining heavily, tyre tracks were unlikely to be found after a couple of days and the yard was in a different jurisdiction, Northern Ireland, where gardaí had no powers.
Mr Brady also sent a text to his girlfriend the day after Det Garda Donohoe was shot dead was "a plea" to her to go to the cinema with him.
The text was shown to the court in which he states: "Please Jess, I just want to get away till all this blows over."
He sent the text to her after the PSNI had called to her home.
It said: "Please Jess, I just want to get away till this blows over ill prob just go into them tomorrow everything will be ok. tel them its fine i just wanna go and get something to eat away from here and go to the cinema. am just pissed off please".
Mr Brady told the court they did not go to the cinema that night, but he thinks he went out to his girlfriend's house later.
He said they went to the cinema and 'Pizza Hut' the following night.
Brady admits being drunk and upset in New York
This afternoon, Mr Brady admitted that a witness was correct when she said he was drunk and upset in an apartment in New York in the summer of 2016, but not when she said he had shot a garda in Ireland.
Molly Staunton testified that Mr Brady said he was worried about losing his unborn son and that he had shot a cop in Ireland.
He said he would never use the word "cop", only garda or police for the PSNI.
Mr Brady accepted she was a truthful witness doing her best, but that he was upset in the apartment that night because the gardaí had called to his wife's home in Tralee and "blackened me and my father's name".
"I didn't say I shot a cop in Ireland," he said
He also said he had nothing bad to say about Ms Staunton as she was "very vulnerable" but that Daniel Cahill, the other witness who testified against him, was a "liar" and a "psychopath".
He claimed that Mr Cahill gave evidence against him because he had been told if he did so he would be permitted to remain in the US.
"I was deported. He wasn't. He had drugs in his house. I had a wife and son," Mr Brady said.
Mr Grehan pointed out to him that he was "a fugitive" who left before he could be sentenced for offences in Ireland.
He said he was "afraid" of Mr Cahill who had threatened "to cut off their toes" for a "threesome" that never happened.