A father-of-two who has Parkinson's disease says his life has been transformed by a dog trained to help him with mobility and stability.
Duncan Hughes, from Dublin, partnered with Leon, a black labrador, just over six months ago.
The pilot project by the Dublin Neurological Institute (DNI) at the Mater Hospital is a first for Ireland and possibly the world.
While other dogs may have been trained to be a support or companion for people living with Parkinson's, Leon is the first one to have been specifically trained to assist with mobility, stability and gait here.
Mr Hughes said: "This is the best treatment to improve my quality of life among all the treatments I've had for Parkinson's over the last 17 years."
He added: "Previously when I was walking, people used to think I was drunk or on drugs. Now they just smile. The two of us are walking more than six kilometres every day now. It has been a complete change of life."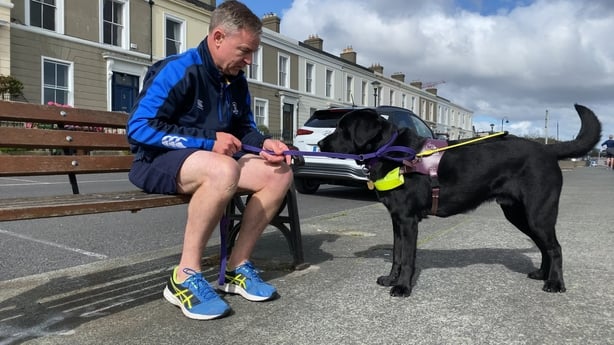 Parkinson's is a long-term neurological condition that affects around 8,000 people in Ireland.
It affects the way the brain co-ordinates body movements, including walking, talking and writing.
While there are a number of different treatments available to help manage the condition, there is currently no cure.
Consultant neurologist Professor Tim Lynch from the DNI wanted to try something different to assist Mr Hughes.
Professor Lynch said: "While Duncan has done well over the years with his Parkinson's, he has had problems when his feet get stuck on the ground and freeze. Hence he wasn't able to go for regular walks.
"So we had a couple of ideas that a stability dog could be of use. Firstly, a fairly sturdy dog could provide support, something you could lean on if you were getting stuck, so you wouldn't fall over.
"Secondly, with movement control, a dog could provide a sensory trick if the patient's leg was frozen, giving them a nudge to release the knee and the foot would move forward."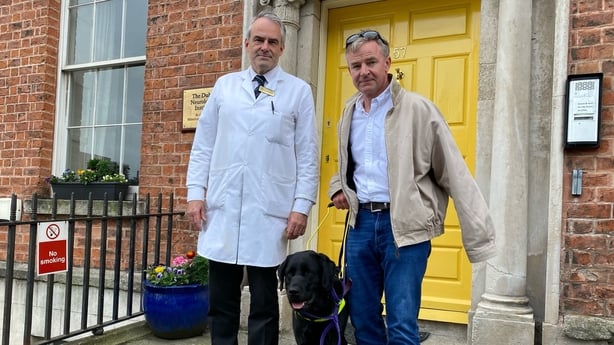 He approached the Cork-based charity Dogs for the Disabled, which trains dogs to support a variety of people with disabilities.
The charity's CEO Jennifer Dowler said: "It's the first time we've worked with a Parkinson's patient. We selected and trained a dog based on an assessment of Duncan's needs, wants and personality type.
"Leon is a strong dog, a great worker, with real drive and determination. He's really stepped up to the mark and it's just amazing to see how happy they are together."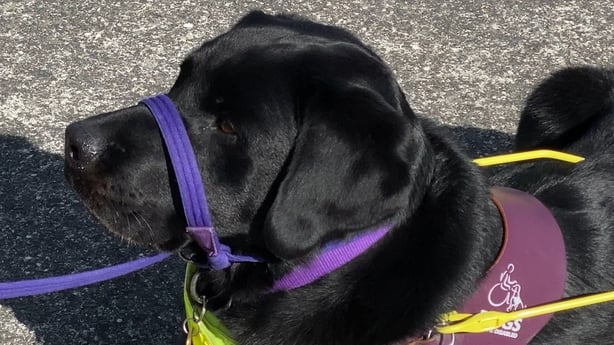 Mr Hughes and Leon are also undergoing assessments at University College Dublin.
Engineering researchers have been carrying out gait analysis by attaching sensors to both of them.
"By taking these scientific measurements and using psychological tools, we are trying to prove whether there is a difference in Duncan's walking.
"As far as we know, this is the first long-term study of a patient with Parkinson's using a dog that has been trained specifically for them. Being able to scientifically prove that it is beneficial to them would be very exciting," said Dr Cliona Buckley, a research registrar at the DNI.
Data gathered over the course of the project will eventually be published, with a view to providing training for more stability dogs, estimated to cost around €15,000 per animal.
Duncan believes other Parkinson's patients would benefit from this kind of innovative intervention.
"This isn't a medicine looking after the symptoms of my Parkinson's, it's actually making my life better.
"Leon is like a part of me at this stage. I don't go anywhere without him. He looks after me and I look after him," he said.