Bonfires will be lit across Northern Ireland tonight as part of the annual Twelfth of July celebrations, despite a plea from the Orange Order for no fires because of the coronavirus threat.
The Order, Apprentice Boys and Royal Black Institution have cancelled all their parades this year and urged members and supporters to celebrate at home.
Each year, tens of thousands of people attend hundreds of Twelfth parades.
The organisations said they were cancelling events this year because of public health guidance and to help combat the spread of Covid-19.
But many bonfires - traditionally lit in many Protestant areas before midnight on 11 July as part of celebrations to mark the victory of King William of Orange in the Battle of the Boyne in 1690 - are going ahead.
The Orange Order does not control or organise the lighting of bonfires, but appealed to people not to light them this year.
There are fears that social distancing guidelines will be breached on a massive scale as the bonfires attract large crowds, with many attendees drinking alcohol.
There appear to be significantly fewer bonfires this year, but there is still a substantial number.
The Order urged supporters to hold barbecues in their gardens instead. The Rev Mervyn Gibson, Grand Secretary of the Orange Order, said he hopes people will listen to the advice being given.
"I would prefer to see no bonfires, but sadly there are some," he told RTÉ News.
"We're asking those involved to manage them carefully to make sure people are socially distanced, and if they can't do that then anyone attending should go home.
"I personally won't be going out to see a bonfire tonight. I love the bonfires, but I'm not going to add to the crowd so I'd appeal to anybody at a bonfire, don't gather in a group of more than 30.
"For people thinking of going out, if the crowd will add up to over 30 then don't go out," added Rev Gibson.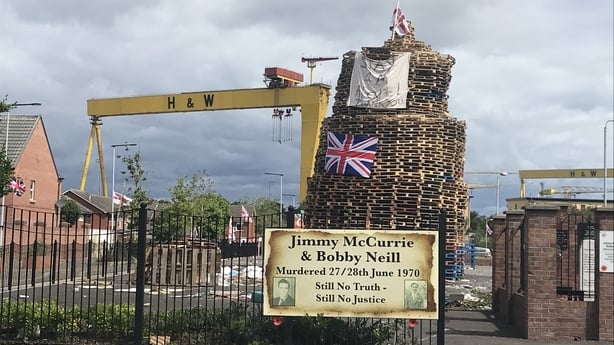 Police in Northern Ireland have also appealed to those attending bonfires to act responsibly and within public health guidelines.
The reality is those guidelines are highly likely to be breached at the vast majority, if not all, of the bonfires.
Members of the Orange Order only take part in parades to church services on Sundays. They do not carry Lodge banners and only sacred music is allowed as, in the past, many of its members would have been strict Sabbatharians.
Twelfth parades are regarded as a "celebration" and involve the carrying of banners and non-sacred music, so when it falls on a Sunday, it is moved to Monday
While all the official parades have been cancelled, there will be local ones as part of the Order's Twelfth At Home campaign. More than 280 bands will parade through streets in their own areas.
The Order has also set up its own radio station, Radio Boyne, to broadcast music and interviews with senior members and politicians, including Northern Ireland's Health Minister Robin Swann.
"Bands will be going round their local areas playing at people's front doors, so we're bringing the music to the people," said Rev Gibson. "Our motto this year is very much, celebrate and enjoy the Twelfth at home."
Critics of the Orange Order would like to see this year's scaled down version of the Twelfth become the norm. Some would go much further and would like to see parades confined to areas only where there is no opposition.
But Mervyn Gibson insists that will not be the case and this Twelfth is a one-off. "We will return to our traditional parades next year," he said.
"Some people may try to use it as political point-scoring. That is not what it is about, this year is us giving up the Twelfth for everybody's health."