This week marked the return of proper Dáil business after the stalemate that followed February's election. It also saw the Taoiseach's first outing in leaders' questions – so how did Micheál Martin do?
There was much curiosity on Tuesday when the Fianna Fáil leader crossed the floor and took his place in the coveted Taoiseach's position. He was so keen, he arrived several minutes early.
The new leader of the opposition, Sinn Féin's Mary Lou McDonald, took the helm and focused on an issue she has highlighted several times over recent months – the extension of maternity leave and pay for mothers of babies born during the lockdown.
This is undoubtedly an important matter which could impact on many families but it was also notable that Ms McDonald avoided the political controversy of the day – Barry Cowen's drink-driving offence.
Instead, Sinn Féin took a hands-off approach - probably mindful of a similar issue within its own ranks.
The Taoiseach responded by essentially acknowledging the problem deserved a solution, although he added that it was not simple to resolve.
So far, so agreeable, leading to Mary Lou McDonald venturing a phrase little heard during the usually combative leaders' questions. "We are of one mind."
Altogether conciliatory, constructive and certainly not the fireworks we have seen in the past.
Up next was Labour's Alan Kelly, who opted to name and shame the transgressions of three Fianna Fáil representatives, including Barry Cowen, in what he said was a return to the "old style of cute hoor politics".
This prompted a much more fiery response from the Taoiseach, outlining Mr Martin's focus on policy and how he had not wasted an hour since taking office.
Moving on to Wednesday, Sinn Féin raised the plight of Debenhams workers, which is when things ignited somewhat compared to the previous day's tame interaction.
Micheál Martin accused Mary Lou McDonald of being "disingenuous and dishonest" by suggesting Fianna Fáil had been in government in recent years.
Clearly, Sinn Féin is honing in on the types of issues that have propelled them to electoral success – being seen to champion workers and family rights.
But where does this leave Labour, the Social Democrats and other parties of opposition?
Alan Kelly has been carefully carving out a space for the Labour Party in the shadow of Sinn Féin's huge opposition numbers.
The Social Democrats party is also mindful of its separation from Labour and highlighted the problems in nursing homes and the flu vaccine uptake.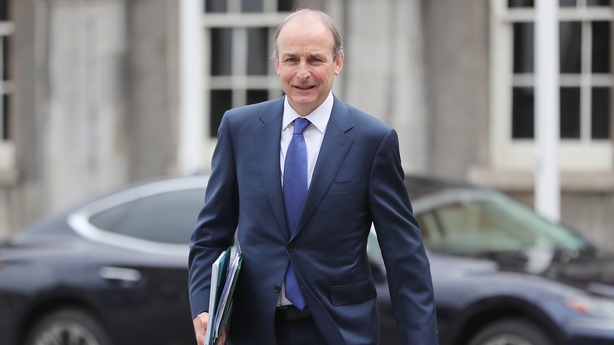 For the People Before Profit group, it was business as usual with little change between its approach towards the new administration versus the last.
So the 33rd Dáil has now been redrawn into Government and opposition but there's another factor looming large over the conduct of proceedings.
Tuesday's sitting took place in a socially distant Leinster House. However, Wednesday and Thursday saw deputies trooping down to the Convention Centre's vast echoey auditorium with members spread out on different levels.
This sterile arrangement is pleasing nobody. Across all parties, there's agreement that it's not conducive to the back and forth of debate with TDs on the upper level struggling to attract attention and hecklers straining to be heard.
Plans are under way to seek an alternative, with the Mansion House mentioned by some. However, 13 possible locations have already been considered.
Another option, which could be in play the week after next, is a return to Leinster House with a strictly managed queuing system for votes. But this is, of course, subject to health advice.
And the move across the Liffey does come with a mounting price tag. Even though the Convention Centre has provided the facility for free, it still costs €25,000 per day.
Mindful of this, Senators have decamped back to Leinster House, sitting in the Dáil chamber for the first time since 1987.
But something else that was very much apparent this week was the return of a Government fully in power. It's early days for Private Member's Bills but they were easily defeated.
This contrasts with the shaky minority of the last government where it had to tolerate repeatedly losing votes and enduring embarrassing defeats that became less remarkable over time.
The new Government is planning a raft of legislation this month after getting the first Bill through.
But it's clear that its first big test will be the July stimulus plan due the week after next. Pressure is building from different sectors for serious aid, especially after the UK VAT cut for the hospitality and tourism sectors.
Tánaiste Leo Varadkar will be centre stage in his new enterprise portfolio and he has promised the plan will be radical and far reaching.
However, the key to its success will be striking a balance between helping businesses to survive and increase jobs while weeding out unviable companies.
And any roadmap to switch off the life support in place for months now will not be popular.