The number of coronavirus cases in the United States has risen to over three million, after a daily record of 60,209 new cases.
The grim milestone was passed as more states reported record numbers of new infections, and Florida faced an impending shortage of intensive care unit hospital beds.
Meanwhile, the number of infections in Latin America and the Caribbean has also risen to over three million.
More than half of those cases are in Brazil, where they include President Jair Bolsonaro, who tested positive yesterday.
He has repeatedly played down risks of what he has called the "little flu", saying he would not be seriously affected.
In the US, the authorities have reported alarming upswings of daily caseloads in roughly two dozen states over the past two weeks, a sign that efforts to control coronavirus transmission have failed in large swathes of the country.
Yesterday California, Hawaii, Missouri, Montana, Oklahoma and Texas shattered their previous daily record highs for new cases.
---
---
In Texas alone, the number of hospitalised patients more than doubled in just two weeks.
The trend has driven many more Americans to seek Covid-19 screenings.
The US Department of Health and Human Services is adding short-term "surge" testing sites in three metropolitan areas in Florida, Louisiana and Texas.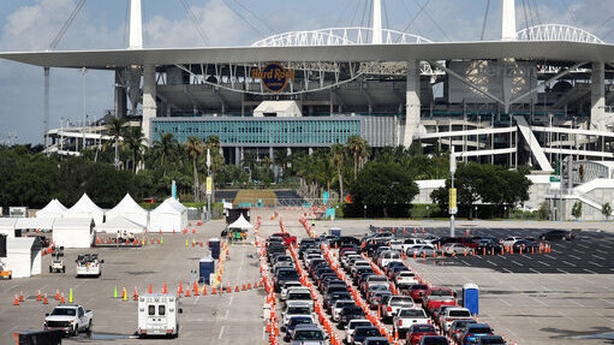 In Florida, more than four dozen hospitals across 25 of 67 counties reported their intensive care units had reached full capacity, according to the state's Agency for Health Care Administration.
Additional hospitalisations could strain healthcare systems in many areas, leading to an uptick in deaths from the respiratory illness that has killed more than 131,000 Americans to date.
US President Donald Trump, who has pushed for restarting the US economy and urged Americans to return to their normal routines, yesterday said he would lean on state governors to open schools this autumn.
Speaking at the White House, he said some people wanted to keep schools closed for political reasons.
"No way, so we're very much going to put pressure on governors and everybody else to open the schools."
"COVID-19 (China Virus) Death Rate PLUNGES From Peak In U.S." A Tenfold Decrease In Mortality. The Washington Times @WashTimes Valerie Richardson. We have the lowest Mortality Rate in the World. The Fake News should be reporting these most important of facts, but they don't!

— Donald J. Trump (@realDonaldTrump) July 7, 2020
Meanwhile in Australia, a heavy police clampdown is in place to contain a flare-up of Covid-19 cases.
The move is affecting five million people with checkpoints set up around Melbourne to ensure people stay at home.
State police said they would conduct random checks of vehicles on major roads surrounding the country's second most populous city, creating a "ring of steel" as partial lockdowns are reinstated for six weeks to stem a surge in infections.
Hong Kong reports rise in local coronavirus infections

Hong Kong reported 24 new coronavirus cases, with 19 of them being local infections, raising worries of a renewed community spread in the city after it reported mostly imported cases for months.
The total number of cases in the global financial hub since late January now stands at 1,324. Seven people have died.