Minister for Agriculture Barry Cowen is expected to make a statement in the Dáil tomorrow evening addressing the controversy around his drink-driving offence.
Road safety organisation Parc has called on the Fianna Fáil TD to answer what it calls "serious questions" about the incident, particularly around the fact that he was driving on a provisional licence at the age of 49.
In 2016, Mr Cowen served a three-month disqualification from driving.
He was stopped at a checkpoint and breathalysed on his way home to Co Offaly from Dublin after the All-Ireland football final four years ago.
He was found to be over the limit and issued with a fixed charge penalty notice, €200 fine and disqualified from driving for three months.
It is understood Mr Cowen has asked the Ceann Comhairle if he can make the statement to the Dáil to deal with outstanding questions around the driving ban.
Taoiseach Micheál Martin was asked about the controversy on Cork's 96FM earlier today.
He said Mr Cowen had "acknowledged that he had not [discussed it with] me or his colleagues as he was deeply ashamed and embarrassed at the fact that the incident had occurred in 2016.
"He has acknowledged that it was a terrible lapse of judgement on his part and has made a full apology and justice was meted out to him in accordance with the law at the time."
We need your consent to load this rte-player contentWe use rte-player to manage extra content that can set cookies on your device and collect data about your activity. Please review their details and accept them to load the content.Manage Preferences
Asked if he found it strange that Mr Cowen - at the age of 49 and a member of the front bench - was driving on a provisional licence, Mr Martin replied: "Certainly one would have thought a full licence would have been secured earlier.
"But I don't know the background to that and quite a number of people in Ireland drove historically on provisional licences for quite a considerable length of time."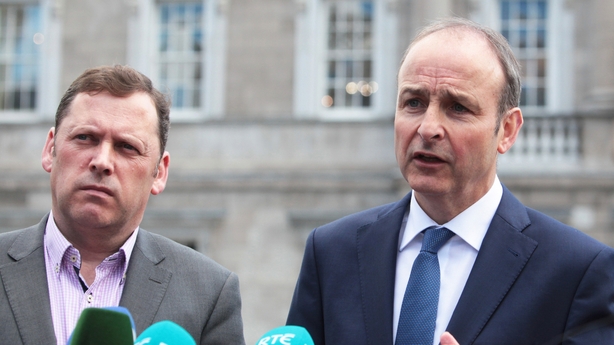 Sinn Féin has said that driving under the influence is a very serious issue and it will judge Mr Cowen's statement by its contents.
The party's housing spokesperson, Eoin Ó Broin, said today that driving under the influence of alcohol was a very serious issue.
He said there had been many events outside the gates of Leinster House with families of road traffic victims who have raised the need for tougher measures.
Mr Ó Broin said making a Dáil statement was the right thing to do and the party would judge this on its contents.
Parc has asked whether Mr Cowen displayed 'L' plates as required on a provisional licence and 'N' plates after he passed his test.
The organisation has also asked how many times Mr Cowen has been detected speeding and how many penalty points he has received.
Parc has not called for his resignation. It said that when it has the answers, it will then consider whether Mr Cowen is "fit for office".
The Irish Road Victims' Association has, however, called on the minister to resign. Founder Donna Price said his position is "untenable" as he is one of the legislators bringing in drink-driving laws.  
Yesterday, Mr Cowen told RTÉ's The Week in Politics that he had regularised his licence since the driving ban.
.@CowenBarry says maybe in hindsight he should have told the Taoiseach "Maybe I should have stood up and in the Dail and lead from the front and acknowledged my stupid mistake. I was not trying to keep it secret, I was trying to get on with my job." #rtetwip #rtenews pic.twitter.com/vCZyi9GWC8

— The Week in Politics (@rtetwip) July 5, 2020
The minister conceded that he had previously driven unaccompanied as a learner driver. He also said it was a terribly stupid mistake and one he is regretful over.
On his way into today's Cabinet meeting in Dublin Castle, Minister Cowen declined to speak to the media.
Both Tánaiste Leo Varadkar and Foreign Affairs Minister Simon Coveney said today they were satisfied with the explanation given by the Offaly TD.
Mr Varadkar said he thought Mr Cowen had addressed the issue very well on TV and he was satisfied with the assurance the Taoiseach had given.