Healthcare staff at University Hospital Waterford have become the first group to receive special "seed libraries" as part of a new campaign to encourage fruit and vegetable-growing in the wider community.
The donation has been made by Grow It Yourself (GIY) and Energia to kickstart their Get Ireland Growing promotion, which will see hundreds of schools, workplaces, clubs and other community groups developing their own seed libraries in the coming months.
GIY's HQ is located a stone's throw from University Hospital Waterford, where health workers have been engaged in the ongoing battle against Covid-19 in recent months, in common with their counterparts around the country.
With that in mind, GIY, a non-profit-making social enterprise founded over a decade ago by Michael Kelly, decided to give the staff something to take their minds off that struggle.
"What we've seen since the pandemic is a surge of interest in food-growing," Mr Kelly said.
"We've always said that 60% of Irish people want to grow their own food but only about 20% do it - over the last few months it seems the other 40% have decided to start."
The first phase of the campaign involved encouraging families to start growing their own food, while "stuck at home" in lockdown, and it resulted in 25,000 people getting involved.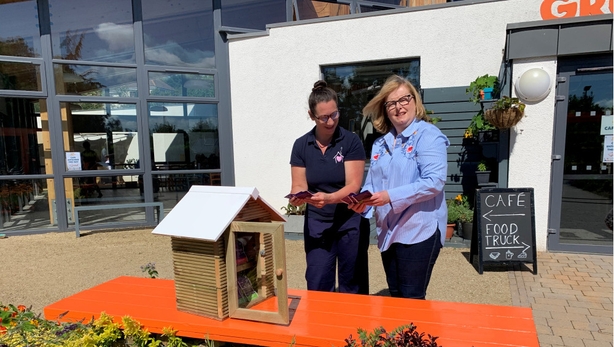 "If you have a champion in a community they can really encourage people to get started and all you really need to grow food successfully is having some seeds in the first instance, so getting those seeds right into the centre of communities is what we want to do with the programme."
The concept of 'seed libraries' is that people can use some of the seeds, give back others that they don't need or won't use, and keep exchanging seeds so as many people as possible can get involved.
Maria Curtin from the Department of Midwifery in UHW said she has been interested in GIY's work for years, and decided to encourage colleagues to get involved, along with herself.
"We have 40 staff interested in growing seeds. People who have never grown anything before are willing to try it.
"All the girls in the hospital, it's something different to do, something positive because we've all worked very hard."
She added: "My grandparents used to grow their own food years ago - my parents did too - my sister is recovering [from an illness] and she is finding growing stuff to be therapeutic."
Maria said that the last few months have been "challenging, very busy" but everybody in UHW has worked hard as a team and done whatever has been asked of them.
"Because of that, we've had very good outcomes in the hospital."
Anyone interested in getting involved can register at getirelandgrowing.ie and winners (chosen by lottery) will be sent their seed libraries in the weeks to come.