The Fourth of July is all about celebrating American independence and freedom but for many in the US today it will be about fresh restrictions and renewed calls to follow the rules.
The massive spike in coronavirus cases in recent weeks has led some states to pause their reopening plans and others to reimpose lockdowns.
The Governor of California has ordered many beaches to close this weekend and has asked cities to cancel their fireworks displays and parades.
''We don't want to see you with a bunch of strangers without being physically distanced and without wearing face coverings," Governor Gavin Newsom warned.
In Nebraska, officials have asked that people hosting barbecues keep guest lists to make contact tracing easier if there is an outbreak.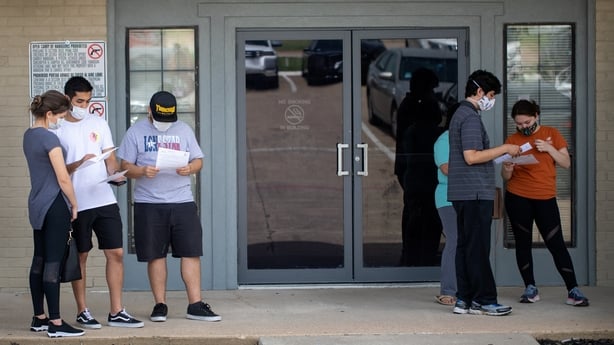 The governor of Texas has issued an order requiring the wearing of face masks across much of the state.
There was no such face mask requirement at the iconic Mount Rushmore monument in South Dakota last night where US President Donald Trump hosted a fireworks display.
Thousands attended and organisers said they would not be enforcing social distancing or requiring face coverings.
Donald Trump is planning another fireworks display for tonight, this time in Washington DC.
The city's mayor has voiced her disapproval with the Trump administration amid fears large crowds will gather to watch the festivities.
"We've communicated to them that we do not think this is in keeping with the best Department of Health guidance. But this event will take place entirely on federal property," Mayor Muriel Bowser said in a news conference.
"Ask yourself, do you need to be there," she added.
It is not the first time that Donald Trump has been criticised for holding big, public events during the pandemic.
He is continuing to play down the massive rise of coronavirus cases tweeting yesterday that it was because of increased testing.
"This is great news, but even better news is that death, and the death rate, is down," he wrote.
There is a rise in Coronavirus cases because our testing is so massive and so good, far bigger and better than any other country. This is great news, but even better news is that death, and the death rate, is DOWN. Also, younger people, who get better much easier and faster!

— Donald J. Trump (@realDonaldTrump) July 3, 2020
The US mortality rate has remained relatively flat but health experts are warning that it could rise in the coming weeks.
"We know deaths lag at least two weeks and can lag even more," the US Surgeon General Dr Jerome Adams told Fox News yesterday.
He pointed to the fact that a lot of younger people are getting the virus and while they are less likely to get seriously ill, there are other concerns.
"What we're really worried about, particularly with young people, is that they get it and then they spread it to their grandmother, to their grandfather," he said.
Donald Trump called an impromptu press conference on Thursday. Not to address the fact that the US had hit another record daily total of coronavirus cases. He took to the podium to celebrate better than expected unemployment figures.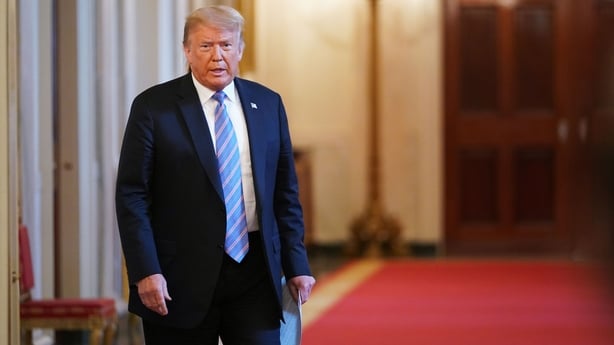 Mr Trump still sees the economy as his best hope of retaining the White House. With four months of economic data to come before the election we can probably expect lots of impromptu press conferences every time the numbers are positive.
But there is a set of numbers that continue to go in the wrong direction for the US president - the opinion polls.
He is well behind his opponent Joe Biden both in national polls and in key swing states.
Many voters say they are unhappy with his handling of the coronavirus, believing that protecting people's health is more important than reopening the economy.
There is still time for Donald Trump to turn this election around, but there is no doubt he will be watching his Fourth of July fireworks display from the White House tonight knowing it could be his last as president.