The governor of the US state of Texas has issued an executive order requiring face coverings in public spaces as the state marks record numbers of new coronavirus infections.
The order, issued ahead of the 4 July holiday weekend, applies to counties with 20 or more confirmed Covid-19 cases, Greg Abbott's office said in statement.
The governor also banned gatherings of more than ten people, and mandated social distancing of two metres.
The move came after Texas reported nearly 8,000 new cases yesterday, amid a record spike in infections that led to the governor largely halting the reopening programme that started in early May.
"We have the ability to keep businesses open and move our economy forward so that Texans can continue to earn a paycheck, but it requires each of us to do our part to protect one another - and that means wearing a face covering in public spaces," Mr Abbott said, citing the effectiveness of masks in slowing the spread of the coronavirus.
"Restricting the size of group gatherings will strengthen Texas' ability to corral this virus and keep Texans safe," he said.
Mr Abbott's orders came after the situation in Houston, the US's fourth-largest city, sharply declined in the past two weeks.
Overall, Texas has recorded more than 175,000 coronavirus cases.
Mr Abbott's orders came as many Republican officials, who were initially lukewarm about the importance of wearing masks, begin publicly calling for face coverings as the US sees soaring numbers of new infections.
---
---
The US posted a record 53,000 new coronavirus cases as the deadly pandemic accelerated across the Americas, but its slowdown in Europe led the UK to announce the first exemptions to its quarantine rules.
With Europe looking to turn the page on the biggest public health crisis in modern history, travellers arriving into Britain from Germany, France, Spain and Italy will no longer be required to self-isolate starting 10 July.
To date there have been around 10.7 million cases of Covid-19 and 516,000 people have died globally.
Now the epicentre of the pandemic, the US recorded nearly 129,000 deaths out of more than 2.7m cases. It is expected to record its three millionth infection next week.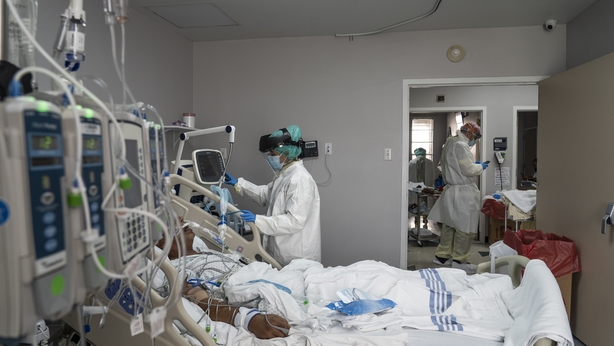 Florida, which now has more than 169,000 cases, is a key focus of public health experts who worry about a surge in southern and western US states.
Florida Governor Ron DeSantis blamed the rise on "social interactions" among young people gathering at parties, beaches, bars, swimming pools and elsewhere, as well as a more "robust" testing program.
Florida and other so-called "Sun Belt" states have been forced to re-shut restaurants, bars and beaches as the nation braces for the 4 July weekend.
These include California, which has seen a 56% increase in hospitalisations over two weeks, Governor Gavin Newsom said.
But President Donald Trump, under fire for his handling of the crisis, highlighted positive jobs data that showed 4.8m people were back to work in June.
The president's characteristically optimistic outlook came a day after Arizona - population 7.3m - recorded more new cases and deaths than the entire European Union, which has 446m citizens.
He also hailed the United States' coronavirus testing as the reason behind the record number of cases.
"There is a rise in coronavirus cases because our testing is so massive and so good, far bigger and better than any other country," Mr Trump said in a tweet.
There is a rise in Coronavirus cases because our testing is so massive and so good, far bigger and better than any other country. This is great news, but even better news is that death, and the death rate, is DOWN. Also, younger people, who get better much easier and faster!

— Donald J. Trump (@realDonaldTrump) July 3, 2020
But with some US governors now imposing 14-day quarantines on visitors from harder-hit states, the EU has begun reopening its borders. Residents of the United States, Brazil and virus-ravaged Russia are still being denied entry.
The World Health Organization warned on Wednesday that the pandemic was accelerating, with more than half of the world's infections over the past half year recorded in June alone.
And the past week has seen new highs, with cases topping "160,000 on every single day," WHO chief Tedros Adhanom Ghebreyesus said.
Cases have been skyrocketing across Latin America. Brazil, the region's largest economy, has almost 1.5m confirmed cases, second only to the US.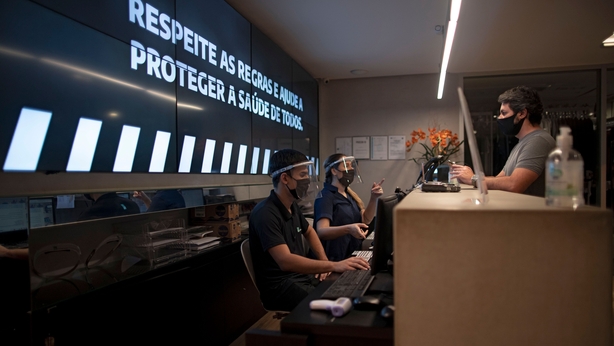 Nevertheless, popular tourist city Rio de Janeiro authorised bars, restaurants and cafes to reopen at 50% capacity.
The country's "R number" - the average amount of people to whom the infected will pass the virus - was one a month ago but has since risen to 1.5.
"That number will increase even more with reopening, bringing health problems to our population," Roberto Medronho, director of research at Rio's Clementino Fraga Filho University Hospital, told AFP.
Brazil was nearing 61,000 deaths yesterday, with 1.45m infections. Colombia, the fourth largest economy in the region, passed 100,000 cases while Peru topped 10,000 dead.
Indigenous people across Latin America have been particularly hard hit due to weak immune systems and centuries of state neglect.
The Pan American Health Organization estimates at least 20,000 people are infected in the Amazon River basin, where some areas are only accessible by boat.
The PAHO has also warned that the death toll in Latin America and the Caribbean could quadruple to more than 400,000 by October without stricter public health measures.
In Europe, countries are trying to safely revive a struggling tourism sector by opening borders to 15 countries ranging from Algeria to Uruguay.
Travellers from China, where the virus first emerged late last year, will be allowed to enter the EU if Beijing reciprocates.
Outside the EU, countries in the western Balkans which have so far been spared the worst of the virus are now seeing a new rise in cases.
After holding national elections and sporting events throughout June, Serbia yesterday announced new restrictions on gatherings of more than five people in its four hardest-hit towns.
In the Middle East, deaths in Iran surpassed 11,000 yesterday as the country records a rise in fatalities and cases following a low in early May.