Public health guidelines to govern the reopening of schools in late August and September will not be published for some time, according to comments made by the Minister for Education in the Dáil.
Schools had been hoping for guidelines on social distancing and other public health matters to be sent out before primary schools close at the end of this month.
However, Joe McHugh said this afternoon that the reopening of schools was "nine or ten weeks away" and there was time to continue to consult public health experts to develop and plan appropriate guidance.
He said schools needed the advice "at the latest in July".
Public health guidelines to govern summer programmes for children with intellectual disabilities will be published tomorrow. Students attending them will not be required to engage in strict social distancing.
However, children attending disadvantaged schools who participate in Department of Education summer camps will be required to socially distance.
The minister reiterated the Government's "strong preference" for a full return to school in late August and September "in line with usual timetables".
Notwithstanding the overall objective of a full reopening of schools, he said planning for blended learning, combining online and in-school learning, would be a feature of planning to reopen schools.
"[This is because] there may be circumstances where schools will have to have the necessary agility to respond quickly to changed circumstances at local or regional level," he told the Dáil.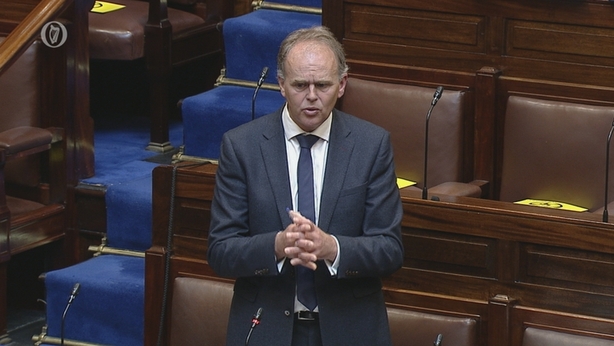 Mr McHugh said that physical distancing requirements were a function of public health advice and current guidelines were being kept under review.
He said emerging evidence on low infection transmission by children may also mitigate some of the risks considered as part of broader public health advice.
The minister said we had to be cognisant of the fact that maintaining physical distancing was not always practical for children who were young or had special educational needs.
He told the Dáil that 200 schools have registered to participate in the summer educational provision for children with intellectual disabilities.
A total of 9,200 children have registered to avail of a parallel home-based programme.
These are slightly lower than the numbers who participated in a similar programme that operated last summer. However, Mr McHugh said he was confident that more would sign up.
Last year, 232 schools and 10,000 children took part in the July Provision programme.
In relation to summer camps and courses for children attending DEIS or disadvantaged schools, he revealed that 210 primary and 14 secondary schools had expressed an interest in participating.
This compares with 72 schools that signed up for a similar programme last year. The minister said a number of other schools were considering participating in the programme.
Meanwhile, 36 schools have registered to run a separate HSE-led summer education programme to support children with complex needs. The minister said an estimated 3,400 children would benefit from this programme.
Guidance published tomorrow would support schools in planning and preparing for programmes to support students with disabilities and those attending DEIS summer camps. he said.
This will be in addition to some information already supplied to schools this week, Mr McHugh confirmed.