A study carried out at NUI Galway has found that personal care sanitary products are contributing to microplastic pollution in Irish waters.
The research conducted across three locations in Galway, Clare and Mayo showed that 50% of the flushable wipes tested were made of plastic.
Scientists from Earth and Ocean Sciences and the Ryan Institute at NUIG examined sediment at Grattan Beach close to the wastewater treatment plant at Mutton Island in Galway city. They found it strewn with white microplastic fibres.
The total number was 6,083 microplastics fibres per kilogram of sediment and 91% of these fibres were derived from wet wipes and sanitary towels.
The two rural sites tested in the study - Bell Harbour in Clare and Bellacragher in Mayo - had lower levels of microplastic pollution (Bell Harbour 1,627 and Bellacragher 316).
Researchers found that 50% of the wipes labelled "flushable" were not biodegradable. They are particularly concerned about what they say is misleading labelling and a lack of regulation in the wipes industry.
The study was led by Dr Liam Morrison with PhD student Ana Mendes and university graduate student Oisín O'Briain.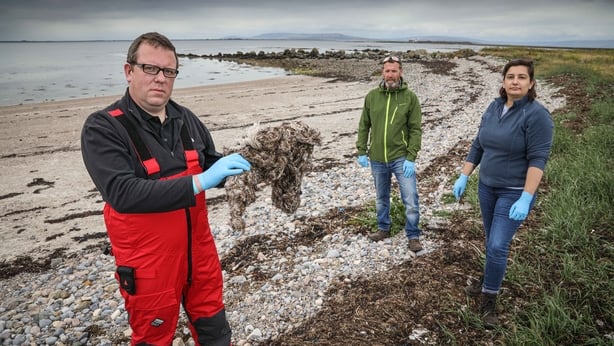 They reported that heavy rains were causing sewers to overflow and deposit these materials onto our beaches.
The plastic then becomes fragmented and breaks down into micro plastics that will eventually be accumulated by organisms in the sea.
The research team is calling on people to stop and think before flushing these products down the toilet. As well as contributing to the plastic crisis in our oceans, they frequently block sewage systems.
President of NUI Galway Professor Ciarán Ó hÓgartaigh said: "Our university has made sustainability a strategic priority, and for the world to address climate change, we have a duty to examine the behaviour of individuals and corporations that can help our planet.
"This research highlights the need for us to adapt our behaviours and tackle the ubiquity of plastic in so many products."