Ireland's reigning 5,000m champion has spoken of his joy at receiving his Irish passport and his dream of representing his adopted country in international competition.
Hiko Tonosa, who is originally from Ethiopia, arrived in Ireland in 2017 to compete in two race meetings.
At the same time, serious unrest was developing in his homeland.
Tonosa is Oromo, the largest ethnic group in Ethiopia and one that has long complained of political and cultural marginalisation.
It was while he was preparing for the Irish races that he received a devastating phone call from home.
A close friend and fellow athlete had been shot dead on the streets.
Tonosa was warned that his life would be under threat if he returned to Ethiopia.
Although he had no intention of staying in Ireland, he had little choice but to remain and seek asylum.
"When I came to Ireland, it wasn't as an asylum seeker. That became the situation after I arrived here. But after that, I asked myself - what can I do now? I had to run. And if I run, I have to run for Ireland," the 24-year-old explains.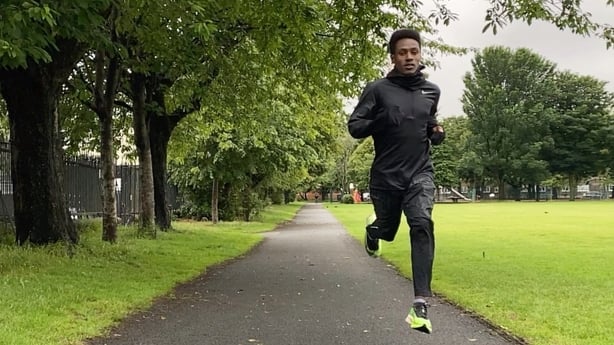 Tonosa spent two years in Direct Provision.
Last year he became the first asylum seeker to win a national senior title, in the 5,000m.
Having gained his refugee status, he received his Irish citizenship earlier this year, with his Irish passport arriving in March.
"My ambition is to win a medal, or get good results, for Ireland. I want to wear the green singlet," he laughs.
Tonosa is one of 40 Irish athletes from a range of sports who are inviting people to stand with refugees and join a 'social distancing' exercise class this World Refugee Day.
This morning's online 'Sanctuary Strength' class will be the tenth since the lockdown began.
"Over the last ten weeks, these classes have been a way to connect with our friends in Direct Provision," explains rower Claire Lambe, who is leading the initiative.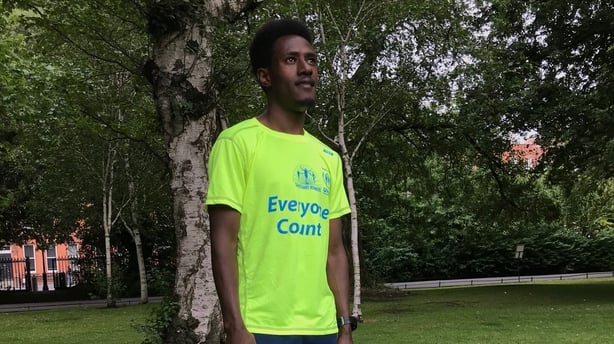 World Refugee Day, held on 20 June each year, honours the courage and determination of those who have been forced to flee their homes because of war, conflict and persecution.
"The Covid-19 pandemic has reminded us that everyone, including refugees and asylum-seekers, are vulnerable to the virus. However, it has also shown us that our strength as a community lies in our solidarity. No one is safe until everyone is safe. The crisis has shown us that we each have a role to play. Everyone can make a difference," said Enda O'Neill, the Head of Office at UNHCR Ireland.
"At a time when people around the world are rallying against racism and xenophobia, World Refugee Day is an opportunity to reassert the fundamental principles of equality and dignity for all. People who are persecuted because of their beliefs or characteristics – including their race – have a right to be protected," added Mr O'Neill.
You can follow today's Sanctuary Strength class on YouTube.
As well as Hiko Tonosa, the initiative is being supported by stars including Tom Barr, Gary and Paul O'Donovan, Brian Fenton, Ciara Mageean, Seamus Coleman, Annalise Murphy, Sonia and Sophie O'Sullivan, Olive Loughnane, Patience Jumbo-Gala, Rob and Marian Heffernan and Tomas O'Sé.