A Co Tyrone teenager's video diary of her collection of tadpoles has become a hit online leading to a deal with a US influencer agency.
Hannah McSorley's videos of the thousands of tadpoles she has been tending to amid lockdown have amassed over 50 million views on the social media platform TikTok since the end of March.
The 17-year-old started the project as an educational experience for her nine-year-old brother at their family home in Omagh, Co Tyrone.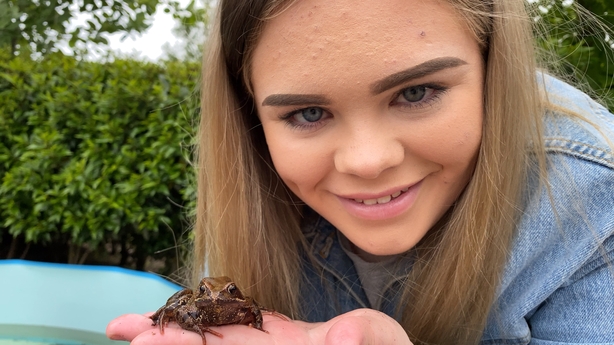 "It just went global and I now have so many fans all over the world. It's unbelievable to think that there's people all across the globe that tune in every day to watch a tadpole video.
"I live in the countryside and with it being lockdown myself and my brother are making the most of it, going out for our daily walks. I noticed a clump of frogspawn lying in a wet part of the field.
"I took it home in a jar and watched it grow because I thought it would be educational for Paul but also something interesting to do during lockdown," said Ms McSorley.
With her videos, the teenager has been documenting the progress from frogspawn to tadpole.
"As the tadpoles grew, they needed more space and the more research I did the more I learned about what diet they need and how to look after them properly.
"So I upgraded from a little jar to a tub and then to two tubs and now a paddling pool," said Ms McSorley.
Ms McSorley feeds them boiled spinach and white fish daily. She changes their pool water fortnightly.
The tadpoles will develop into froglets in a couple of weeks. Ms McSorley is planning to release them back into the wild in batches.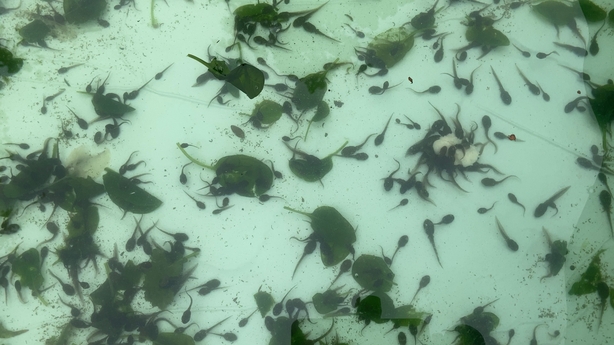 The popularity of the teenager's tadpole tales has led to a deal with US influencer agency, Markerly.
Ms McSorley is hoping to set up an educational YouTube channel in time for the next frogspawn season.
The Tyrone teenager's ultimatum dream is to become a vet.
"I have such a passion for animals and insects and wildlife. I hope to study veterinary and become a vet and look after lots of animals," she said.
According to the Northern Ireland Environment Agency:
"It is not illegal to collect frog spawn, but you should seek landowner's permission first."
A licence is needed to collect and use frog spawn for educational purposes in the Republic of Ireland.