Thousands of demonstrators streamed toward the White House and other Washington DC locations today for huge rallies over the death of George Floyd and issues of inequality for black Americans, as the movement triggered by his death at police hands entered a second weekend.
With protests in solidarity underway around the world, police closed off a wide area around the White House, which is now behind a new barrier of black metal grates.
An even larger demonstration was underway near the Lincoln Memorial on the National Mall, with some protesters moving toward the massive stone memorial to civil rights icon Martin Luther King Jr.
The gathering was set to be the biggest since the protests began nine days ago, with tens of thousands of people expected to throng Washington DC on an oppressively hot and sunny day.
Protests were taking place all around the US, including San Francisco, New York, Miami and Minneapolis, where Mr Floyd was killed while in police custody on 25 May.
Also today, a remembrance for Mr Floyd was being held in Cape Fear Conference B church in Raeford, North Carolina, the state where he was born, following an initial ceremony in Minneapolis on Thursday.
Hundreds of people waited in line there to view Mr Floyd's coffin. Some sobbed and many held their mobile phones high in the air as a hearse arrived with the casket.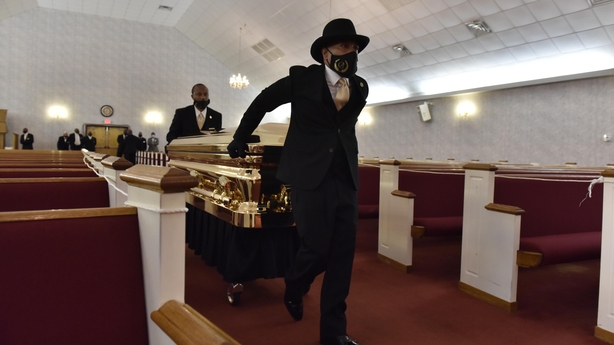 Meanwhile outside the White House, protesters crowded in front of the fences around the presidential mansion. Some attached pictures of Mr Floyd and other black people killed by police.
Patricia Thompson, a 55-year-old African-American who came with her niece and nephew, said she hoped this was a turning point in US history.
"I feel like we've been fighting, fighting, fighting, and all of a sudden, everything just broke through," she said, referring to corporations that for the first time have taken a public stand against institutional racism.
In Australia, aboriginal protesters performed a traditional smoking ceremony at the start of a "Black Lives Matter" protest in Sydney, which was sanctioned at the last minute after initially being banned on health grounds.

Many held up signs and wore face masks marked with the words "I can't breathe" - which Mr Floyd kept repeating while handcuffed as a policeman knelt on his neck.
In Paris, riot police held back a crowd of several thousand who gathered outside the US embassy for an unsanctioned event. Another in the French city of Metz ended with a few dozen people breaking into a courthouse and lightly injuring several security officers.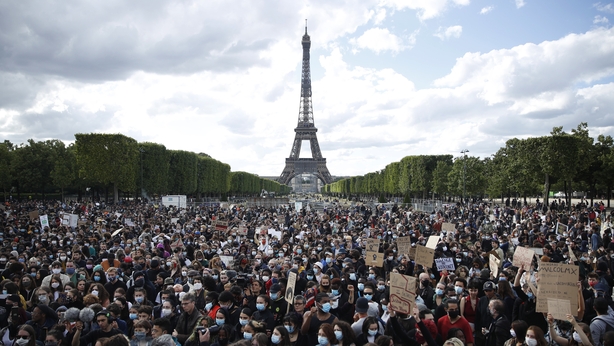 "I find it scandalous that all these injustices go unpunished," said Dior, a 21-year-old Senegalese-Ivorian student, amidst crowds holding up placards reading "Being black is not a crime" and "Our police are assassins".
Smaller, youth-driven protests were staged outside US embassies in Warsaw and Sofia, while in Germany they included Bundesliga footballers, who warmed up in "Red card to racism #BlackLivesMatter" shirts and took a knee prior to kickoff.
"How many more?" asked a poster held up in a crowd of thousands in Frankfurt. Police in Hamburg used pepper spray on protesters and deployed water cannons as anti-racist protests turned ugly.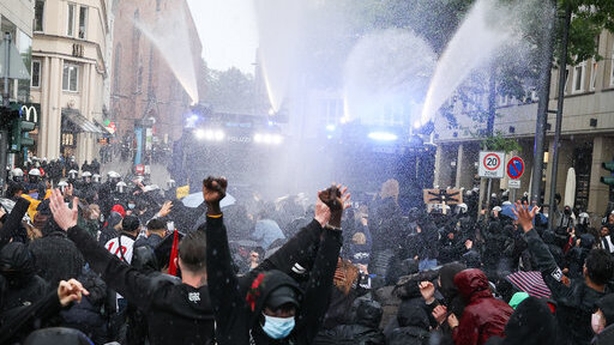 In London, there were clashes near Downing Street when some protesters had an angry confrontation with police following a peaceful rally earlier on Parliament Square.
Hundreds of people also rallied across town squares of Belgium and the Netherlands.