Like any experienced driver, officials and politicians are always looking for the quickest route to their intended destination, provided it is safe.
So it should not surprise anyone that the navigators of Ireland's roadmap out of the Covid-19 restrictions chose to veer suddenly onto an alternative faster track on Friday afternoon.
Indeed, in hindsight the potential change of plan had been subtly signposted throughout the week leading up to the decision.
On Friday afternoon, Taoiseach Leo Varadkar told the nation that, after consultation between cabinet and the National Public Health Emergency Team (NPHET) at Dublin Castle on Thursday evening, he now believes "we are heading in the right direction".
The Five Phases out of lockdown, he said, have been reduced to four, with people allowed to travel anywhere within their own county, meet up to six people at a time indoors and play non-contact sports involving up to 15 people outside from Monday.
From the start of next week, people over the age of 70 who are still cocooning will also be able to receive visitors provided they are wearing masks, shops will be able to reopen under certain rules and funeral gathering limits will rise from 10 to 25.
And in more positive news, bars which can reopen as restaurants will be allowed to start table service from 29 June, all travel restrictions will end on the same date and, provided there are no more bumps in the road, barbers and hairdressers will start seeing shaggy customers from 20 July.
The changes are part of a joint decision by cabinet and NPHET's medical experts including chief medical officer Dr Tony Holohan after examining the reality of Covid-19's current grip on Ireland.
But they are also partially a response to a change in public mindset since Phase One of the Government's restrictions easing came into effect three weeks ago, an issue that in hindsight was clearly signposted on the roadmap over the past week.
Here is how it unfolded:
1. Politicians public and private travel restriction concerns:
The first clear indications that the Five Phase lockdown easing plan may be altered came just over a week ago, when politicians inside and outside of cabinet raised public questions over the road map.
On Wednesday 27 May, Fianna Fáil leader Micheál Martin became the most senior politician to question the then roadmap plans, saying there was "no justification" to the 5km and 20km travel limits.
The following evening, Fianna Fáil's influential justice spokesperson Jim O'Callaghan repeated the view in the Dáil, telling RTÉ's Morning Ireland the next day he believed the "extremely cautious" 5km rule should be removed "sooner rather than later".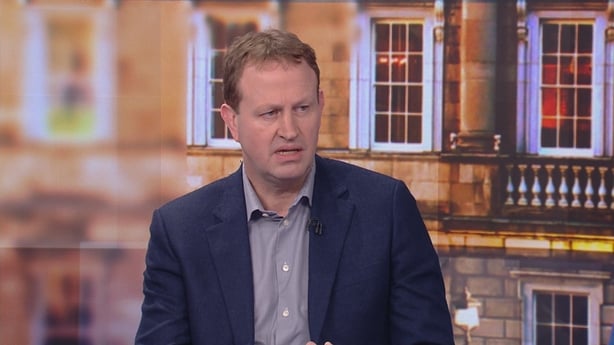 The view was also being expressed within government, with cabinet sources telling RTÉ News and other media outlets late last week some ministers believed the 5km distance limit was ineffective and that businesses should be allowed to reopen sooner.
The claims were based on the argument that, in the period since the first restrictions easing phase was introduced there had been no significant increase in Covid-19 cases, and that a frustrated public was beginning to become less strict about sticking to existing rules.
An argument that appears to have won out, given the road map changes which have now been introduced.
2. Dr Colm Henry's beating of the virus off the streets:
At the same time as the political discussions were taking place, positive signs were emerging from the officials who have become synonymous with delivering negative news - NPHET.
Speaking to RTÉ's Morning Ireland on Wednesday 27 May, the HSE's chief clinical officer Dr Colm Henry said "we have seen the virus beaten off the streets" due to the nationwide physical distancing work of the public and the expertise of physicians.
Dr Henry said: "It is important to remind people of the gains that we have made as a country.
"We have seen a 70% reduction in the number of people in our intensive care units and a 70% reduction in the number of people in our hospitals.
"We have seen the virus beaten off the streets in our towns and cities and into households.
"So much so that the number of contacts per confirmed case has gone from a peak of 20 to less than three and sometimes two.
"Those gains have been hard fought for and they have been made because of the restrictions we have fought hard for, and we as a people adhering to those measures so that we could break that chain of transmission and bend that curve and effectively extinguish the virus from our streets," he said.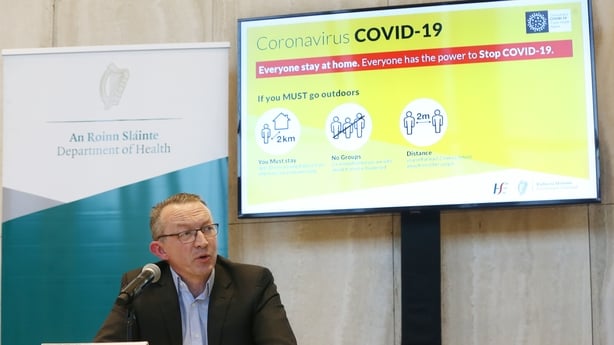 Dr Henry's comments were sprinkled with a touch of cautious, as he said "we should take great care before we jump in and reverse those significant gains".
But his view that Ireland was "bending and smashing that [Covid-19] curve" was among the first significant good news for the public in months, a situation repeated by - although still tragic - drastically lower virus cases and mortality rates than had been seen earlier in the pandemic.
3. The Black Lives Matter solidarity protest:
While not strictly related to the Covid-19 battle, the Black Lives Matter protest in solidarity with the family of George Floyd which took place in Dublin on Monday was a further sign of the need for a change to the existing virus road map.
Despite official rules stipulating that no large outside crowds should form and that people must ensure physical distancing is maintained, hundreds of people attended a solidarity protest outside the US embassy in Ballsbridge, Dublin.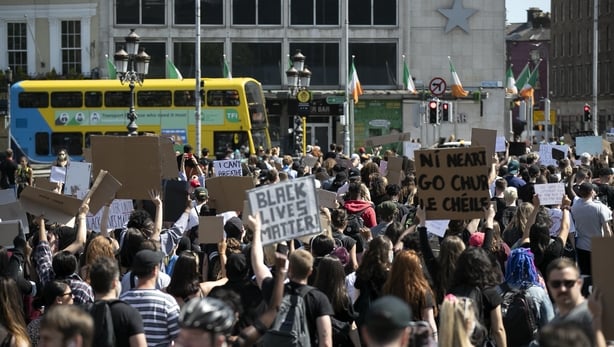 In addition to showing support for protesters in the US, the event indicated a reality that was already being anecdotally seen by many, namely that the public was losing its commitment to the long-standing Covid-19 rules.
Although gardaí have since spoken with the organisers of the protest and advised them as part of consultation to adhere to virus safety rules in future, the fact the event attracted such numbers, and that thousands of other people socialised on beaches and at house parties during the same period, showed a change in public attitude.
Once that strict rules adherence genie left the bottle, it was clear it would be difficult to entice back in, meaning a softening of restrictions was required to keep the public on board the Covid-19 battle.
4. The virus R-rate:
Ever since Covid-19 first entered the global lexicon, the phrase "R-rate" has been to the front of people's minds.
The rate which outlines how many people a person with Covid-19 is at risk of infection and as such, indicates the strength of the pandemic, was at the worst point of the crisis reaching four.
But by the start of this week, the Department of Health's chief medical officer Dr Tony Holohan said it had fallen dramatically and, just as importantly, despite a slight increase appears to be staying down within manageable levels.
In a number of daily Covid-19 media update briefings this week, Dr Holohan has explained the R-rate is now at between 0.4 and 0.7, a situation that has proved three months of physical distancing and mask wearing rules have helped to smother the virus.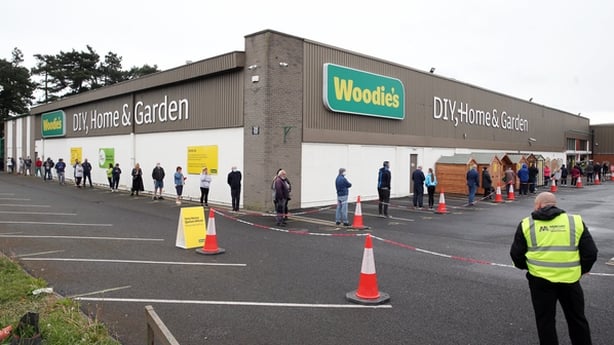 While stressing Ireland as a community must continue to adhere to safety advice, he said the data indicates Phase One of lockdown restrictions easing has not resulted in a significant increase in the rate.
As with almost all medical advice, Dr Holohan's multiple day remarks were qualified with a clear warning that people must continue to use their best judgment and not take unnecessary risks.
But with some influential politicians and a significant if not universal section of the public seeking a relaxation of rules, the comments gave further credence to calls to accelerate the road map out of Covid-19.
5. Taoiseach Leo Varadkar's proposals:
Perhaps understandably, the most obvious sign the road map was changing came just 24 hours before the announcement was made, and by Taoiseach Leo Varadkar himself.
Speaking during a Dáil Covid-19 debate on Thursday, Mr Varadkar said he was aware of the changing public mindset and the positive news about the reducing virus levels.
As such, he told TDs he and his cabinet would be making "proposals" to NPHET at their meeting on Thursday evening to discuss whether to speed up the previously outlined road map rules.
He said: "We have made proposals to the chief medical officer and NPHET about bringing things forward from Phases Four to Three and Three to Two.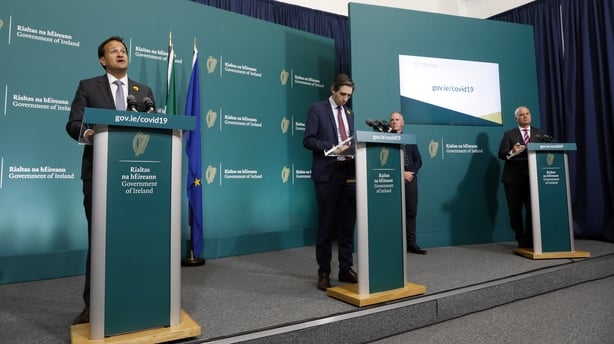 "NPHET is considering the proposals and Government will make a decision on that on Friday morning and inform the public of the decision on Friday afternoon," said Mr Varadkar.
The Taoiseach added the road map "is a living plan that can be accelerated if we are getting on top of, and ahead of, the virus".
A living plan.
And, partially due to its speeding up on Friday, one that has been given a new injection of life.