Galway city was coming alive today as the stores along the main Shop Street thoroughfare and other side streets were busy preparing to reopen for business on Monday 8 June.
However, hairdressing salon owner, Sarah Mason, was not among them after Taoiseach Leo Varadkar said today that hair salons would remain closed until Phase 4 on 20 July.
Ms Mason thinks there will be a lot of disappointment in her industry at the date announced for reopening.
However, she personally thinks it's the right decision on health and safety grounds. She says Phase 4 will give greater peace of mind ultimately to both hairdressers and clients.
"We look forward to welcoming our clients back in the chair when the time is right."
However she is calling for the implementation of the SME (small and medium enterprises) recovery plan as soon as possible.
"The confederation of hair, beauty and barbering HABIC.ie requires some financial assistance following the losses incurred over the last number of months," Ms Mason told RTÉ.
Family-owned restaurant, deli and fine food store McCambridges is raring to go. Natalie McCambridge said there was a real air of positivity around town. "It's so exciting to see shops reopening, it's been a tough couple of months but now there is a nice air of positivity."
The Dough Brothers in Galway explained that they were stocking up on industrial size tins of tomatoes from Italy to get back to making wood fired pizzas for hungry customers.
Galway retailer Brendan Breathnach has been using the time during lockdown to re-imagine his fashion store, Bowling & Market, that also sells online.
He and his business partner, Hannah Rodrigues, are offering Italian and French brands combined with artisan accessories. Mr Breathnach said customers would be invited to book in for a half an hour slot to allow them to take their time and browse in safety.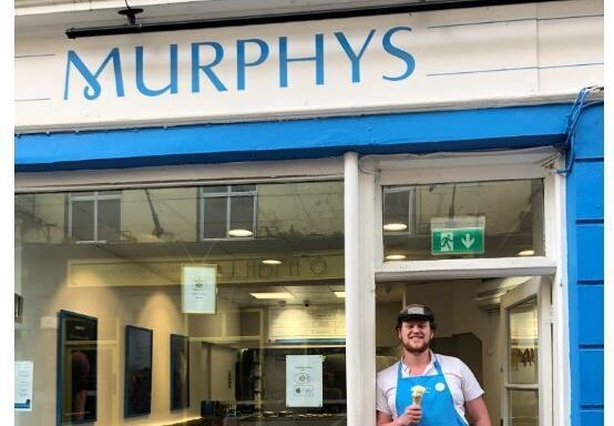 Gearóidín Hynes is project manager for Gaillimh na Gaeilge which promotes the Irish language through business in the city. She said she was "delighted" to see the city slowly opening up. "Tá áthas orm!"
And who doesn't love an ice cream when the sun shines in Galway?
Eamon Connaghan was back getting Murphys ice cream parlour ready and the sweet shop next door was being sorted and stocked by Iarlaith Larkin ahead of Monday.
Charlie Byrne was busy stocking up shelves in his bookstore and cleaning and hoovering ahead of reopening on 8 June while the Thomas Woodberrys wine store on Middle St has installed social distancing measures.
The Ór jewellery store owners were also dusting shelves and showcasing new lines.
Coffee shops are beginning to buzz and Anna Kavanagh said she was overjoyed to be getting Espresso 44 up and running for Monday.