A Dublin couple found a unique way "to stay active and sane" while cocooning by building a miniature lighthouse in their back garden.
The couple spent the last three months on the project but retired stonemason Noel Cavanagh says the idea "was thought about over five or six years".
"Of course when this virus came in in March and there was a lockdown, I decided to go for it and made the effort and built it. With the help of my lady wife, Geraldine, we got stuck in and we just finished it up last week," he said.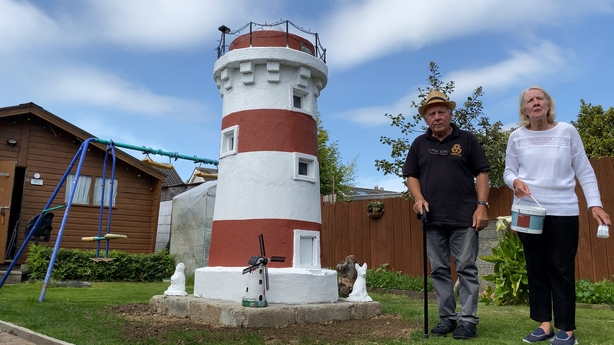 For the design, Mr Cavanagh researched examples of lighthouses online.
"I always had a keen interest in lighthouses. My grandfather Charles, a Limerick man, worked on one of the lighthouses off the south coast of Ireland. It possibly could have been the Fastnet number two lighthouse," he said.
The Cavanaghs' lighthouse stands at two and half metres and is made from stone with a granite base.
"I have a little beacon on top. It wouldn't light up the whole area now or anything like that except maybe the garda helicopter going by might see it," said Mr Cavanagh.
Geraldine Cavanagh painted the lighthouse in traditional colours.
Like many cocooners the couple are missing their grandchildren, friends and hobbies.
"My four-year-old grandson Leon which is Noel spelt backwards wants to play hide and seek with it. I think he thinks he can go inside it," said Mr Cavanagh.
The stonemason has an underlying health condition and had femoral bypass surgery three years ago. He says the project gave the couple something to focus on and helped keep them in a positive mindset.
"You can plan out your retirement to a certain extent but you don't know what's going to happen tomorrow.
"Like this virus that came in here, nobody knew about that, you know. I think everybody in life has problems, setbacks, unfortunately but I think you have to keep positive.
"You must keep positive. You must keep moving and keep yourself active and sane. That's very, very important in old age," said Mr Cavanagh.