The gardening boom in Ireland continues as a nationwide initiative hopes to encourage people to grow their own food during the Covid-19 pandemic.
The 'Grow it Forward' initiative by GIY Ireland aims to get 50,000 people in Ireland to start growing their own vegetables.
People who sign up to the initiative are provided with seed starter packs and online gardening advice through local groups.
Jennifer Farrell set up the 'Grow it Forward Greystones' group, which now has more than 80 members.
"ChangeX and Grow it Yourself put together a campaign to try and get 5,000 people in Ireland, who were already good growers, to encourage ten other people each to start to grow their own food as a response to Covid-19," she said.
"This initiative hopes to get 50,000 people to start growing some of their own food.
"One of the most important things is the mental health benefit that has been shown over and over again for gardening, that it's really good for lowering stress and lowering anxiety and at the moment, particularly over the last few weeks, that's really what people need."
While some now have the time to discover their gardens, others have had to stay away from them.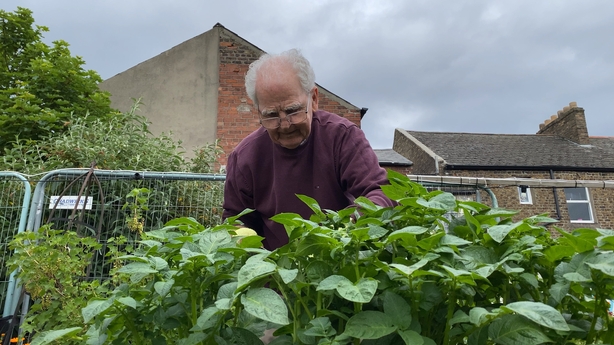 Community gardens and allotments, which had been closed due to Covid-19 restrictions, reopened earlier this week as those restrictions eased.
Members have been busy getting their plots back into shape while also following social distance guidelines.
One such gardener is 84-year-old Dermot Byrne. He is one of the 200 members of Mud Island Community Garden in Dublin.
Mr Byrne had been cocooning at home for several weeks and was unable to tend to the potatoes he planted in March.
"Well, they call me potato man," said Mr Byrne.
"I planted them the first week in March. I just got them in on time and I was cocooning up to last week. I came here the other day and I was saying, 'They're jumping out of the ground'.
"I'll come here now once a week in the evenings when no one else is around."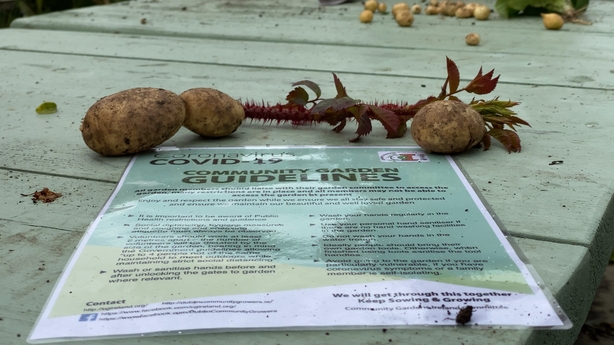 Fionnuala Halpin is the chairperson of Mud Island Community Garden. She described how "lucky" they felt that they could upkeep the garden during the earlier restrictions.
"It threw a shock ball into everybody's system and people were very afraid so we took it in turns to come to the garden and look after it," said Ms Halpin.
"So it was singularly, one at a time, people would come in to water and weed and plant and that's how we were able to sustain it over all this time."
Mr Byrne hopes the renewed interest for growing your own is here to stay.
"They've nothing to do now. They always had something else to do - football, racing... Television took everybody away.
"They realise how simple it is to work at home. Any type of box at all, things will grow in them," he said.