One of the country's up-and-coming trainers has said that horse racing is a showcase for an industry that supports 29,000 jobs and needs to return on 8 June to allow that industry to continue.
Racing was initially designated as a Phase 3 activity in the Government's road map for reopening the country, but intense lobbying was carried out by people in the sector, who pointed out that it is not just a sport but also a key employer in rural Ireland.
The Government then agreed to allow it resume in Phase 2, on 8 June, with strict conditions attached, including a behind-closed-doors policy.
Paddy Twomey, who sent out two Classic-placed horses this time last year from his 60-strong yard at Athassel in Golden, Co Tipperary, said the 8 June return to action is more than welcome, while pointing out that public health and safety have to be paramount at all times.
"There's no racing and we're a yard that race them, and a lot of them sometimes get sold or whatever and there's been no trade," he told RTÉ News.
"We're no different to any other sector or any other part of the economy on that front, it's been the same for everybody."
Anecdotal evidence within the wider racing community suggests that job losses or cuts have been minimal, although figures are not yet available for the sector.
"We've been very lucky," Paddy Twomey said.
"I've very good owners and the horses are all kind of at a level where they're near to running, so the Flat season was just about to kick off and we're ready to go."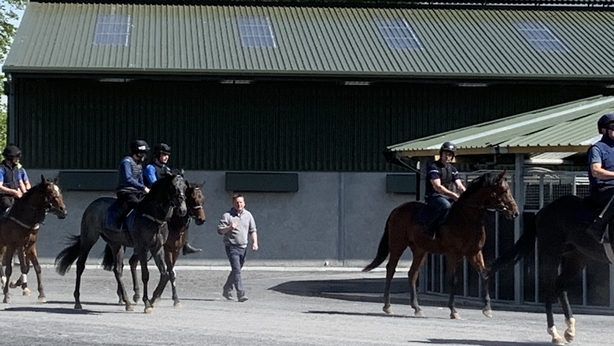 Recent weeks have seen a complete change in work practices at yards such as Athassel House Stables, with measures introduced to promote social distancing among staff, all of which have helped keep the show on the road.
"The coronavirus has affected the whole country and the whole world in a way that no-one's experienced before. Even from the point of view of trade, for people selling horses at the sales, breeze-ups and what-not, their window has passed or is passing and without racing opening up it's going to be very hard to get those horses traded.
"There are a lot of people around this country (who) have a lot of money invested in young horses and racing is the shop window for that product. If racing doesn't start, they're not going to be able to get up and running and trading, so it's very important.
"If we can get racing behind closed doors, then these guys have a chance to recoup their investment and start the thing rolling again."
Naas Racecourse on 8 June will be the focus of the industry, in Ireland and abroad, while the wider community will have a keen eye on how the resumption of the sport proceeds.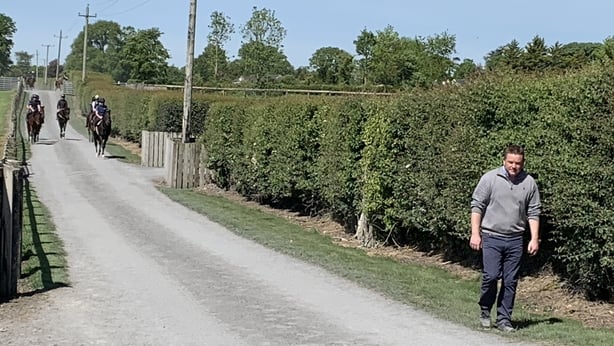 For jockeys such as Billy Lee, who rides for Paddy Twomey, Willie McCreery and others, it can not come too soon.
"It's been a difficult period for us at the moment," the jockey said.
"Personally speaking, I suppose it's just a loss of wages and everything, but at the same time it's our way of life and it's just been disrupted at the moment, unfortunately.
"We're just looking to get back now as quick as we can and delighted we have a date to get back, and looking forward to it.
"I've been able to tip away a couple of days a week, but I haven't been as busy over the last eight or nine weeks now, so that way I would feel sorry for a lot of people - the uncertainty that they mightn't have a job to go back to when this all starts back again. Hopefully they do."
Billy Lee said there is every reason to believe that resuming racing will be a positive move, based on the ten behind-closed-doors meetings that took place in this country in the weeks before the restrictions were announced in late March.
"It all went very smoothly and it was done to a very high standard and I'd be confident that way. I'm led to believe that it's going to be even stricter for us when we're going racing and that can only be a positive thing. I've every confidence that they'll do a good job."
In a statement to RTÉ News, Horse Racing Ireland said it has experience of operating behind closed doors, so when it returns on 8 June, it will do so "with only key personnel on site and under the strictest of protocols including health questionnaires, thermal temperature checks on entry and a vast number of social distancing and infection control measures".