India's total Covid-19 cases rose to 85,940, taking it past China, where the pandemic originated last year, though a strict lockdown enforced since late March has reduced the rate of infection.
State leaders, businesses and working class Indians have called on Prime Minister Narendra Modi to reopen the battered economy, but the government is expected to extend the lockdown, which would otherwise expire tomorrow, though with fewer restrictions.
So far the death rate in India appears far better, according to health ministry data, with 2,752 fatalities reported, compared with China's 4,600.
The toll in the United States, UK and Italy is much higher.
Health Minister Harsh Vardhan was also encouraged by the slowing rate of infection, as it now takes 11 days for the number of cases to double, whereas before the lockdown cases were doubling every 3.5 days.
"Clearly the situation has improved due to lockdown. We have utilised this period of lockdown to accelerate public health measures such as case detection, contact tracing, isolation and management of cases," Mr Vardhan said.
Indian officials say the low death rate could be because a majority of people infected with the virus were either asymtomatic or had mild symptoms and that the vast shutdown imposed early on had helped avoid a major catastrophe.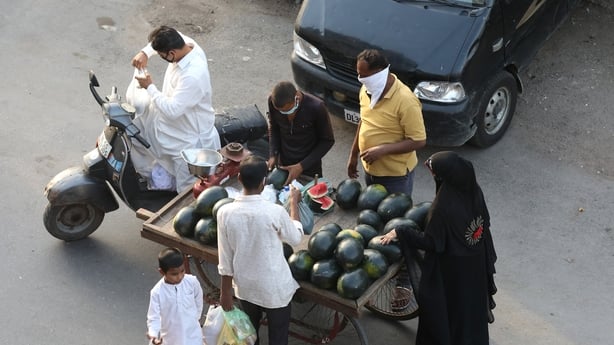 A third of the infections are from the western state of Maharashtra, with Mumbai the worst hit, followed by Tamil Nadu, Gujarat and Delhi.
These are also the most important economic centres of the country, complicating the government's task as it tries tore-open without triggering a big spurt in infections.
"India is still in the growth phase, since total cases are still rising. Active cases are growing at 3.8% (daily) – and this needs to fall to 0% and decline subsequently for the country to recover overall," Shamika Ravi, a Brookings expert and former member of the Indian Prime Minister's Economic Advisory Council, said.
One area of concern has been India's low testing in relation to its large population, public health officials say.
The country has ramped up testing since the beginning of April to 100,000 this week, but with 1.3 billion people on a per capita basis it is trailing far behind other major countries such as the United States, the United Kingdom and Italy.
---
Read more:Latest coronavirus stories
---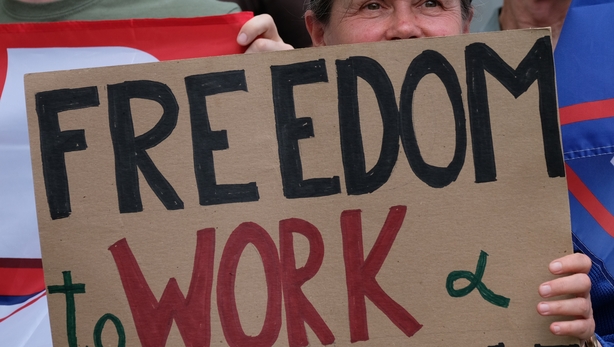 US economic woes
The pressure to ease lockdowns has mounted as the catastrophic economic effects of the virus have become clearer.
In the United States, the world's worst-affected country with more than 87,000 deaths and 1.4 million cases, industrial production plunged 11.2% in April, the largest drop in a century.
Department store JCPenney, a retail institution which has not turned a profit since 2011, on Friday became the latest US business to file for bankruptcy.
"May will not be a month of celebration. Nor will June. Nor July. Nor probably the rest of this year," warned Neil Saunders, managing director of GlobalData Retail.
With 36.5 million Americans - more than 10% of the population - now out of work, Mr Trump has been keen to ease lockdown measures as he seeks re-election in November.
Some areas are resisting. Lockdown measures in New York City have been extended until 28 May.
In the US House of Representatives, Democrats late Friday narrowly pushed through a $3 trillion rescue package to help American families and businesses stay afloat.
But its fate appears uncertain as Republicans have vowed to block it in the Senate which they control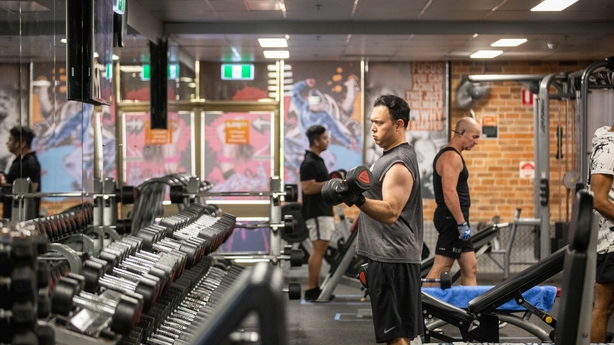 As Australia slowly relaxes lockdown, Victoria battles Covid-19 clusters
Struggling to curb the spread Covid-19 while the rest of Australia has begun relaxing a two-month lockdown, Victoria state has reported 11 new cases, including some linked to known clusters at a meat factory and a McDonald's restaurant.
The southeastern state had accounted for 20 of the 31 new cases reported across the country yesterday.
New South Wales, the most populous state, has been hardest hit by Covid-19, but new cases there have subsided, with just three reported today.
For the first weekend since mid-March, restaurants, cafes and bars are re-opening in most parts of Australia, including New South Wales, but Victoria retained most of its lockdown measures.
Queensland, where just one case was reported, also eased its restrictions over the weekend, allowing restaurants, cafes and beauty salons to reopen, and groups of ten people to meet for recreational purposes in parks, at playgrounds or for barbecues.
Australia has recorded just over 7,000 Covid-19 cases, including 98 deaths, significantly below levels reported in North America and Europe, but health officials continued to urge vigilance and encouraged people to stay home.
Victoria state health minister, Jenny Mikakos, said that it was "inevitable" that there will be more coronavirus outbreaks.
"It's important that everyone understands this pandemic is not over," Ms Mikakos said during a televised briefing.
"It is important people take every possible precaution."
Two of Victoria's new cases were connected to a cluster at a meat factory, where 98 people have been infected so far.
Another new case was linked to a McDonald's restaurant in Melbourne, bringing the total number of cases in that cluster to 11.
'Nightmare scenario'
The new coronavirus which first emerged in the Chinese city of Wuhan late last year has so far killed more than 306,000 people globally and infected 4.5 million as it continues to spread.
The WHO warned Africa could have 231 million people infected and up to 190,000 could die.
There was also concern over the "nightmare scenario" of the discovery of infections in the world's biggest refugee camp, in Bangladesh, where upwards of a million Rohingya Muslims from neighbouring Myanmar live in squalor.
Besides its health and economic toll, the pandemic has also caused political ructions.
The latest fallout was in Brazil which lost its second health minister in a month as Nelson Teich resigned Friday over what an official said was "incompatibility" with right-wing President Jair Bolsonaro's approach to fighting the country's spiralling Covid-19 crisis.
Iran reports lowest death toll since 7 March
Iran has reported 35 new deaths from the coronavirus - the lowest number since 7 March despite infections rising - and announced a further relaxation of Covid-19-related closures.
"Despite the unfortunate loss of 35 of our compatriots in the past 24 hours, this number is the lowest in the past 70 days," health ministry spokesman Kianoush Jahanpour said.
The new deaths brought the overall toll to 6,937, he added.
But in an ominous sign, Iran on Friday reported its highest number of new infections in more than a month.
"We are in no way in a normal situation yet," Mr Jahanpour said.
He said 1,757 new coronavirus cases had been confirmed across Iran in the 24 hours to Saturday, bringing the overall total to 118,392.
Of those hospitalised since Iran announced its first cases in the Shiite holy city of Qom in February, 93,147 have recovered and been discharged, according to the health ministry.
Jahanpour said the southwestern province of Khuzestan had the highest number of new hospitalisations and that the situation was "critical" in most of its counties.
The key oil-producing province on the border with Iraq has become Iran's new coronavirus focal point, labelled "red" on Iran's colour-coded risk scale.
Khuzestan is the only province so far where authorities have reimposed shutdowns on businesses after a countrywide relaxation in April.
The renewed closures in more than half of the province's counties were extended until Monday, Iran's ISNA news agency reported.
Governor Gholamreza Shariati warned of "fatigue" among medical workers as cases rise and appealed to residents to stay home.