A DUP Minister in the Stormont Executive has said the party will fight plans to build border control posts at sea and air ports in Northern Ireland as part of the UK's Brexit deal.
The British government has told the EU that controls will be in place for when it leaves the single market at the end of the year.
Edwin Poots, Minister for Agriculture, and other members of the Executive were briefed about the development on Monday.
He said he made his concerns clear during that briefing and insisted there must be unfettered trade between Northern Ireland and Great Britain.
The DUP has repeatedly said it will oppose any regulations that treat Northern Ireland differently than the rest of the UK.
"We are holding the UK Government to the position that was enunciated by the Prime Minister," he told BBC Northern Ireland last night.
"That there will be fetterless trade between Northern Ireland and Great Britain and that has to be the case, that we have that fetterless trade and that's something that we will continue to fight for."
Northern Ireland will remain in the European single market from the end of this year - but the rest of the UK will not.
As Europe has strict rules on the entry of animals and food products into the single market, it says inspections and checks must take place.
The European Commission wrote to the British Government last month insisting that designated Border Control Posts (BCPs) must be operational by 1 January next year.
The UK, which has repeatedly insisted there will be no customs checks on goods to and from Northern Ireland, has said it will comply.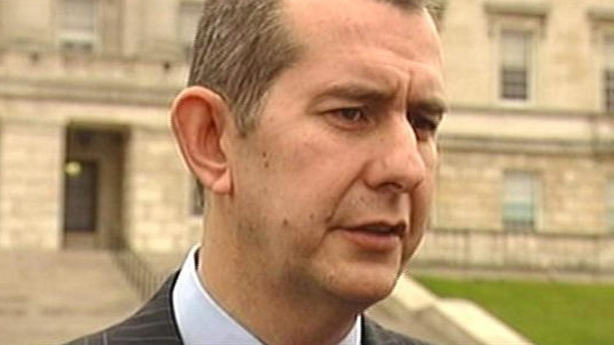 The designated BCPs will be the Port of Larne, where live animals arriving from Great Britain are already checked, Warrenpoint port in Co Down, Belfast port and the two airports in the city.
Edwin Poots said his party is concerned that the planned checks and inspections will have an adverse impact on the cost and quality of food produce.
"The issues of concern are very clear," he explained. "We don't want consumers having to pay more for goods. We don't want goods, which are fresh goods, being delayed at ports coming into Northern Ireland.
"The protocol, as it is currently framed, is not something which is good for Northern Ireland and therefore we will seek to get something which is better.
"We will argue, we will fight and we will represent all of the people of Northern Ireland in terms of ensuring that we do not come out of this with higher costs to consumers, higher costs to business, costing jobs.
"We have a lot of people in Northern Ireland who are on the margins in terms of their finances, and they can barely afford food, so we can't afford for that to be driven up because of a poor deal that was negotiated between the EU and the UK."