Minister for Finance Paschal Donohoe has concluded a briefing with negotiators from Fine Gael, Fianna Fáil and the Green Party on the economic challenges posed by the Covid-19 pandemic.
The two-hour session involved the Minister giving his analysis of the key decisions that need to be taken, followed by an exchange of views with the negotiators.
RTÉ News understands that deputy leaders from three parties, who are leading the discussions, are due to meet again tonight.
A recent Department of Finance projection stated that the general government deficit was projected to rise to approximately €23 billion, but could increase to €29bn in what is described as a "severe downside" scenario. 
The Taoiseach said today that it is "impossible to predict" what the financial impact will ultimately be.
Leo Varadkar told journalists: "Nobody knows how long this pandemic is going to last. Nobody knows what form the pandemic will take - whether there will be a second wave.
"I think economic forecasts mean very little at the moment unfortunately - it's almost in the realm of astrology," he added.
However, the Taoiseach described Mr Donohoe's briefing as an "honest appraisal" of where things stand economically adding - "it is not going to come as a shock to anyone".
He said "difficult choices" are awaiting the next government, but the "right choice" was to get people back to work and the economy growing again.
He also said he was sure that members of the three parties that are now in government talks "have all said things about each other" that now needed to be put behind them.
Mr Varadkar said that all of the parties had entered the talks in good faith and all parties wanted to succeed and that was the basis on which they should proceed.
This is the third day of the talks process, following detailed discussions on justice and housing issues on Monday and yesterday.
Earlier, Fianna Fáil's John McGuinness said Fine Gael, Fianna Fail and Sinn Féin should "get together and form a government".
Speaking on RTÉ's Today with Sarah McInerney, Mr McGuinness said: "Fine Gael lost the election, Fianna Fáil lost seats, and Sinn Féin had a good election. I see no good reason why, in these economic circumstances that we shouldn't have a government made up of these three parties. They should get on with it and start talking."
He added: "It is ridiculous that we would spend so long talking to two single parties without exploring the input of others.
"If we continue to grapple with the old style of politics and if we don't fulfil our promise that we will bring about reform and change in their interest then we will have failed.  To tell the electorate that there will be no austerity, no increase in taxes and that we won't impose anything on you that you don't like is simply not telling them the truth."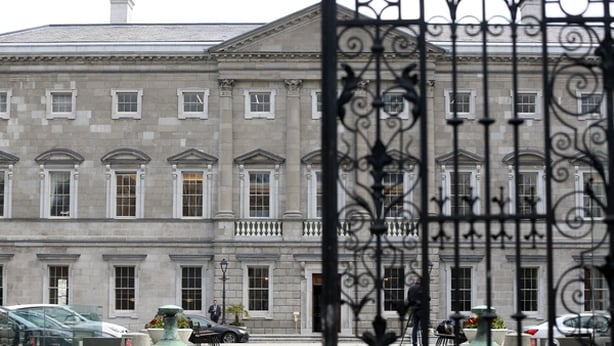 Speaking on the same programme, Sinn Féin's Pearse Doherty reiterated that his party wants to lead a government of change.
"We are willing to talk to anybody and everyone, but it has to be a government for change.  One made up of Fianna Fáil and Fine Gael is about power and will not deliver the change people voted for, and I agree with John that this is about exclusion," he said.
The Social Democrats said they have written to the leaders of Fine Gael and Fianna Fáil confirming that they will not be proceeding any further with negotiations for a Programme for Government.
They intend to provide "constructive opposition" if the Fine Gael/Fianna Fail/Green Party coalition emerges from the current negotiation process.
The @SocDems have ruled out any further engagement with @fiannafailparty and @FineGael on government formation. The decision was conveyed to @MichealMartinTD and @LeoVaradkar in a 2-page letter this evening. @rtenews

— Paul Cunningham (@RTENewsPaulC) May 13, 2020
In a statement, the party said its members were not convinced that Fine Gael or Fianna Fáil intended to take a robust position regarding EU financing. 
Replies to their questions about giving priority to the provision of high-quality public services - an approach that would require significant investment - had not, to date, indicated anything other than a "business as usual" approach.