Tánaiste and Minister for Foreign Affairs Simon Coveney has held a virtual meeting with members of the Irish community in New York about the impact the coronavirus is having on them.
The online video conference was attended by more than 80 people including local community leaders from the GAA and New York's Irish centres.
The Irish ambassador to the US, Daniel Mulhall, also took part.
New York remains the epicentre of the Covid-19 outbreak in the US and the Tánaiste held today's meeting to express solidarity with the Irish community and update them on what is happening in Ireland.
"I know New York has been through hell for the last number of weeks," Mr Coveney said.
"We're with you, we're suffering together and I know this is a very tough time for you to be away from home."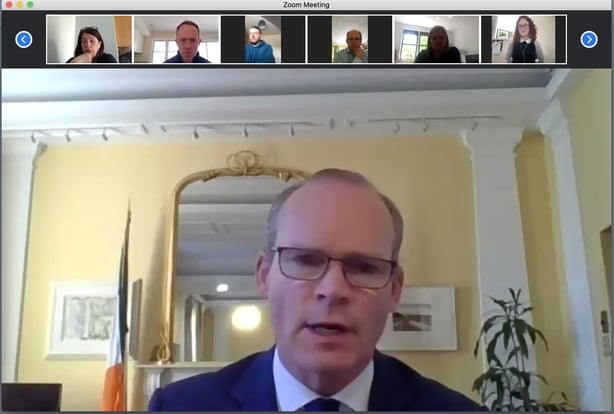 Mr Coveney praised the organisers of 'Sláinte 2020', a campaign that supports members of the Irish community in the New York area during the Covid-19 pandemic.
He also took questions from participants on the video call with some focusing on issues relating to immigration and the presence of US companies in Ireland.
He said politically it was important to guard against any anti-immigrant sentiment that may have arisen as a result of the Covid-19 crisis.
Mr Coveney also stressed the importance of Ireland's place in the supply chain of US companies with Irish bases.
"Let's hope a presidential campaign in the US doesn't create tensions in this space," he told those on the conference call.
The Tánaiste said he had hoped to be in New York next month when the vote takes place as part of Ireland's bid for a seat on the UN Security Council.
Mr Coveney said he is hopeful Ireland will secure a seat and that he will be following proceedings via video conference.