No mammograms were carried out by BreastCheck last month and there was a 96% reduction in samples sent to CervicalCheck labs for analysis, following a decision to pause both cancer screening programmes due to Covid-19.
Opposition parties have warned that the temporary suspension could have long-term consequences, and have called for a comprehensive catch-up programme.
Figures obtained by RTÉ News show that no mammograms were carried out by BreastCheck in April this year, compared to 13,763 in the same month last year. 
CervicalCheck labs received 937 samples for analysis in April this year, compared to 21,037 in April 2019.
The Health Service Executive said the reduced number of tests received is due to the fact that cervical screening in the community was paused on 30 March.
The HSE said the 937 samples were taken before 30 March and accounted for the samples processed in April.
The BreastCheck programme was paused on 16 March.
However, the HSE said hundreds of symptomatic women, and women who had previously been recommended for follow-on assessments, continued to be treated under the BreastCheck programme.
It also said BreastCheck and CervicalCheck have been paused as part of the Government's response to Covid-19.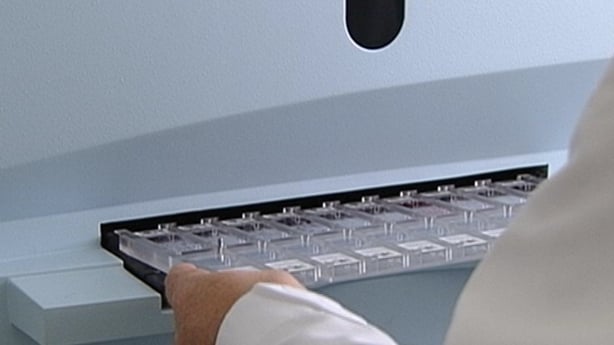 It said the move was taken on public health advice and to protect patients and staff by complying with social distancing guidelines.
---
Read more:
Live Covid-19 updates as they happen
Latest coronavirus stories
---
Mother of two Claire Healy, from Kenmare in Co Kerry, was treated for high-grade abnormalities in November last year.
She has been advised that she needs smear tests every three to six months.
She says she had a smear test carried out on Friday 24 April but was told that it would be a minimum 24-week wait for her results.
Ms Healy added: "The Kerry Colposcopy Unit are doing a great job. They insisted I come in for my test and now I feel there are no services to support them. The testing facilities are not available for them to get me the answers I need as quick as I can.
"I know we are in crisis and families are devastated by Covid but I am baffled as to why we cannot have a testing system that runs alongside the testing needed for Covid.
"The health team NPHET are telling us night after night they are worried about secondary deaths and not be afraid to present if you need support, I went for my test and now I'm told I have to wait for six months. It's shocking, it's devastating for a mother with two young children," she said.
We need your consent to load this rte-player contentWe use rte-player to manage extra content that can set cookies on your device and collect data about your activity. Please review their details and accept them to load the content.Manage Preferences
Sinn Féin's Health spokesperson Louise O'Reilly said: "Those figures are very worrying. There is clearly a lot of unmet need in the system in relation to screening tests most especially tests for women.
"It's not that long since we have a major scandal involving women's health care and we cannot let this happen.
"The Government needs to publish a comprehensive catch up programme and an information and publicity campaign to ensure that as many screening tests can be caught up as possible."
Labour Leader Alan Kelly said: "These figures demonstrate why we need a plan to recommence all health care services across the board particularly when it comes to screening.
"The fact that there is no breast, no cervical screening, bowel screening, will have consequences down the road for number of people and result in delayed diagnosis as well."
Mr Kelly said the issue will cause secondary morbidity as a result of the Covid-19 pandemic.
"This is an issue I have been raising for weeks, we need the health service up and running, we need people to go to their appointment, we need a plan because non-Covid preventable deaths will become a serious issue as the impact of the pandemic slows down."
Women's Health campaigner Vicky Phelan said: "I don't think screening should have been stopped at all everyone would have understood if it had been curtailed.
"In the case of cervical cancer if somebody isn't caught earlier it's the difference between living and dying. My worry is that there are women with symptoms who can't go for that smear test because they can't get it. I had very few symptoms, it is not obvious when you have cervical cancer.
"This will have an impact on services it will cost more because we will have more people diagnosed at later stages. If they were picked up earlier it wouldn't cost services as much as that what the screening does."
The HSE said the restarting of screening will be based on HSE and Department of Health guidance on Covid-19, as measures to prevent the coronavirus are amended by the Government.
Yesterday, the HSE's Chief Clinical Officer, Dr Colm Henry, said cancer screening services were a priority but he said the reintroduction of screening programmes must be safe and effective.
"Our approach in this country is to work with clinicians, with the heads of our programmes, and to at all times to be guided by public health principles so as not to expose patients." 
Dr Gabriel Scally said the pause to breast and cervical cancer screening programmes will have implications but added they could not have continued because of the issues around social distancing. 
However, he said, screening programmes need to plan for restarting again. 
Speaking on RTÉ's Today with Sarah McInerney, he said those who have developed symptoms over the last couple of months and those who need to have regular smears and mammograms must be first in line when testing recommences. 
Dr Scally said it will not be easy to catch up because programmes will need to run at double the numbers in order to do this.