It started as a 'lockdown diversion' six weeks ago - now one Dublin family's at-home recreations of famous artworks have become an online hit.
Theatre designer Molly O'Cathain was home in Dublin for a few days' break from her job at the National Theatre in London when restrictions kicked in.
Molly said: "It meant I had to move back in with my parents, unexpectedly. And on about day six of our social-isolation and confinement, we got really bored, so I suggested we start recreating famous portraits from art history."
Every day since she has cast her mother, Liz, and father, Brian, as the subjects in famous paintings, including American Gothic, by Grant Wood, Gustav Klimt's The Kiss and Hellelil and Hildebrand, the Meeting on the Turret Stairs, by Frederic William Burton.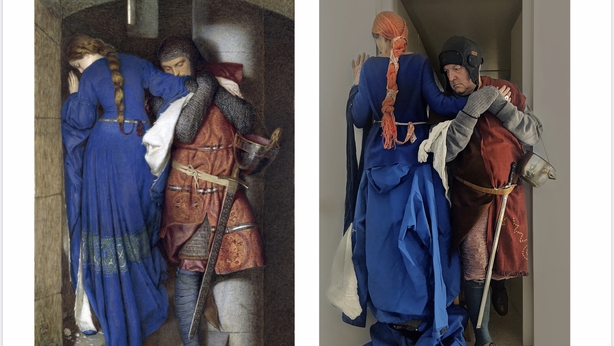 The family uses a range of household items for props and costumes.
Molly explained: "Clothing, bedding, textiles, household bits and pieces, hardware, things you have at the back of the shed and things you have in the cutlery drawer.
"I think it's all part of the lockdown spirit. I haven't bought anything for the project, except for a pair of brand new marigolds and a packet of paper doilies that were reduced in the supermarket."
Molly posts pictures of their recreations, alongside the original works, using the hashtag #parentalpandemicportraits on Instagram and Twitter.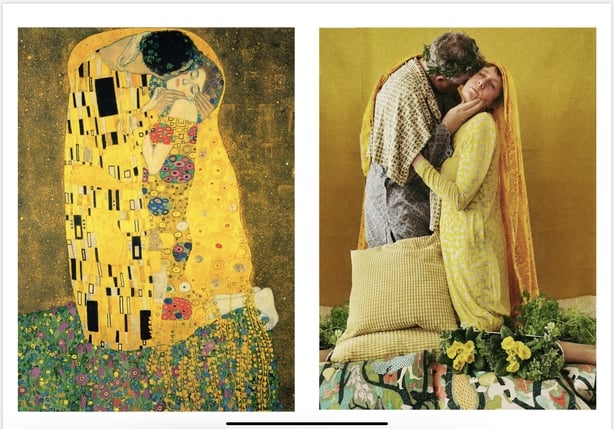 "The reaction to it has been really positive. It's been much bigger than I ever thought possible or had intended. I just posted them thinking a few of my friends might find them funny and it just snowballed," Molly said.
The project has been featured by Irish and international media, with Liz and Brian remaining more than willing accomplices.
Molly added: "I think it has brought us closer. I think we have all enjoyed seeing other people react positively and getting joy from it. It's quite sweet.
"They are now getting stopped in the park when they go for a walk, which is quite funny. They are being recognised for being Liz and Brian from the portraits!"