Hairdressers say they need guidance from the Government about how they should prepare for re-opening in the future.
The Irish Hairdressers' Federation, which represents some of the 30,000 people employed in hairdressing here, said it has been consulting with colleagues across Europe and has made plans to operate within social distancing guidelines.
It has warned that the face of hairdressing will change and how the service is delivered will be very different.
But it said it cannot issue plans to its members until it gets more information from the Government about the criteria it must meet to safely re-open.
The President of the Irish Hairdressers' Federation, David Campbell, said the body has requested a meeting with the Minister for Business Heather Humphreys but he said so far "nothing has happened".
He said that hairdressing post Covid-19 will be a "very different world" with social distancing, hairdressers wearing gloves, gowns and masks, perspex sheets at reception areas and simple things like magazines no longer available to clients.
The Irish Hairdressers Federation wants clearer guidance from the Government on how its members should prepare for re-opening in the future, reports @SamanthaLibreri pic.twitter.com/Ffz00GWu2r

— RTÉ News (@rtenews) April 25, 2020
Mr Campbell, who also owns the House of Colour chain of salons, said the need for two-metre distancing will mean fewer people in salons at any one time, longer working hours for hairdressers to deal with demand and a higher cost for customers.
He also warned that many small businesses could possibly "go to the wall" due to the loss of custom during the shutdown on top of increased VAT rate, PRSI contributions and the loss of apprenticeship rates in recent months.
He said the federation wanted a face-to-face meeting with Government to get some guidance about re-opening in the future to discuss supports for the industry due to the the Covid-19 crisis.
Eva Memeryck, the owner of Dunboyne Hair and Beauty in Co Meath, said Covid-19 has had a major impact on her business.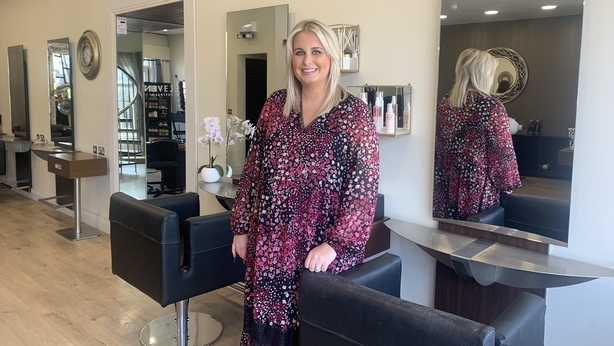 She said the period between March and June is her busiest due to events such as communions, confirmations and weddings.
When her business re-opens, she expects it will have to go from having eight stylists to just two, and that she will be able to offer fewer appointments to customers because of the requirement to have a one-to-one service and she may have to extend her premises to allow for social distancing of staff during break times.
Ms Memeryck said she and her staff are currently doing online training course in hygiene and sterilisation to prepare for the new reality.
Last night, the Chief Medical Officer said that because it is difficult to provide a service such as hairdressing without close contact, it does involve a risk of transmission of the virus.
Dr Tony Holohan said health authorities will have to consider the risk to staff in deciding when hairdressers can reopen.
One thing does seem certain - the style of hairdressing here will change, with a very different look before and after.