Nursing homes are set to face their next Covid-19 hurdle - and it's a big one.
Staffing is about to become a greater problem for private and voluntary residential settings nationwide.
Some nursing homes were first affected in March, when their employees sought jobs with the HSE after its recruitment moratorium was lifted.
Now their next challenge is managing rosters when they find out the true impact of the virus on all staff.
The idea behind the current testing blitz on nursing homes is to discover who has Covid-19 and that includes those who are asymptomatic.
While mass testing is welcome, there's fear and trepidation among some nursing home owners over the results.
More testing means more cases will be discovered, which means more staff will be sent home. Who will replace them and what is being done to help nursing homes worst hit by the virus?
---
Read:
Latest coronavirus stories
---
At present, the Health Service Executive crisis management team is "linking in" with a range of supports, mainly to private nursing homes.
Its national director of community operations, David Walsh, last night acknowledged that if additional staff are identified as having Covid-19, redeployment from other hospitals will be required.
Over a week ago, the HSE and trade unions agreed that existing HSE staff could be re-deployed on a voluntary basis to work in private nursing homes affected by the virus.
Days after that was announced, Minister for Health Simon Harris said 61 HSE staff members were working in residential settings.
Last night, Mr Walsh said the figure was 67, this means six HSE staff members volunteered to work in nursing homes in the last nine days.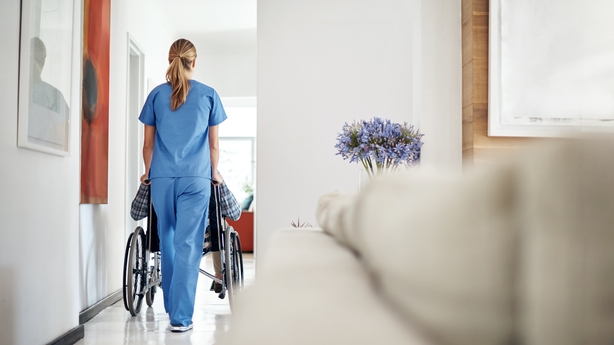 It's hardly sufficient, given the expected surge in staff that will be required in the coming weeks.
Nursing Homes Ireland, which represents private nursing homes, published a survey yesterday which said 96% of homes had not received any redeployed staff from the acute hospital system.
When questioned about it, David Walsh said the redeployment of staff was already happening through acute hospitals.
He cited an example of staff from the Central Remedial Clinic going to a care home in north Dublin yesterday. UL hospital in Limerick has also redeployed staff into the community.
The Nursing Homes Ireland "snapshot survey" was conducted on Wednesday and showed gaping holes in the services of those nursing homes that responded.
In 60 nursing homes, 107 senior nurses are currently absent, while 223 nurses were reported absent in 102 nursing homes, and four nursing homes reported that over ten nursing staff were absent.
A total of 158 nursing homes are without 427 healthcare assistants and 281 workers were reported absent from other disciplines in 122 nursing homes.
Nursing Homes Ireland CEO Tadhg Daly said: "We haven't seen boots on the ground yet and this needs to be expedited over the coming days to stymie the pandemic in nursing homes."
While he acknowledged the HSE had placed staff where there had been significant outbreaks, he said they were not in the quantity and numbers required given the challenges.
Last night, Sinn Féin's health spokesperson Louise O'Reilly raised the survey with the Minister for Health in the Dáil.
Simon Harris said the solution centered on the turnaround of tests so those staff at home awaiting results could return to work.
The current testing blitz of nursing homes and long-term residential care facilities was noted by the CEO of the HSE Paul Reid yesterday.
He revealed that 18,000 residents and staff had been tested for Covid-19 since last Saturday.
At the end of today, & since last Saturday, 18,000 residents & staff in Long Term Residential Care locations will have been tested for #Covid19. Thanks to our National Ambulance crews with support from our Community Teams & Defence Forces. @HSELive @defenceforces @AmbulanceNAS pic.twitter.com/Vi3FpSHPe9

— Paul Reid (@paulreiddublin) April 23, 2020
When asked for the turnaround time of those tests, the HSE said they were being processed primarily in one of its community testing laboratories and in some of its hospitals.
"These are generally being completed within days."
Mass testing of nursing homes is expected to be completed next week when the impact on staffing will become clearer.