On Wednesday Michel Barnier and David Frost held a video call for 45 minutes. With both men back from coronavirus convalescence it was an opportunity to inject political momentum into the stuttering negotiations on Britain's future relationship with the EU.
In what was described as a constructive meeting, both sides agreed three negotiating rounds between now and June on the weeks beginning 20 April (this Monday), 11 May and 1 June.
The new schedule still leaves the process well short of how things were originally envisaged. Britain left the EU on 31 January and once both sides agreed their respective negotiating mandates, there was talk of nine full negotiating rounds, with the first happening on 2 March.
"There had been a sophisticated programme of work," says one EU diplomat. "There was a general expectation that the first couple of rounds would be about shaking the table, and then things would start in earnest."
The coronavirus seemed a far-off problem. But it arrived in Europe and promptly crashed the process. Nine negotiating rounds have been compressed into four, three of which will be done via an excruciating video conference set up. 
After the 2 March round in Brussels the next two negotiating rounds were cancelled. However, on 18 March, just before the lockdowns kicked in, both sides exchanged draft legal texts. Officials then spent a week seeking clarification on aspects of each other's texts via video conference.
Overall, however, no real negotiation has taken place. "If we'd had those two further rounds," says a senior EU official, "we'd have had some clarity on absolute red lines and trade-offs. But we are not there yet."
The UK also insisted that its draft text be seen only by Michel Barnier's negotiating team, and not by member states.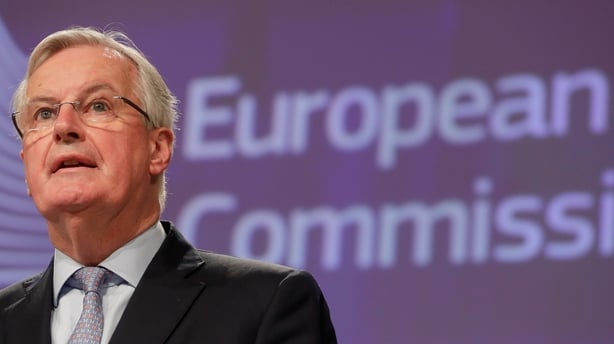 "It's problematic that we can't get proper sight of the British text," says a diplomat from a large member state.  "We've all underlined this and asked why we can't get it sent to us. I'll leave that to the UK. They are aware of this."
If the contact between both sides so far is anything to go by, the three negotiating rounds until June will be a logistical nightmare. Not only have members of both teams come down with the virus; officials have also had to rely on video conferencing with all of the security and technical headaches such things entail. 
They are not just talking to each other. Michel Barnier's team also has to refer to layers of experts from within the European Commission and to officials from the member states.
"That's quite difficult and complicated," says one EU source familiar with the negotiations. "That's also by video-conference. But to keep the calls manageable there are limitations on the number of people who can take part.
"So, it's only one person per member state, whereas normally it's two. That means you have the Brexit delegate [from each member state] but no expert alongside."
Officials are more likely than not working from home, with children and spouses in the background.
"We had a team meeting on Tuesday," complains one EU source, "and it took almost 90 minutes just to go through the agenda because it's so big. Even that was with everybody sticking to a minimum in terms of speaking time."
Clarifying the legal texts by video conference has also been challenging.
"Video-conferences are easier when you've one person briefing, a couple of follow up questions and that's it," observes another EU source. "Or if you've got some key decision to be made which has been well prepared with papers and questions framed, and then people react. However, it's not a format for really getting into a text or an issue, or reading between the lines."
But the main complaint is that the time-honoured dynamics of diplomacy are missing.
"The real part of a trade negotiation are the side talks," says a senior EU figure, "the corridor talks, the coffee breaks. Everybody is bound by their official lines, but you can start subtly exploring things which you can't do in a formal session via video conference, where everything is measured and static. It's difficult to have an interactive exchange. 
"You don't have the normal dynamic, where people will say, ok, this is a dead end. How about we just have a chat, test some ideas, think about it, and then meet the next day before the session begins?"
When the next full round resumes on Monday this problem will be writ large. "You'll have 100 people on either side and they are not all in the one place either," says one Commission source.
"Mostly they'll be calling in from home. Even if you want to consult with your team mate you'll have to do it by text, as you'll be on the call. That's going to be difficult."
This, however, is where things are.
The areas to be negotiated have been arranged into eleven "tables": trade in goods and services, the level playing field, transport, energy (including civil nuclear cooperation), fisheries, the movement of people and social security coordination, law enforcement and judicial cooperation in criminal matters, the UK's participation in EU programmes and the "governance" issue.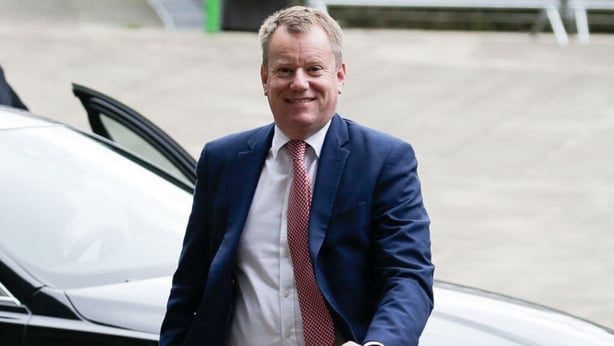 On Wednesday Mr Barnier told Mr Frost the EU wants all eleven areas to be pursued in parallel. "That's an important political message," says one EU source. "We don't want in the next couple of weeks just to be playing around with the easier subjects, getting those sorted then having this massive negotiation to do on all the big issues."
What happens after the three virtual rounds are complete?
In mid June there will be a high level conference to take stock of the negotiations and to assess the prospects for a deal by the end of the year, when the transition runs out. The UK will be led by British Prime Minister Boris Johnson, assuming he is back at work, and the EU by Commission and Council presidents Ursula von der Leyen and Charles Michel respectively.
The question towering over this final run-in is whether Mr Johnson will seek an extension to the transition period because of the economic calamity of the pandemic and its blind-siding of the negotiations.
Downing Street has always said there will be no extension; Boris Johnson even had it enshrined in British law.
However, there has been recent speculation about a rethink. Fuelling that speculation is the question of how an extension might come about. Does the UK ask for it? The EU? 
The Withdrawal Agreement is silent on this. It simply provides for the Joint Committee, set up to implement the Withdrawal Agreement, to decide on the issue. That would mean Michael Gove and his opposite number Maros Šefčovič, a Commission vice-president, jointly agreeing that a postponement makes sense. 
Overall, the EU has been reticent about pushing the issue, not least because capitals have other things on their minds. "The real problem is that the political attention span of leaders is totally elsewhere," says a senior EU official.  
"To put it in a nutshell, they don't give a damn about Brexit. They are counting the number of people who have just died in a hospital, or in a elderly care centre, and who are trying to figure out whether the confinement measures are working."
Mr Barnier has said that if the UK requested an extension it would be considered. Only the European People's Party (EPP), the centre right group in the European Parliament, has overtly - and somewhat unexpectedly - called for the UK to seek an extension because of the pandemic.
"The ball is now clearly in the British court...," said the EPP's David McAllister, a German MEP and head of the Parliament's new Brexit steering group. "Under the current circumstances, London should carefully re-examine a prolongation."
It's understood Michel Barnier felt the EPP move was a mistake. Indeed, there has been no discussion about an extension within the European Commission's Task Force or the Working Party, the body that brings together Brexit coordinators from the 27 member states.
"It's probably on the back of everybody's mind," said one senior EU official, "but this is so political that you can't build it up from the bottom. This has to happen at the highest political level.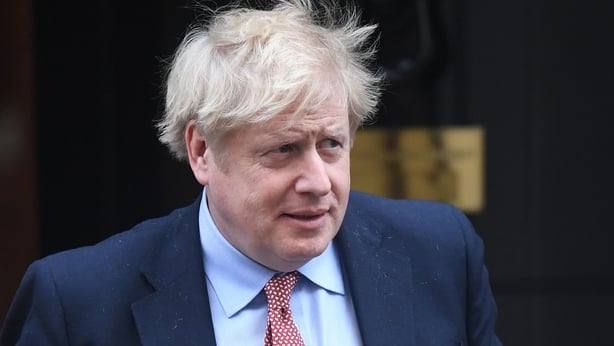 "At a certain point [Boris] Johnson, and people in Europe, will have to think this through and see whether it's better to postpone an extra layer of uncertainty at the end of the year, with all the uncertainty for business."
Although an extension could be for up to two years, Mr Johnson could simply say that, since if the negotiations were held up for three months, then Britain could ask for a three-month extension.
A number of prominent Brexiteers have suggested that they could live with a short extension given the circumstances. The Sun newspaper has even speculated about a rolling "pay-as-you-go" series of short extensions, a month at a time as necessary, with the UK paying into the EU budget only for each new month.
EU officials derided the idea as a non-starter (the Withdrawal Agreement makes it clear there can only be one extension), but wondered if Downing Street was testing ideas.
Meanwhile, pressure has been mounting for an extension. An opinion poll published in the Daily Mirror said 67% of people would support one. A parliamentary petition recommending an extension has so far garnered over 44,000 signatures (100,000 are needed for a parliamentary debate).
"Had you asked me two months ago would Boris extend, I would have said no," said a senior EU official, "because it would open a rift in the Tory party. If you asked the question now, I would think it's the rational thing to do given the totally unpredictable impact of Covid on the UK and Europe."
There has been some speculation that, rather than one side or the other having to see "who goes first", both sides might "naturally" and quietly come to a conclusion through the Joint Committee that an extension was in everyone's interests.
However, this week the UK government has doubled down on a refusal to extend.
Mr Frost told Mr Barnier on Wednesday that it wouldn't be happening. On Thursday, he followed up on Twitter: "Transition ends on 31 December this year. We will not ask to extend it. If the EU asks we will say no." 
UK sources insist that this is a principled position. It was clearly set out in Boris Johnson's winning manifesto for the December election and followed up in Mr Frost's Brussels speech on 17 February.
"The basic position is the same as it's always been," said one source. "Not only was it in the manifesto, [the ban on an extension] was put in the [UK] Withdrawal Agreement Act to make sure it was illegal. So it's already been buried 100 miles deep in the sand."
Augmenting the government's harder rhetoric is the argument that an extension would hold the UK back as it attempted to deal with the economic fallout from the Covid-19 crisis.  
"It would also keep us bound by EU legislation at a point where we need economic and legislative flexibility to manage the UK response to the coronavirus pandemic," a government official told the Financial Times on Thursday.
There was also plenty of speculation that the EU would attempt to use an extension to get more money from the UK to help rescue European economies stricken by the pandemic. 
Writing in the Spectator, James Forsyth, who often reflects Downing Street thinking, said Number 10 feared any extension would entangle the UK in "schemes designed to protect the European economy and preserve the Eurozone".
EU officials dismissed this as "nonsense," not least because even as a member the UK was never asked to bail out the eurozone.
Furthermore, the financial basis of an extension would differ from the current arrangement. The UK is currently in a 12-month transition period. If that period were extended into next year it would mean the process crossing into a new seven-year EU budget period.
Therefore a new transition would be different from the outgoing one. Britain would be regarded as a "third country", meaning it would choose which EU programmes to participate in, and pay accordingly.
While it would still make payments into the EU budget for the privilege of having full access to the single market, it would fall out of the Common Agriculture Policy (CAP), and would potentially be in fewer EU programmes than it is now.
That would mean the UK's budget contributions being smaller than during the current transition period. The methodology of what those contributions will be would have to be worked out on the basis of its duration, and on expenditures and receipts that run over from the previous seven-year budget cycle.
"Third countries don't pay for eurozone issues," said one EU source. "Israel doesn't pay for any financial problems that Germany and France get into." 
All that said, European capitals this week have little choice but to take Mr Frost at his word that the UK will definitely not seek an extension.
However, the negotiations so far do not indicate that both sides are on course for a harmonious trade and future relationship agreement this year.
A breakdown in the talks is therefore very possible by the autumn, or even sooner.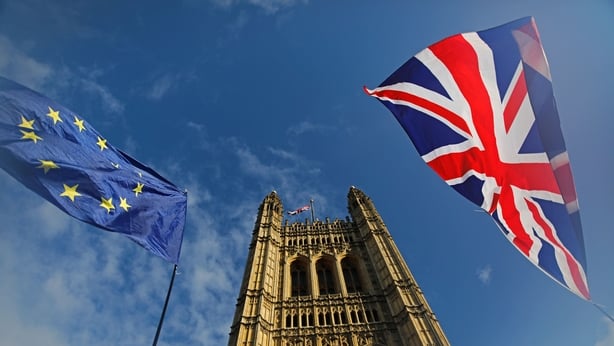 On 27 February, the UK published its negotiating mandate saying there should be "the broad outline of an agreement" in time for the high level conference, an agreement which would "be capable of being rapidly finalised by September".
If not, then London would "need to decide whether the UK's attention should move away from negotiations and focus solely on continuing domestic preparations to exit the transition period in an orderly fashion".
In other words, if things weren't going to the UK's satisfaction, it would walk away from the negotiations altogether and start preparing for a no-deal exit.
How likely is this? 
European capitals believe the UK has not fully engaged in the negotiations so far, whether, as one diplomat puts it, it is deliberate or because London is entirely consumed by the pandemic.
However, even before the coronavirus began to hit European shores hard, London had, according to diplomats, taken a selective approach to the negotiations, refusing to circulate a complete set of texts, leaving out the most sensitive issues such as the level playing field, governance and fisheries (a fresh set of documents on criminal justice cooperation did land from London on 10 April). 
"The text they tabled [at the beginning] seemed to cherry pick across a lot of other EU agreements, with Canada, Japan, South Korea," said one EU diplomat. "They picked their favourite bits and stuck them all together and said, here's our proposal."
The gaps between both sides will not have been narrowed simply because lawyers have been clarifying, via video conferencing, what the texts mean.
"You can clarify things on a legal basis," says one EU source, "but you still have massive, massive gaps between both sides that can't only be overcome by lawyers. You need political input at a certain point to overcome some of these massive issues."
But there are now only three virtual negotiating rounds left for any such political input to take effect. 
While there is thought to be convergence between both sides on the easy parts - a free-trade agreement for goods and services, aviation, road haulage, energy and civil nuclear cooperation - those "massive" gaps relate to the difficult issues such as the level playing field, governance and fisheries.
So if those gaps aren't bridged by the time the third of those three virtual negotiating rounds concludes in early June, does the UK's threat to walk away still hold? 
EU diplomats say London, at least, hasn't repeated the threat. But it's very hard to see how both sides can make substantial progress on what are the most controversial and sensitive issues with just three negotiating rounds remaining.
British sources say the EU consistently overlooks the importance of the Conservative Party manifesto and the promises made to the British people therein. If the promise to walk away enshrined in the UK's negotiating mandate is just as sacred, then we are in for a very interesting month of June.