When it comes to learning, schools know one thing; there's no point in even trying to teach a child if their stomach is empty.
That's one reason why the State's School Meals Programme is so important. These days schools serving struggling communities say there's no point in talking about things like remote learning until access to food for children at home is addressed.
Around 250,000 children get free school meals at school every day. For some it's a sandwich and a piece of fruit, for a growing minority it's a hot meal.
"A lot of our families, their children would be getting breakfast, a hot dinner, and a snack later on in the afternoon", one primary school principal in Dublin tells me.
"I probably shouldn't be saying this," she adds, "but some families would take home any dinners that might be left over."
This includes working families. She blames Dublin's high rents.
Sixty families at her school have asked to be included in the hamper scheme that will replace the daily lunches for the duration of the school closures. That's around one third. But this principal fully expects that number to rise very significantly in coming days.
The company that supplies her school, Carambola, will deliver multi-week hampers directly to the families.
Even before the Department of Education confirmed late last week that funding under the School Meals Programme would continue to be available, staff at this school and others had pulled out all the stops to ensure that no children that they were aware of would go hungry.
Dublin City Council rowed in behind the school, and local organisations did too. The Football Association of Ireland even offered support in the form of volunteers for deliveries.
This week schools the length and breadth of the country are figuring out what system suits their needs best.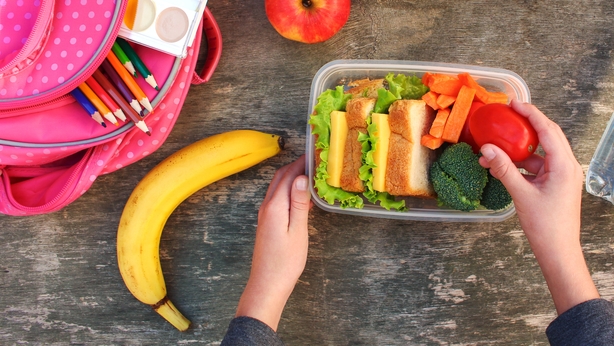 In Donegal, community organisations and staff at one post-primary school will collect dry goods from the supplier and drop them to families in need. In order to avoid physical contact, they will phone to alert the family of the drop.
In one Tipperary school, a local producer is putting together the packs and teachers working with the local School Completion Programme will drop them to families.
In many schools teachers have volunteered to come in to put the hampers together. The new restrictions on travel will not apply to them, because the provision of food is regarded as an essential service.
While primary schools seem to be mostly opting to have the parcels delivered directly to homes, either via An Post Freepost or another provider, some post-primary schools are relying on parents to come and collect.
The scheme allows for €10 to be spent per child per week. For a family with three school-going children that's groceries worth €30.
At one Kildare school, staff are purchasing food wholesale and putting the individual family packs together themselves, wearing protective clothing.
In one working class Dublin suburb, drivers at a local bus hire company will do the delivering. They are asking for petrol money only.
Some schools have a trick or two up their sleeves. They are determined not to waste a good crisis. They've decided to sneak some children's games and puzzles into the food hampers.
A bread and roses approach you could say, or a carrot and stick one.
The principal of one primary school, in a very disadvantaged area, says that when she contacts parents to offer them a hamper, it is the human contact that they and their children appreciate most of all.
How does she know that, I ask.
Because of the beautiful messages they send her, she says. Text messages from even the quietest of parents, and pictures that the children have drawn.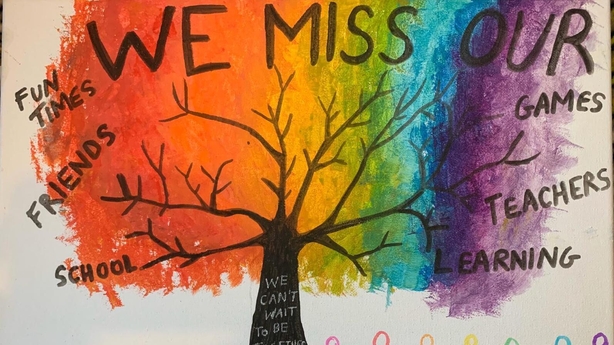 The above picture is one of them. The message that pupils Adriel and Jessie write is as stark as its backdrop - a bare winter tree, and the colours of the rainbow.
"We miss our school," they say. "We can't wait to be together again."