Emergencies test the character and resilience of a nation's leader. It strengthens some, weakens others and calls upon those in waiting.
No rulebook exists on how to tackle and grapple a powerful pandemic. The only thing that is clear is what citizens want from their prime ministers and presidents; decisiveness, clarity and reassurance.
The response to Covid-19 by those in power will form a major part of their legacy as the electorate weigh up whether they made the right choice by voting them into office.
When this pandemic passes, citizens of the world will reflect and want to feel that their government did everything they could to save and protect lives.
The high-pressure, fast-moving and unpredictable nature of Covid-19 has already laid bare some realities of global governance from the mixed action and reaction by world leaders.
There are ones who are ploughing ahead with clarity and authority without causing undue panic while there are those in power wading through with muddled messaging and struggling to unify during the biggest crisis of a generation.
Boris Johnson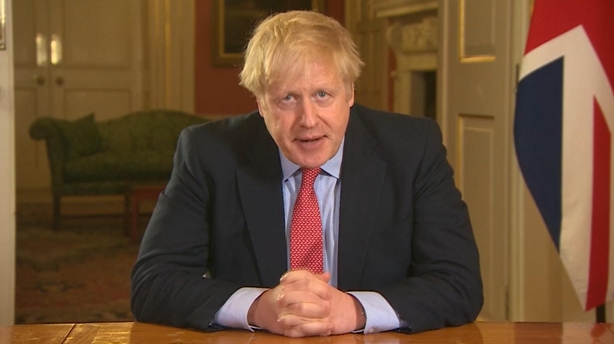 Mr Johnson's bumbling comedic nature - stumbling through press conferences with questionable hair, wardrobe and metaphors - was a character built over decades.
And it paid off, with a majority of the British public giving him a comfortable majority to lead the country last December.
But 'Getting Brexit Done' was a short-lived celebration and legacy for Mr Johnson as a mysterious coronavirus took hold from day one of 2020.
Mixed messaging, indecisiveness and a slow reaction confused his electorate and his counterparts.
After criticism that he had not taken the virus seriously enough, he declared that the virus was the country's top priority at the end of February. The week after he said people should go about "normal daily lives" as long as they washed their hands.
He tried humour - promising to "send the coronavirus packing" and referring to the flattening of the curve as a sombrero.
However, as things began to escalate in Italy, some Britons began to nervously tug their collars as schools stayed open, tubes remained crowded and shopping streets continued to be flooded with shoppers.
Mr Johnson maintained that it was too early to bring in shutdowns and that the government was being guided by science to do things at the "right time" rather than an immediate reaction.
There was a struggle to understand the prime minister's logic as the number of those infected continued to rise and neighbouring countries adopted strict measures.
His leadership appeared lax with things seeming to be getting worse and medical professionals increasing their calls to step up preparations.
Over the last 24 hours I have developed mild symptoms and tested positive for coronavirus.

I am now self-isolating, but I will continue to lead the government's response via video-conference as we fight this virus.

Together we will beat this. #StayHomeSaveLives pic.twitter.com/9Te6aFP0Ri

— Boris Johnson #StayHomeSaveLives (@BorisJohnson) March 27, 2020
Not long after the Italians went into lockdown, Mr Johnson left the door open for "herd immunity" by stating: "…take it on the chin, take it all in one go and allow the disease, as it were, to move through the population, without taking as many draconian measures."
Panic set in as people did the sums, with statistics showing that 40 million people could get sick and only a couple of thousand intensive care units would not be enough to deal with those who could end up in ICU.
Newspaper front pages were filled with his words, that people will lose loved ones. CNN appeared to compare him to Lord Farquaas from Shrek - who held a competition to see who would rescue the princess rather than himself.
"Some of you may die… but it's a sacrifice I am willing to make," Lord Farquaas pronounced in the film.
With warnings from doctors that the UK was ill-prepared to deal with an outbreak, it was time for Boris Johnson to channel his hero Winston Churchill.
Realising a better handle was needed to give clear and concise messaging, Mr Johnson began daily press conferences to keep the public informed and offer some reassurance.
Eventually there were efforts to ban mass gatherings and a campaign on social distancing but people felt the country was on a back footing. However, Mr Johnson's own father defied government advice vowing to keep going to the pub if he needed to.
His sombre speech this week announcing the lockdown drew the biggest TV audience in Britain this century.
He revealed the most significant set of restrictions on British life in living memory and people were ordered to stay in their homes. There was widespread support for the measures and an almost audible sigh of relief.
Forever an optimist, he boasted about shaking hands at the beginning of March. A clip which hasn't aged well for the infected prime minister or for some of his cabinet.
So far, not his finest hour.
Jair Bolsonaro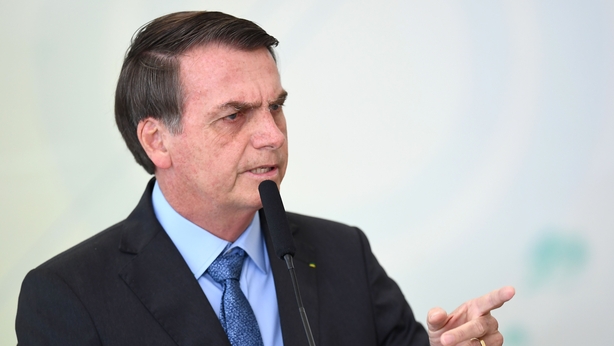 A few eyebrows reached hairlines this week when the populist leaders of two of Latin America's biggest countries, Brazil and Mexico, continued to hold out in their response to the pandemic.
Dubbed the 'Trump of the Tropics', Brazilian president Bolsonaro flabbergasted some of his citizens by shunning top medical advice as they watched neighbouring countries like Peru and Columbia go into lockdown.
"Fear-mongering" was how he described the media's coverage of Covid-19 while hitting out at "irresponsible" mayors and governors.
Lockdowns with the closures of businesses and schools were called "scorched-earth" policies while he called on local authorities to roll back on social restrictions like in Sao Paulo and Rio de Janerio.
While there was colourful language during his TV address on Tuesday, Mr Bolsonaro has also done it all with a smile - greeting supporters outside of his presidential palace last weekend.
His blunt charisma and zeal for law and order projected him into office in 2018 but Brazilians are not laughing at his response.
Without taking to the streets, people have been making their voices heard by protesting the president's unclear and laid-back response to the outbreak with a nightly panelaço - hitting and banging saucepans from their windows and balconies.
Former right-wing allies have also turned against him with congresswoman Janaina Paschoal calling for an end to his presidency.
Mr Bolsonaro may not have copped that his reaction to Covid-19 has potentially resulted in a fatal blow to his authority and reputation as a leader.
Jacinda Ardern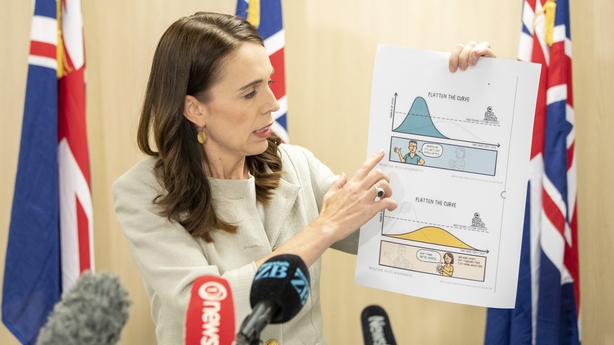 Steel, compassion and absolute clarity was how Jacinda Ardern's leadership was described following the Christchurch shooting last year.
Balancing action with courage and compassion cemented her credibility at home while captivating audiences around the world.
The prime minister's response to the pandemic of Covid-19 has once again put her on a pedestal. She has been applauded for a clear message, authoritative tone and decisive action even though the numbers of confirmed cases were small.
But that didn't come initially. Only at the beginning of March, her government had been accused of being too slow to introduce measures such as screening and testing.
When she closed New Zealand's borders to all foreign arrivals just over a week ago, many said that decision had come too late.
The opposition also labelled her economic response to the virus as "startlingly flat-footed" and a symptom of "complacency" with predictions that a recession is soon on the cards for New Zealand.
However, her time to showcase her excellent communication skills came this week during an address to the nation. Ms Ardern managed to outline the grave consequences for New Zealanders if they did not adhere to a lockdown while instilling confidence and reassurance.
"Kiwis, go home" made global headlines as she ordered a month-long lockdown to fight coronavirus from Wednesday.
She said that these were the "most significant restrictions on movement in modern history" and that people would die, but ended with the words: "Be strong and be kind."
Since the lockdown, Ms Ardern has been open with her citizens, conducting Facebook Live sessions to answer any questions. She also held a special coronavirus announcement for children to make sure they understood the seriousness of the pandemic.
She has become a trusted leader to her country, carrying them through tough times with a strong and honest voice with a dash of humanity.
Kiwis have a chance to tell her how they really feel about her first term when they go to the polls in September for the country's general election.
Donald Trump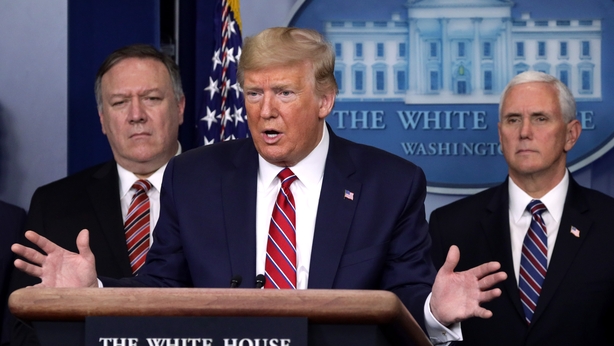 "One day it's like a miracle, it will disappear."
With no apologies, Donald Trump played down the risk of Covid-19 to the United States as it spread throughout Asia in January.
He labelled it at as a Democratic "hoax", played golf, blamed China and the media, said it would "disappear" and boasted that he was responding to it perfectly.
The president did take early moves though, introducing travel restrictions to and from China in January. At the time, Democratic presidential candidate Joe Biden blasted the president and described the move as "xenophobic". Soon, his measures became the norm around the world.
For much of spring, Mr Trump's go-to word was "control" - that everything was being handled and all was well.
Only two days after further hitting out at the Democrats for trying to "inflame" the situation, the World Health Organization declared a pandemic, and the tide changed for Mr Trump.
He took action and banned travel for non-Americans from most of Europe which eventually included Ireland and the UK.
While the measures were welcome, what would follow was bewildering and contradictory measures.
A press podium which lay almost entirely unused for a year was back in business with daily appearances from Mr Trump - trying to reclaim some of that squandered credibility.
The United States has recorded more than 100,000 confirmed cases of virus infections and almost 1,700 deaths https://t.co/7VV7EDmRFj

— RTÉ News (@rtenews) March 28, 2020
Guidance, clarity and accuracy was need from the podium. What came was inaccuracy, even resulting in an embarrassing face palm from the president's own director of the National Institute of Allergy and Infectious Diseases, Dr Anthony Fauci.
Mr Trump's press conferences have lacked detail, incorrect data and throwaway statements. Many have commended Dr Fauci for being by Mr Trump's side to offer the facts and a sense of credibility during this time of crisis.
From the podium, Mr Trump said that the virus was under "tremendous control". After he left the room, Dr Fauci said "the worst is yet ahead for us".
Mr Trump said the United States should be "raring to go" by Easter. Dr Fauci said the virus does not have a timeline.
The president promoted the malaria drug, hydroxycholorquine as a treatment for Covid-19. Dr Fauci said there is only anecdotal evidence it might be effective.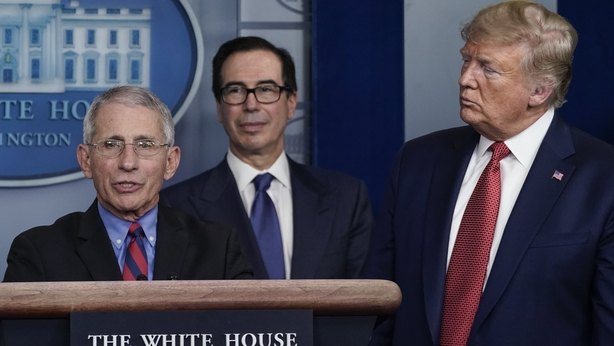 Mr Tump also joked about kicking out journalists from the briefing room.
Not only the announcements caused confusion, another source of frustration was centred on getting the administration's own task force to practice social distancing recommendations during press conferences in the briefing room.
After state officials pleaded with the Trump administration for help and more resources, this weekend he invoked the wartime Defence Production Act, ordering General Motors to start making ventilators.
While some analysts say the president's decisions and comments have been incompetent, confusing and irrational, many thinks he's doing all that he can.
Amid the blunders, vagueness and missteps is an American public which is happy with Mr Trump's leadership, even though the United States now has more infected people than China.
A new Gallup poll shows that 49% of US adults, up from 44% earlier this month, approve of the job Mr Trump is doing as president. Independents' and Democrats' approval of his performance has increased slightly since earlier this month too. It's the best he has registered date among each group.
But there's one leader that may soon eclipse the president - New York Governor Andrew Cuomo. He's been applauded for his blunt, realistic and confronting attitude towards the outbreak. A view that Mr Trump doesn't mind, for now.
Rodrigo Duterte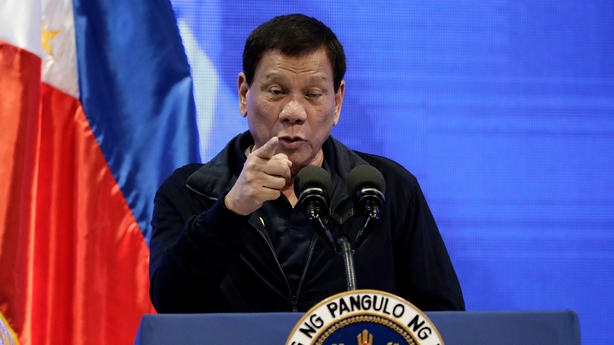 Already known as a controversial leader for his ruthless war on drugs, Rodrigo Duterte's track record is casting a distrustful shadow over his plans to tackle the Covid-19 outbreak.
As tens of millions of Filipinos are under lockdown, their president was this week given special temporary powers to manage the crisis.
His control has now been extended to narrower sectors of hospitals and public transport. It means he can direct private hospitals and medical facilities to become quarantine locations or house health workers, and order public transport services to move frontline workers.
New rules give him the ability to relocate items from the 2020 budget to help projects that would help fight the spread of the illness.
While the new powers and measures on paper are welcome, concerns are being raised over how they'll be used as faith in Mr Duterte's honesty slides.
Analysts argue that since he already abuses existing powers, by jailing those who criticise him and harassing journalists, it will be more difficult and dangerous for local governments to critique how best to combat the virus.
There has been backlash too over accusations that VIPs are getting favourable treatment during the crisis.
Chronic Covid-19 testing is a problem in the Philippines, however there have been reports that politicians and their relatives have been examined ahead of citizens, which the country's health department denied.
Despite deteriorating confidence in the president's transparency, Mr Duterte's firm hand got a seal of approval during a re-election last year while his approval rating reached 87% in December.
The president has also stood up for his people by battling with private concessionaires who supply water to Metro Manila - accusing them of overcharging and underperforming - and repeatedly threatening to put water under government control.
Angela Merkel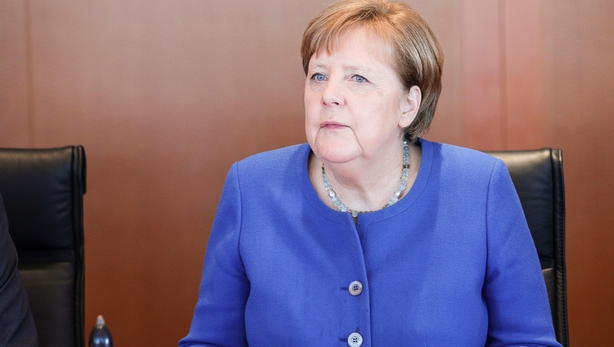 "In a crisis like this, we can only be happy that we have a chancellor like Angela Merkel," tweeted German Green MP Konstantin von Notz.
Ms Merkel was winding down from political office, planning on retiring as chancellor by 2021. This pandemic has revitalised her career and time as a leader.
The German chancellor is not one for razzamatazz. So, when the time came to speak to the nation in a rare television address, people already knew that this was serious. She had never spoke the nation on television in her 14 years as Germany's leader.
The country had gone into lockdown with schools and businesses shut to try and curb the spread of the virus. Borders that were even open during the migrant crisis of 2015, were shut.
She acknowledged the difficult situation the pandemic had placed her in as a leader - using the full weight of her authority to demand a stop to freedoms that were hard fought for.
"For someone like myself, for whom freedom of travel and movement were hard-won rights, such restrictions can only be justified when they are absolutely necessary," she said.
Ms Merkel was commended for not giving details about the restrictions during her address, rather offering her citizens reasoning for the actions and how the government would be a helping hand during this tough time.
Her cool composure, honesty but power, hammered home the seriousness of the threat of Covid-19.
A woman that has experienced crisis after crisis, she called on Germany to unite in a way that hasn't been seen since 1945 but also offered a moment of solace, ending her speech with: "Take good care of yourselves and your loved ones."
It's not only her words but actions - getting through a €156bn emergency deal to help protect the economy.
Her crisis management has also seen a rise for her conservative bloc in the polls - putting the it at the highest level since a 2017 federal election.
"Her style of leadership was out of fashion for a long time, but now it's exactly what people need," Stefan Kornelius, Ms Merkel's biographer, told the Financial Times.
"You want someone like her who projects stability and maturity. Someone who isn't tweeting every five minutes."