Spain has announced 394 new deaths caused by the novel coronavirus, raising to 1,720 the official death toll in Europe's second worst-hit country after Italy.
The new figure is a 30% increase over the total for yesterday.
The number of confirmed cases of the disease rose by 3,646, or 14.6%, to 28,572, according to health ministry figures, with officials warning infections will rise further in the coming days.
With 1,785 being treated in intensive care units for the virus, there is mounting concern about overcrowding at hospitals.
Spain has now announced it is to impose 30-day entry restrictions on most foreigners at ports and airports, starting at midnight tonight.
Spanish nationals, foreign residents, air crew, cargo workers, health staff and diplomats will be exempted from these restrictions.
Prime Minister Pedro Sanchez has warned that he will ask his Cabinet this Tuesday to extend a state of emergency until April 11, enforcing a continued nationwide lockdown.
"I know it is a drastic measure...but experts agree that it is an effective measure in the fight against coronavirus," he told a news conference.
late last night that Spain's outbreak, already among the harshest in the world, would continue to worsen.
"We must prepare ourselves emotionally and psychologically for very hard days ahead," he told the nation in a televised address.
"We have yet to receive the impact of the strongest, most damaging wave, which will test our material and moral capacities to the limit, as well as our spirit as a society," he added.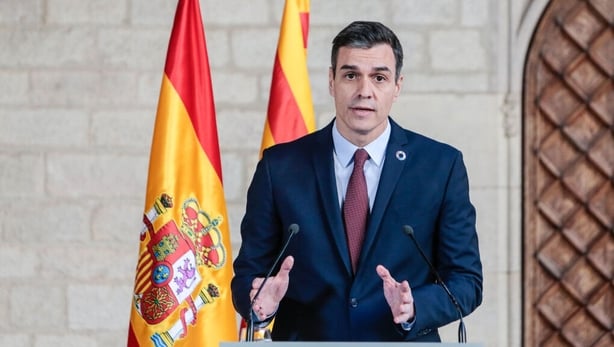 Dozens of coronavirus patients were moved on Sunday to a makeshift field hospital set up at a Madrid conference centre to be fitted with 5,500 hospital beds, which would make it the biggest such facility in Europe.
Soldiers helped move 200 patients just before midnight from area hospitals to the sprawling IFEMA conference centre where 1,300 hospital beds have so far been set up, the regional government of Madrid said in a statement.
The field hospital will receive a total of over 300 coronavirus patients this weekend, the director of the facility, Antonio Zapatero, said in an interview with daily newspaper El Mundo.
"They are arriving in waves," he said.
The field hospital will have 5,500 beds once it is fully sent up, including 500 in an intensive care unit.
Spain has issued lockdown orders for its roughly 46 million residents who are only permitted to leave their homes for essential work, food shopping, medical reasons or to walk the dog.