"Exceptional. Unparalleled. Extraordinary"
The gravity of the situation has been laid bare this week as emergency laws were announced, published and enacted within days.
The speed of their coming into law has matched the escalation of the threat posed by Coronavirus across Ireland and the world.
Health Minister Simon Harris introduced the new laws. His mantra over the past two days has been that while these powers are exceptional, the hope is never to use them.
Health Minister Simon Harris introducing the new emergency laws says they are only there for exceptional circumstances. pic.twitter.com/N1xxNRxypW

— RTÉ Politics (@rtepolitics) March 19, 2020
But nevertheless, the perception of the authorities was that they were urgently required and must be available as the country tackles the unprecedented Covid-19 challenge.
So the dormant 33rd Dáil returned in a reduced format to pass its first legislation, joined by the outgoing Seanad.
Not since the overnight sittings of the banking crash have laws been passed with amid such heightened concern.
The Dáil and Seanad had a severely curtailed debate on the measures on Thursday and yesterday with several members complaining about the rushed nature of the scrutiny.
However, the laws have been passed largely as originally drafted, albeit with some amendments.
But while the "hope" may be to never use the powers conferred on the Minister and by extension, An Garda Síochána, they do now exist and provide for broad sweeping measures.
They give the Minister wide-ranging powers to make regulations about events, areas and people.
The new laws build on previous elements of a 1947 Act drawn up to deal with an outbreak of tuberculosis. The new Act brings that legislation up-to-date for things that would not have been apparent in 1947.
Independent TD Catherine Connolly called it "absolutely draconian" legislation.
People Before Profit TD Richard Boyd Barrett said the Bill included "extreme and draconian powers that in any other circumstances we would not consider giving to agents of the State." However, he added that they were "necessary to deal with the public health emergency and the danger it poses to all our society".
Others said the laws were proportionate in exceptional times.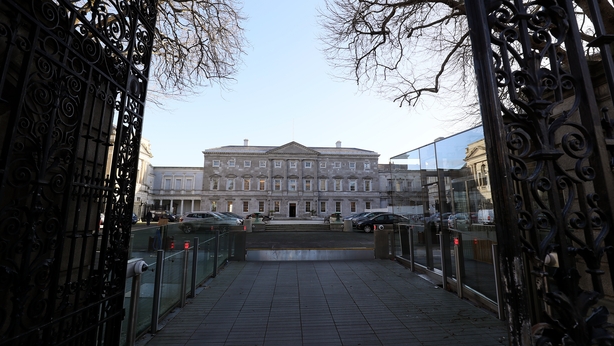 Fianna Fáil Justice Spokesperson Jim O'Callaghan reminded the House that similar powers had existed for decades and he said such measures had not previously been abused.
He said: "It is important to remind Members that since 1947 a Minister for Health has had the power to issue regulations to prevent the spread of infectious diseases..... These are very strange and broad powers but they have existed for nearly 73 years and have not been abused to date."
Dáil deputies insisted on a "sunset clause" to set a time limit so the Minister could not simply extend them without consultation.
The Ceann Comhairle, Sean O'Ferghail opens what he describes as an 'important' Dail sitting as TDs sit apart and prepare to pass emergency legislation pic.twitter.com/YIkxpJbpAp

— RTÉ Politics (@rtepolitics) March 19, 2020
It was agreed that the controversial detention and isolation powers were provided for until 9 November and could then only be renewed by the Minister returning to the Oireachtas for the approval of the Dáil and the Seanad.
The welfare provisions will run until 9 May and can then be extended by the Minister.
These provide for enhanced entitlement to illness benefit for those with Covid-19.
Despite some objections, everyone in the Dáil backed the laws and the Bill passed all stages without a vote.
Yesterday, it passed through the Seanad and was last night signed into law by President Michael D Higgins.
It will fall to An Garda Síochána to police the new laws. Speaking in Templemore yesterday, Garda Commissioner Drew Harris said they would only be used when it was necessary and proportionate to do so.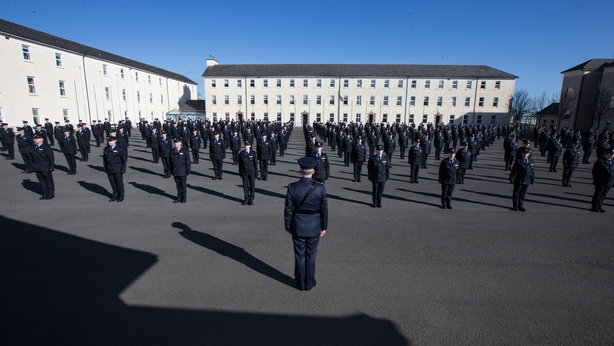 But there has been disquiet about the extent of the powers and how frequently they could be used.
Barrister Tony McGillicuddy said the regulations would be policed using a stepped and staged approach.
"It is important that the regulations are clear and comprehensive because Gardaí can issue directions to people on foot of those regulations and a failure to comply with a direction is a criminal offence. Gardaí can arrest people for failing to comply with their directions."
What is in the new laws?
There are two main sections covering extension of illness benefits and the more controversial detention powers.
The Minister can now make regulations prohibiting events and banning access to certain premises.
Simon Harris told the Dáil that he could, in theory, shut down house parties and that aspect was important.
"We know in some other countries people have been more likely to get the Coronavirus in their own homes rather than anywhere else".
The powers also allow restrictions on travel into or from the State or within an area. People can also be required to stay in their homes and events can be prohibited.
And the Minister can designate entire areas as "affected areas" and control travel into and out of these areas along with banning travel into or out of the state.
Breaches of these offences could lead to a fine of €2,500 or up to six months in jail.
Probably the most eye-catching measure is the power to detain somebody in a house or hospital if they have Covid-19 and are a potential source of infection.
A person can be detained on the advice of a medical health officer if it is believed they pose a health risk.
This detention could take place in a hospital, a home or any other place deemed fit. Several questions were raised about who would make this call and a looseness in the language around the definition of a "medical health officer".
---
Listen to the latest episode of Your Politics:
---
It is understood this is not a regular GP but rather a high ranking medical officer designated by the Minister like the Chief Medical Officer.
There were also objections to the checks provided for on the process.
Senator Alice Mary Higgins pointed out that the law only require a medical examination of the individual to be carried out within 14 days.
"Effectively we are looking at two weeks in which somebody can be detained without a test, without a medical exam, without any contact from a medical person, simply on the basis of the powers of this legislation."
The person detained can also request a review by a different doctor. Contravening a detention order could lead to a fine of up to €2,500 or three months in jail.
Mr McGillicuddy said it would be very unusual for detention orders to be made and this would only be done as a last resort.
He said there was one relevant case which came before the High Court in 2009.
A man who was HIV positive and had tuberculosis was refusing to comply with medical care and a detention order was made.
The man then brought a High Court challenge to both his detention and the constitutionality of the legislation. These were both dismissed.
Exceptional measures for exceptional times as the political system grapples with a new and dangerous threat.