US President Donald Trump has said Ireland is "a very tremendous producer" when it comes to US pharmaceutical companies based in Ireland.
Mr Trump was answering a question about access to medical devices at his daily coronavirus briefing.
"Ireland does a lot of work for us in that world, in the pharma world. A very tremendous producer," he said.
"We are looking to bring a lot more back home."
"We have to be able to take care of our country and that was one of the big things on the list," Mr Trump added.
According to IDA Ireland, 50% of ventilators used in acute hospitals worldwide are made in Ireland.
Exports of medical devices and diagnostic products represent 8% of Ireland's total merchandise exports.
In the past, President Trump has expressed his desire to see American companies move their foreign operations back to the US from countries like Ireland.
The coronavirus, meanwhile, has now reached all 50 states in the United States, after West Virginia reported its first case.
There have been almost 6,000 confirmed cases of Covid-19 in the US and the death toll has risen to over 100.
The Trump administration is presenting a trillion dollar stimulus plan to Congress, aimed at averting an economic crisis caused by the virus.
The massive package could involve sending direct payments to all Americans, as well as aid to embattled airlines.
US Treasury Secretary Steven Mnuchin said officials were drawing up a package that could surpass $1 trillion, on top of $300bn in deferred tax payments.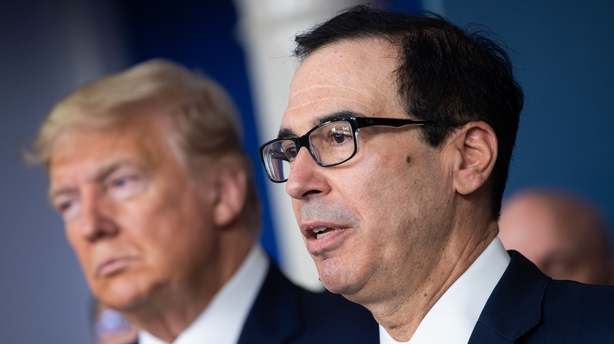 That would make it among the largest federal emergency plans ever - far surpassing assistance during the 2008 global financial meltdown.
"We don't want people losing jobs and having no money to live," Donald Trump said at a White House press conference, adding that the package "is a substantial number. We are going big".
Mr Trump has previously been repeatedly accused of underplaying the pandemic, particularly in its early stages, in order to avoid spooking the markets.
Around 80% of cases of Covid-19 will be a mild to moderate illness, close to 14% have severe disease and around 6% are critical.
Generally, you need to be 15 minutes or more in the vicinity of an infected person, within 1-2 metres, to be considered at-risk or a close contact.
Political leaders 'underestimated' magnitude of virus danger - EU chief
Political leaders "underestimated" the magnitude of the danger posed by the coronavirus, the president of the European Commission admitted, as the EU shut its borders.
"I think that all of us who are not experts initially underestimated the coronavirus," Ursula von der Leyen told Germany's Bild newspaper.
"But now it is clear that this is a virus that will keep us busy for a long time yet."
"We understand that measures that seemed drastic two or three weeks ago, need to be taken now," she added.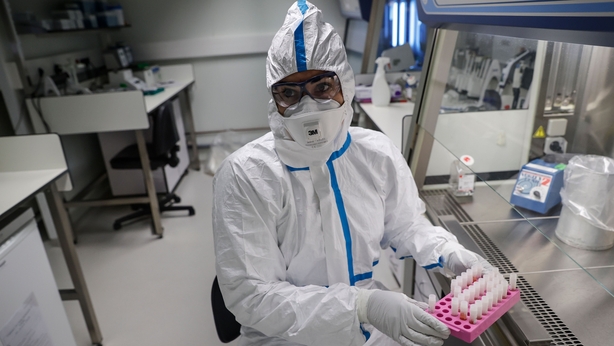 The coronavirus outbreak, which first emerged in China late last year, has quickly marched across the globe, infecting nearly 200,000 people and killing 7,900 as governments scramble to contain it.
But Ms von der Leyen rejected the language of French president Emmanuel Macron, who likened the outbreak to war this week, and ordered almost the entire population to stay at home for at least two weeks.
"I will not personally use that term but I understand the motivation of the French president as the coronavirus is a worrying enemy."
Germany's economy minister Peter Altmaier said the United States under Donald Trump had taken the threat of the virus even more lightly.
"The outbreak of the crisis was probably underestimated even more so in the US than in some countries in Europe," Peter Altmaier told Germany's regional press group Funke.
"That is the reason we very much hope that the US will manage to control the situation, also in our own interest," he added.
"No-one hopes that the US economy would fall into an uncontrolled recession."
Additional reporting AFP