Tánaiste and Minister for Foreign Affairs Simon Coveney has stressed the need to fully implement stalled legacy mechanisms during his first official meeting with Northern Ireland's new secretary of state.
Mr Coveney and Brandon Lewis held talks at Stormont House in Belfast today, their first meeting after Mr Lewis was named new Secretary of State for Northern Ireland last week.
The deal that saw the restoration of powersharing in Northern Ireland included a pledge by the British government to legislate to implement a series of mechanisms to deal with the toxic legacy of the Troubles.
The measures have been on ice since they were first agreed by the two governments and the region's main parties in the Stormont House Agreement of 2014.
While January's New Decade, New Approach deal included a commitment to legislate within 100 days, the fate of the structures remains uncertain as the British government comes under pressure from backbenchers over a proposed new investigations unit whose remit would include the actions of military veterans.
There was speculation that former secretary of state Julian Smith was sacked by Prime Minister Boris Johnson over this issue.
Last week, in his first full day in the job, Mr Lewis insisted he was committed to implementing the Stormont House proposals.
After their meeting, Mr Coveney described the exchanges as "good and cordial" and said Mr Lewis was someone who was "easy to get along with".
He said he raised the issue of outstanding legacy mechanisms and stressed the need for action.
"Like his predecessor, it's really important that the two governments work together closely on a lot of very awkward and difficult political issues," said Mr Coveney.
"A number of the domestic challenges here in Northern Ireland I think are going to be very challenging for the new Secretary of State and I want to work with him on that, in particular in relation to legacy - the legacy of the past, how we deal with that.
"We have an agreement of course - the British and Irish governments in Stormont House.
"And I spoke to him today about the need to implement that agreement in full and I think we're going to work on that."
The visit comes weeks after Mr Coveney helped secure the New Decade, New Approach deal with Mr Smith.
Tánaiste @simoncoveney met this evening in Belfast with new Secretary of State @BrandonLewis.

A good discussion covering the recent deal to return devolution to Northern Ireland and restoring all institutions of the Good Friday Agreement. pic.twitter.com/3e1jTmWVZZ

— Irish Foreign Ministry (@dfatirl) February 21, 2020
---
Read More:
Johnson read and signed off on Stormont deal - Smith
Brandon Lewis named new NI Secretary of State
---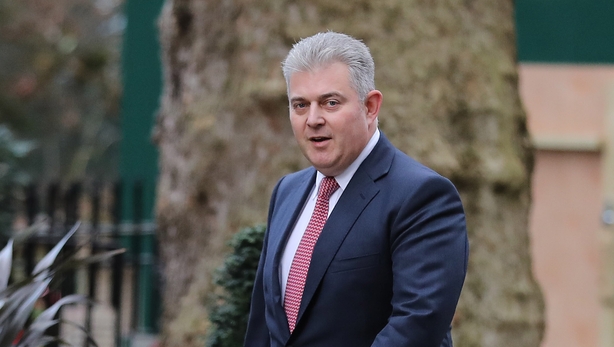 Mr Lewis takes up the post as the British government prepares for life beyond Brexit.
Two days ago the announcement of its plan to halt the arrival of low-skilled, non-English speaking immigrant workers set off alarm bells in many sectors of Northern Ireland's economy.
The chief executive of a Northern Ireland-based business association said that the new rules for migrant workers seeking to enter the UK after Brexit are "unfair" and a special arrangement needs to be put in place for Northern Ireland.
Newry and Mourne Enterprise Office CEO Dr Conor Patterson said that with full employment in Northern Ireland there is a labour shortage with hundreds of job vacancies in healthcare, hospitality, processing and manufacturing sectors.
Speaking on RTÉ's Morning Ireland, he said those sectors rely on thousands of workers from across the EU citizens who have come to Northern Ireland to work and integrated well in communities.
He said there is concern those workers will no longer come and said with wages in the North "significantly lower than in Britain" it is an unfair system and "cannot work".
Dr Patterson said the business community welcomes the new political consensus in the NI Assembly.
However, he said representations about the concerns have been made, adding, "it is an open question as to how prepared the British government are to listen to us".
He said it is not enough to say "employers need to adjust" and that those people described as "economically inactive" are people who are not available to come into the labour force.
Speaking on the same programme, Mícheál Briody of Silverhill Foods - a family owned Duck processing company based in Emyvale, Co Monaghan - said the real practicalities of Brexit were now hitting their business.
He said they will take their employees who will be affected by the new rules through the administrative process from start to finish, and make sure they will not be left stuck.
"We do have a number of those workers, the way we're going to look at it is we will work with our employees and take them from start to finish through the process, we don't want them unduly worried about that admin work so we will resource that as required, so we've seen it coming, it's been well-flagged, but it's the start of the practicalities of Brexit hitting us now."
Mr Briody said for his business, the challenge to replace the workers locally would be difficult and there is a labour shortage along the border area.
He said they would be hoping that people who have jobs in situ would be given an amnesty and would be fast-tracked through, as they would not qualify through the salary or qualification level.
Additional reporting Tommie Gorman