The British government has published its new Fisheries Bill in parliament, which will govern access to UK fishing waters after the country leaves the European Union.
Boats from EU states will lose their automatic right of entry to UK waters from the end of this year.
A new licensing arrangement for non-UK boats will be introduced.
The bill also empowers UK ministers to negotiate fisheries agreements with the EU and other coastal states such as Norway and Iceland.
The UK will continue to collect data on the sustainability of fisheries and share this data with other countries to help protect species.
It will also include a legal requirement that all stocks are fished at sustainable levels.
The political declaration by the EU and UK on the next round of Brexit negotiations sets 1 July as the target date for agreeing a new fisheries deal between the EU and UK.
The UK will officially leave the EU at 11pm on Friday night.
---
Read more
---
British officials said the bill aims to ensure species such as dolphins are protected and bycatch of unwanted fish is reduced.
It will allow for management plans that are more tailored to the UK's mixed fisheries, where different fish stocks swim together, and that take into account the whole marine environment.
There are also measures on "climate-smart fishing" to consider the impacts of climate change on fisheries - which could see fish move or struggle in the face of rising temperatures - when managing stocks.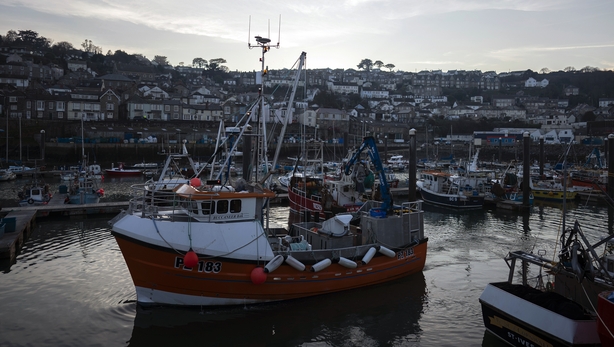 British Environment Secretary Theresa Villiers said: "This new Fisheries Bill takes back control of our waters, enabling the UK to create a sustainable, profitable fishing industry for our coastal communities, whilst securing the long-term health of British fisheries.
"Leaving the EU's failed Common Fisheries Policy is one of the most important benefits of Brexit.
"It means we can create a fairer system which will allow marine habitats to thrive, with new powers to support our fishing sector and conserve our wonderful Blue Belt at home and abroad."
Fisheries minister George Eustice said: "The Fisheries Bill gives us the powers to implement our own independent fisheries policy, improve our marine habitats and make decisions based on the health of our fish stocks, not vested interests.
"For many people in coastal communities, taking back control and leaving the Common Fisheries Policy is at the heart of getting Brexit done, and this Bill delivers for the environment, fishermen and the Union."
Additional reporting PA