EU chief Brexit negotiator Michel Barnier has met Taoiseach Leo Varadkar at Government Buildings to discuss Brexit just days before the UK leaves the European Union.
Mr Varadkar has made clear there will always be a place for the UK at the EU table if Brexit does not work out well.
The Taoiseach said it was important that the remaining member states continue to be united as "Team 27" in the next phase of negotiations with the UK.
"On Friday, the United Kingdom is leaving the European Union, we'll say goodbye to an old friend embarking on an adventure," he said.
"We hope it works out for them. But if it does not, there will always be a seat kept for them at the table."
Mr Varadkar said he was "ambitious" about the future EU/UK relationship but warned there was also a need for "realism".
"We need to start a new relationship between the EU and the UK on a firm and honest footing," he said.
"And that means a level playing field. This is very much in Ireland's interests, as well as that of the European Union as a whole."
The Taoiseach highlighted that the Withdrawal Agreement had ensured there was no hard border, free movement on the island of Ireland had been maintained and citizens' rights protected.
He said achieving a trade deal by the end of 2020 would be "very challenging".
EU chief Brexit negotiator Michel Barnier arriving at Government Buildings to meet the Taoiseach to discuss the next phase of Brexit #rtenews pic.twitter.com/JKfxvNESQE

— Dyane Connor (@Dyaneconnor) January 27, 2020
---
Read more:
Brexit a step closer as Queen approves Withdrawal Act
Hogan upbeat on EU-UK trade deal post Brexit
---
"Time is short and a negotiating mandate will be agreed at the EU Council in March, but we're up for it," he said.
"And we agree (himself and Mr Barnier) that it's important as ever that we enter the next phase united and in a positive spirit, and we do."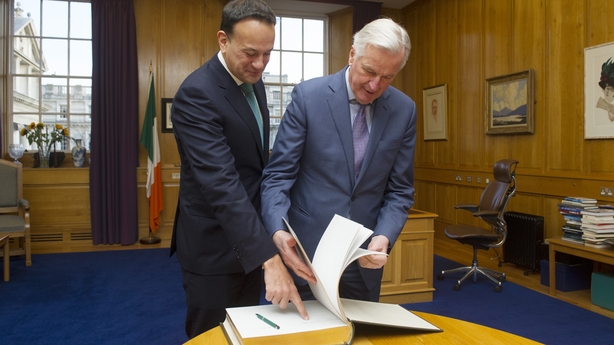 Mr Barnier said businesses still face the risk of a cliff edge Brexit at the end of the year given the short time available to negotiate a future trading relationship between the UK and the European Union.
"This negotiation is not usual because at the end of this year, the UK is leaving the single market, it is it's choice, it is leaving the customs union," he said at a press conference with Mr Varadkar.
"If we have no agreement, it will not be business as usual and the status quo, we have to face the risk of a cliff edge, in particular for trade."
Mr Barnier said he would present a draft negotiating mandate to the EU member states next Monday.
"Brexit is not going to go away," he said.
"We have some important work ahead of us. The protocol of Ireland/Northern Ireland now needs to be implemented in all its dimensions - we will watch over its implementation very closely.
"We also need to begin negotiations on our future relationship - an ambitious relationship with the UK. It's time for round two and time will be very short. We will maintain the EU unity, and we want to find an agreement that works in the interest of the whole EU."
Mr Varadkar said negotiations on the future relationship did not need to be a contest.
Asked about his comments that the EU would hold the upper hand in the talks, the Taoiseach said: "Ireland will be friends to the United Kingdom into the future, we want to be friends with our nearest neighbour.
"But there should be no doubt that we are on 'Team EU', we are part of the 27 and maintain solidarity with all the member states and European institutions that showed solidarity with us over the past two or three years."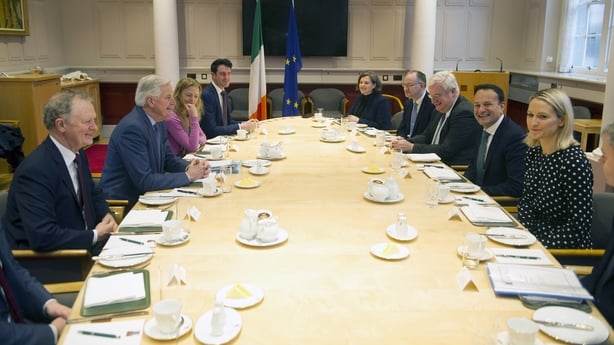 Mr Varadkar went on to deny that he used the words "upper-hand" in an interview with the BBC this morning.
"I think I used the term strong hand rather than upper hand, I think upper was your word but anyway. I won't be semantic."
Mr Barnier said the EU is not ready to ask for concessions nor ready to give concessions.
"The UK is leaving. It is their choice, it is not our choice. We have to first of all organise this orderly Brexit," he added.
He added that if no agreement is reached by the end of the year it "cannot be business as usual".
"We are to face a risk of a cliff edge, in particular for trade," he added.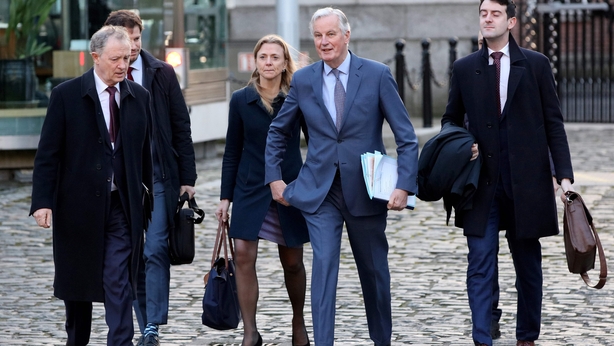 Mr Barnier traveled to Belfast for his meeting with Northern Ireland Deputy First Minister Michelle O'Neill and the DUP's Diane Dodds.
He will then go on to take part in a lecture at Queen's University.