As lockdowns due to the coronavirus crept across European countries last March, members of the Irish community in Barcelona learned that a St Patrick's Day event they were to attend was postponed just days before it was due to happen.
Zara Patterson, who is originally from Lisburn, Co Antrim, but living in Barcelona, Spain, for nearly 15 years, set up the event on the back of other sustainable food and wine events she runs.
The response to the St Patrick's Day event was very positive because, she said, the Irish community missed the food from back home. However, as the event drew nearer people were advised to stay at home because of the worsening pandemic.
"Three days before the St Patrick's Day event was happening, we got locked in our apartment in Barcelona and we were told not to leave, so I had to postpone everything. We spent two and a half months, pretty much at home."
Ms Patterson then set her sights on the event taking place in April, then May and eventually June. At this stage, it was almost three months on from the original date but people were still keen on attending.
"In the end, I did the dinner after we came out of lockdown in June. And it was the same people who booked who wanted to stay booked, they didn't want their money back," she said.
"They were like, 'We'll come whenever we can'. And that has been the gist of the Irish community, everybody is just trying to understand each other's situation and roll with it for as long as we can and I think that's been the attitude of a lot of people."
During the first lockdown, she began doing a lot more baking as it was something she found useful to pass the time with her young daughter.
As time went by and with restrictions remaining in Barcelona, Ms Patterson found that there was no guarantee around organised events and began looking for other ways of making an income.
In October she decided to go further with her baking and posted a message on a Facebook group which said: "Is anybody interested in wheaten bread for delivery?" Around 50 responses came, along with people asking if there were any other baked goods she had available.
Since the social media post, she has been making soda bread and scones most days of the week as well as orders of barmbrack during Halloween and mince pies for the Christmas season. A lot of her customers are part of the Irish community in Barcelona, mainly ordering soda bread and scones.
"One of the best comments that I've had, was when I started and I delivered wheaten bread to a family over across town. One customer said that when her son tried it, he said that it 'tastes like Nana's'. Which is really, really sweet because that for me is the affirmation that this is definitely a quality product that people are getting and it's making them feel more at home, basically.
"Another time these two different customers and their sons, who are actually best friends, both went to school with the same snack in their lunchboxes and when they opened them, it was my wheaten bread there, so they laughed about that."
Ms Patterson's new business venture, named 'Quer Bake', has given her the opportunity to meet more members of the Irish community than she would have beforehand.
"We have a curfew here so when it's my partner's turn to put the baby to bed, I go out on the moped [with the deliveries]. So I'm whizzing about the city that's kind of empty and meeting people from different parts of Ireland."
The name of the business was inspired by her granddad who was from Augher, Co Tyrone, as he used to say the word 'quare' a lot.
"It kind of means 'such' or 'very'. It's a positive or strong thing, really," she said.
The geographical origins of the word did not go unnoticed by one of her customers, who queried Ms Patterson where she was from.
"I went to deliver to this girl from Clones and the first thing she asked me when I opened the door was 'Are you from Co Tyrone?' She's from Co Monaghan and she knows that the word 'quare' is from Co Tyrone.
"I've got to the end of the year and I've now built this rapport with a whole new community and the whole thing is about expanding circles when you're building up a business.
"I'm looking forward to St Patrick's Day, hopefully I can run the dinner next year."
Online sports group helped Irish community during French lockdown
From March until May, empty streets in France also became a familiar sight for residents across the country.
The first lockdown there led to a small group of Irish people in Paris coming together with the aim of providing accountability and company during what was an anxious time.
The group was formed thanks to Jane MacAvock, originally from Dublin but living and working in Paris, who specialises in art history-related translations for galleries and museums.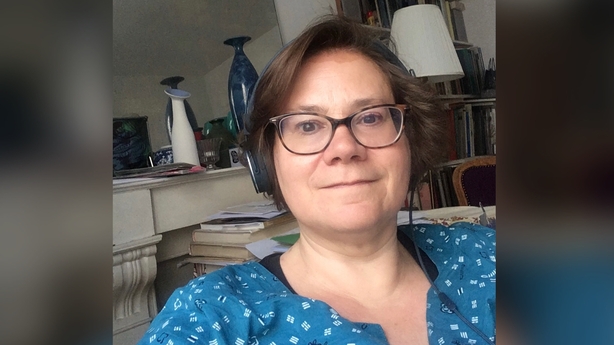 She said that from early to mid-March, anxiety due to the pandemic made the atmosphere in the French capital gradually worse. At midday on 17 March, the country entered a nationwide lockdown and Ms MacAvock found that daily contact she had with people outside her apartment was suddenly cut off.
"I started thinking 'Oh my God, what am I going to do?' Usually, although I work independently, I go to a library every day and have a lot of contact with people because I live alone and while I love living alone I do need - like everybody else - contact with other people."
Her simplified lockdown life began with the rearranging of furniture in her living room and a commitment to both practising yoga every day and learning Spanish. One of these did not go to plan initially.
"I did start my Spanish lessons, but I realised after the first week that I had done zero yoga and that I really needed external pressure and influence to do this.
"I'm a member of a large WhatsApp group for Irish women in France called Mná na hÉireann, and I put out a message to that group saying that I was having difficulties getting the motivation to do yoga every day and if there was anybody interested in doing sport simultaneously, that I would create a small WhatsApp group. And from that group, four other people sent me messages saying yes they would be interested."
What began then were daily check-ins, where the group would agree to do whatever sport they wanted at 6.30pm and follow that with a group call one hour later. The only change to their routine came at the weekends, when they changed the time to mark the fact that it was the weekend because they were all working from home.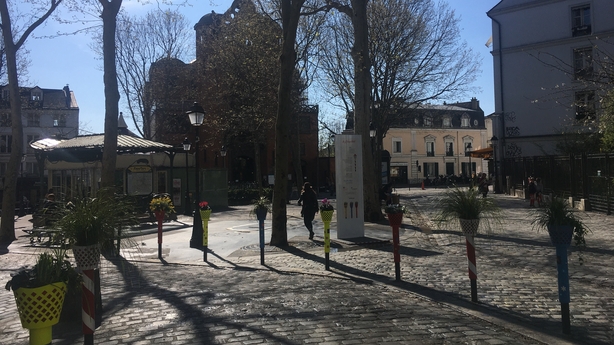 "There was something very comforting for me about the fact that we had this chat, this contact every day. I live alone in a small apartment, on a small street in Paris so I had no direct contact with other people.
"During the week we would do our sport at half-six, chat at half-seven and the conversation would stop and take a break at 8pm because at that time every evening during the first lockdown, people in France would clap for the health service workers. And it was quite funny because I would just plonk down my phone on my chair, stand out my window and clap - wave at the neighbours across the road and then we would resume our conversation."
This daily contact happened throughout the first lockdown, but fizzled out when it ended in May. However when France went into a second lockdown in October, the group kicked back into action although contact was every couple of days as opposed to the day-to-day routine they had the first time.
Ms MacAvock said that the sense of community she felt with other Irish women during the pandemic was a comfort for her. In normal times, she would mainly be in contact with French people and other nationalities through her work, but the abnormal circumstances which dominated 2020 found her relationship with Irish people in France coming to the fore.
"The fact perhaps that the women in this WhatsApp group were of a similar age, our experiences of growing up in Ireland would be the same and in fact we have all been in France for over 20 years.
"There's this extra level of comfort on WhatsApp with hanging out with the Irish, fellow compatriots and hearing an Irish accent as well which in my normal day-to-day life I don't hear very often.
"It's funny how a familiar accent can be very comforting at a time that is anything but comforting."
---
In the second of this two-part series, RTÉ News spoke to Irish people who are living and working abroad and who experienced a great sense of community with other Irish people during the coronavirus pandemic. 
Read Part One: Pandemic Abroad: Community spirit lifts frontline staff