"And the warders with their jingling keys
Opened each listening cell,
And down the iron stair we tramped,
Each from his separate Hell."
Oscar Wilde, The Ballad of Reading Gaol.
Prisoner number 74326 will have plenty of time over the Christmas and beyond in his "listening cell" in Portlaoise 'Gaol' to rue the mistakes he made in the USA in 2015 and 2016. He was to all intents and purposes clean away after committing one of the most shocking crimes in the history of the state.
The prisoner's fondness for drink however, and its ability to 'loosen the tongue' led to his arrest, extradition, conviction and a life sentence in circumstances that Oscar Wilde described as "his separate Hell" more than a century ago.
Aaron Brady had a well paid job in construction in New York, an apartment, friends, a girlfriend, a baby on the way and an active social life. He was, according to the US undercover agents who had him under surveillance there, cautious and clever. He would not engage with them as strangers as they tried to befriend him on his journeys to work.
However the 29-year-old grew complacent in America and let his guard down. He got drunk and sloppy, melancholy and vocal. 'In vino veritas' (under the influence of alcohol, a person tells the truth) and in a combination of bravado and self-pity, he boasted on the one hand about how he was the most feared man in Ireland while on the other lamenting how difficult it was for him personally to live with the knowledge that he had "shot a cop."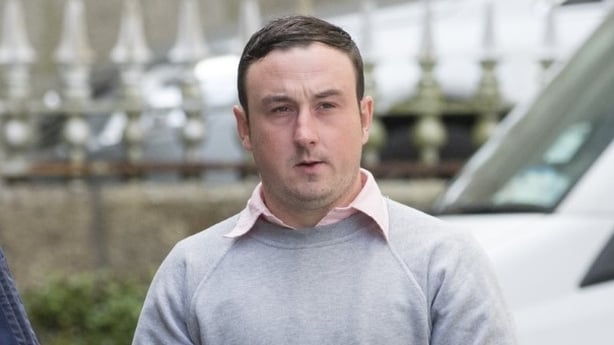 Seven years later those words came back to haunt the man who Mr Justice Michael White pointed out gave Detective Garda Adrian Donohoe no chance. Armed with a loaded pump action shotgun, Brady ran at the Garda escort car during an armed robbery at the Lordship Credit Union on the night of the 25 January 2013 and without warning, shot the married father of two in the head, killing him instantly.
Brady was on bail at the time awaiting sentence for ramming a taxi and a garda car. He needed the money to pay compensation to avoid going to jail but he and his gang of cross border violent criminals got away with just €7,000 that night.
Brady lied several times to the gardaí investigating the murder and got his then girlfriend, her friend and one of his flatmates to also lie for him before fleeing to America. The investigation into Adrian Donohoe's murder then took on an international dimension.
The gardaí followed him across the Atlantic and with the help of US Homeland Security identified two witnesses - Molly Staunton and Daniel Cahill. The former girlfriend of one of Brady's flatmates and the barman at the pub where Brady drank told a Dublin jury earlier this year, of Brady's boasts about his reputation for violence and his drunken upset at the capital murder.
Their evidence was crucial in securing his conviction. Five other witnesses did not testify because of intimidation. This included the circulation on social media of one person's garda statement with text calling him a "rat" and accusing him of "touting" on his friends. Brady was one of seven people arrested as part of the ongoing garda investigation into what the trial judge called "the most outrageous contempt of court" he had seen in his career.
Brady was locked up this year in the country's maximum security prison, the same one used for many of the country's most wanted and dangerous criminals. They are members of the Kinahan organised crime group and like Brady, they too have been as some might say 'hoist on their own petards' - damned by their own words and deeds.
The gardaí of necessity, have become more sophisticated in dealing with organised crime. They have set up special units staffed with skilled men and women who are better armed, better trained, better equipped and more technologically aware.
The gardaí are now doing to organised crime groups including the Kinahan gang what the FBI was doing to the Mafia years ago; bugging their homes, phones, cars and meeting places and convicting them on their own words.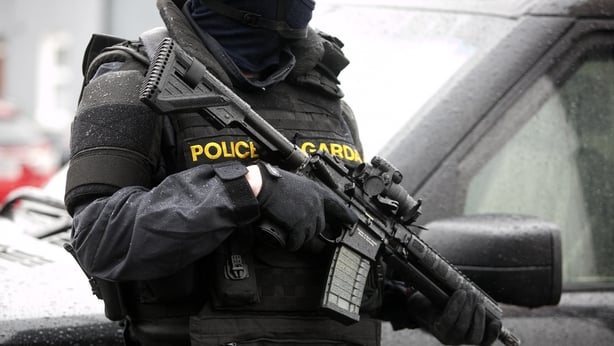 Five members of a nine-man Kinahan sub group were jailed this year. It was set up to murder Patrick 'Patsy' Hutch, the brother of Gerry Hutch the leader of the rival Hutch organised crime group.
In spite of the fact that the on the ground director of this group, Patrick Curtis, used an encrypted phone which he might have thought protected him from police interference, gardaí still accessed his private messages which proved decisive in court. This was because Curtis was afraid he wouldn't remember his instructions before they disappeared off the phone and was naïve enough to photograph them with his regular phone.
"We need a new car, the van will have to be in the night before," was one of the instructions on Curtis's phone. "No stupid chases, you have to be back in the van at 6.50pm and this has to be military."
"The job is to be done on Wednesday morning" referred specifically to the plan to murder Patrick Hutch.
Now 38 years of age Patrick Curtis finds life difficult in Portlaoise prison. Aaron Brady may not be aware that his fellow inmate has been diagnosed with excessive compulsive disorder and irrational behaviour or that he has an extreme reaction to enclosed spaces.
Patrick blesses himself sixty times a day to try to soothe his fears. He suffers from claustrophobia, tense anxiety, obsessional and depressed thoughts.
The presence of his younger brother in the same cell in the same prison helps. Stephen was also part of the same gang and acted as a supervisor. However Stephen didn't have the same faith as the Kinahan leadership in his older brother's abilities as director of operations.
"He gets it wrong all the time," Stephen said to one of the other gangsters Michael Burns, also jailed this year. "He always gets it wrong."
Stephen also questioned his brother's decision to select the Costa coffee shop in Santry in Dublin as the gang's meeting place. It was, Stephen said, "packed with coppers". He was right. Some of those "coppers" were secretly recording his and the rest of the gang's conversation, gathering the evidence that put them all in jail including five other men who made up two separate hit teams.
This year for the first time the Special Criminal Court publicly identified the Kinahan organised crime group and established as a finding of fact that it is "involved in serious criminal offending, including the organisation and execution of execution-type murders".
"These killings," Mr Justice Tony Hunt said "are planned and executed in the context of feuds with other such organisations... to protect the core activities of the organisation...primarily organised drugs and firearms trafficking on an international scale."
The presiding judge has also throughout these cases highlighted the "cynicism of the Kinahan organised crime group" which he says has "preyed" on these"disposable foot soldiers".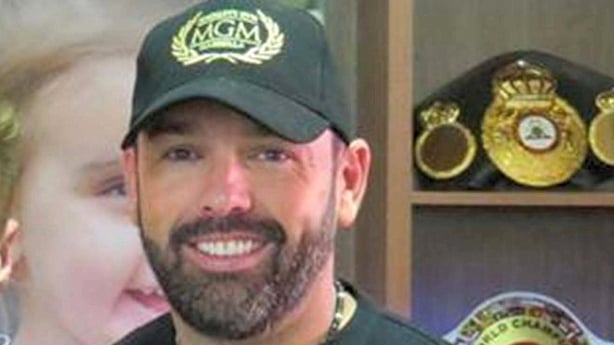 It's more than two years since Daniel Kinahan was identified in the High Court in Dublin as a senior figure in organised crime on a global scale. The Criminal Assets Bureau said he "controlled and managed" the operations of the Kinahan crime group, a contention he has never publicly repudiated or contested in court.
The 43-year-old lives in Dubai, a world away from the streets of Dublin where 15 of the 18 Hutch-Kinahan feud related murders have been committed. The last time Daniel was in the capital was for the funeral of his friend and fellow gangster David Byrne, who was shot dead at the Regency Hotel in February 2016 in a murder that escalated the bloodshed.
Daniel is also a close friend of David's brother, Liam Byrne, the leader of the Byrne organised crime group. This family-based criminal gang is the Irish branch of what the High Court found to be the "wider international" Kinahan crime group.
Ms Justice Carmel Stewart found that Liam Byrne was "a trusted lieutenant of Daniel Kinahan and the Kinahan Organised Crime Group." Her judgement resulted in the loss to the criminal organisation of €1.4 million of criminal assets. These include houses, luxury cars, high-end jewellery, diamond rings and Rolex watches, all deemed to be the proceeds of crime.
Liam Byrne has, like his friend Daniel left the country and remains free. Other senior Kinahan gang figures who were with the two of them at David Byrne's funeral have not been so lucky.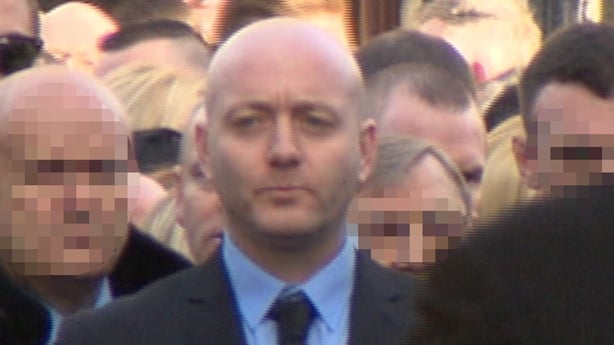 40-year-old Freddie Thompson (above) is serving life in prison for one of the feud murders. 53-year-old Declan Brady (aka Mr Nobody) is serving eleven and a half years for managing and running an arms storage and supply facility for the Kinahan crime group in a business park in Rathcoole, Co Dublin.
Most significantly perhaps is the jailing of the man whom the gardaí say is the number two in the Kinahan gang's hierarchy. Thomas 'Bomber' Kavanagh is currently in prison in the UK along with two other senior gang members awaiting sentencing after they all pleaded guilty to drugs and money laundering offences.
The convictions are linked to the seizure of €5.5m worth of drugs in Dover in the UK in 2017 and follow up searches which resulted in the seizure of a gun, ammunition and a quarter of a million pounds in cash.
Originally from Drimnagh in Dublin, 'Bomber' Kavanagh is Liam Byrne's brother-in-law. He lived with his family in €1m mansion in Tamworth, a quiet, settled part of middle England. His home was heavily fortified with bullet-proof glass and covered by an extensive series of CCTV cameras which were monitored from the house.
The 51-year-old had access to a fleet of expensive cars and kept an Audi R8 Spyder in the driveway. He took regular holidays abroad. He spent Christmas in Mexico and two weeks in Dubai Disneyland, in the same city where the gang's leadership is based.
Daniel Kinahan has always kept a low profile but in an unusual move this year he surfaced very publicly as a boxing advisor. In a video posted online the WBC heavyweight champion Tyson Fury thanked Kinahan for his role in setting up what would be the most lucrative boxing match in history.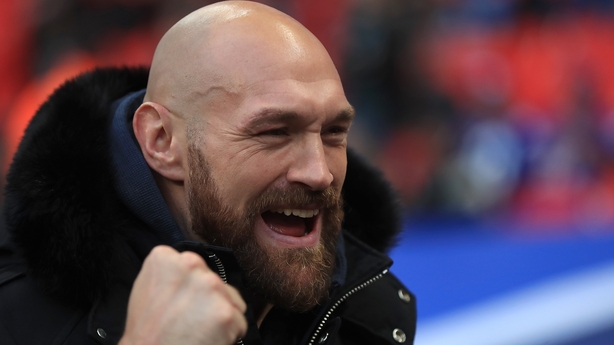 The boxing promoter Eddie Hearne said last June the two heavyweight champions, Fury and Anthony Joshua had agreed a two-fight deal. Joshua holds the three other heavyweight titles, the IBF, the WBA and the WBO belts.
A fight between Tyson and Joshua would unify the world heavyweight boxing titles, establish one undisputed heavyweight world boxing champion and be the most lucrative fight in history.
The Boxing promotor Bob Arum also announced that Kinahan, or "Dan" as he called him was "in effect our advisor regarding the Mid East". The man who worked with boxing legends like Mohammad Ali was effusive in his praise of Kinahan. "He's one of my favourite guys. I like to deal with guys, no nonsense people, whose word is their bond."
This was followed by comments from Sandra Vaughan, the then CEO of MTK, the company set up after Kinahan's boxing promotions company MGM was dissolved. She came out to express her gratitude to "Daniel" for recommending fighters, including Tyson Fury, to MTK. All of a sudden, Daniel Kinahan had reputable friends in key sporting positions publicly praising him for his business acumen and character.
---
Read more: Daniel Kinahan 'reinventing' himself as boxing promoter
---
Gardaí recognised Kinahan's attempts to promote and enhance his reputation in boxing and in the Middle East as part of a strategy to portray himself as a sports promoter. The strategy also involved the use of online music and video.
First there was the release of a rap video which made bizarre claims about the Government, the gardaí and the media in relation to the murder of David Byrne at the Regency Hotel.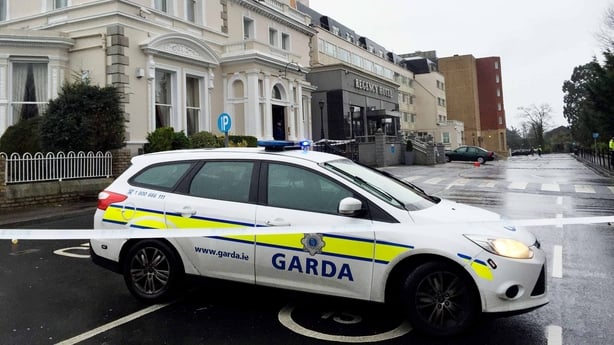 Then there was a 15-minute slick, professionally produced and dramatic film about the murder released on YouTube. It was packed with what investigating gardaí describe as fictions, false and unsubstantiated allegations.
Daniel Kinahan is played by a handsome actor and portrayed as a person who was worried at the boxing weigh-in that day because there were no gardaí around and "boxing fans and their families there to enjoy themselves were now at risk."
The idea that a senior figure in organised crime was disturbed by the absence of a police presence or concerned about the welfare of others was laughable. The Minister for Justice at the time, Charlie Flanagan, called the film "grotesque."
The film was posted anonymously from the UK and the company that put it on that platform refused to say who made it or who asked them to circulate it. It said it took no responsibility for the content and also claimed not to know who the 'movie makers' are. It has since been taken down from YouTube following representations from Independent News and Media, whose photographs were used without consent.
However Daniel Kinahan really hit the big time when KHK Sports announced that it had appointed him as a special advisor. The company which is involved in boxing and mixed martial arts was founded in 2015 by His Highness Sheikh Khalid Bin Hamad Al Khalifa, the fifth son of King Hamad, the ruler of Bahrain.
Daniel had a lot to say in the press release marking the announcement. "The sky is the limit," he enthused. "The only way for the sport to truly grow and be accessible to all, is to make it a truly global sport and this partnership will ensure that boxing is accessible to all in the Middle East and open the region to international opportunities."
Kinahan now had the endorsement of a state backed organisation. There was strong criticism from, among others, Labour's Alan Kelly and Fine Gael's Neale Richmond. It was time for the authorities here to intervene.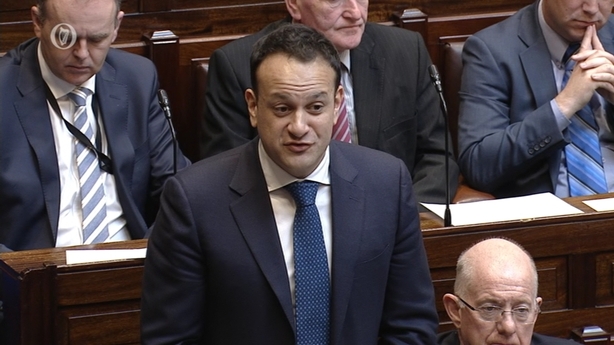 The Taoiseach announced in the Dail that the Department of Foreign Affairs had contacted the authorities in the United Arab Emirates about Daniel Kinahan. Leo Varadkar admitted he was rather "taken aback" to see Tyson Fury in his video just dropping "that name that you mentioned as if this was somebody who did not have quite a chequered history in this state and elsewhere."
Five days later, Kinahan's association with KHK ended. The company issued a statement saying it had "discontinued its engagement with Daniel Kinahan and he is no longer an advisor" to the company. The decision was confirmed by the government information service in Bahrain.
Daniel Kinahan has been relatively quiet since then but Anthony Joshua's victory earlier this month over the Bulgarian Boxer Kubrat Pulev has once again raised the prospect of a fight next year with between Joshua and fellow Briton Tyson Fury. It is not clear what role Fury's advisor Daniel Kinahan will have in such a title fight.
However it has also emerged that Daniel is being sued in a civil case in the US by the boxing manager Moses Heredia after he and MTK allegedly signed the IBF Super Featherweight title holder Joseph "JoJo" Diaz while the boxer was still under contract. Heredia claims in 32 pages of court documents that Kinahan "continues to arrange boxing matches" which are "steeped in money obtained from drug trafficking proceeds."
The documents which have been submitted to the US District Court in California identify nine separate causes of action, including four alleged civil breaches under organised crime legislation. Heredia Boxing Management alleges it suffered injury under the Racketeering Influenced and Corruption Organisation (RICO) Act. Kinahan and the other defendants have not yet indicated a defence to the claims.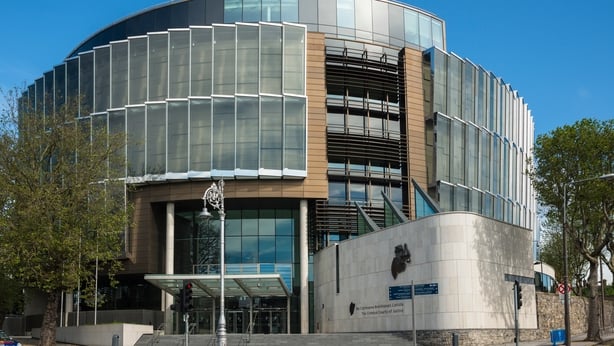 Daniel Kinahan is still living in Dubai as is his brother Christopher and his father, Christy senior as another Kinahan gang gun for hire is jailed at the Special Criminal Court. Trevor Byrne, from Cappagh Road in Finglas in Dublin, first contested the firearms charges but changed his plea to guilty in the middle of the trial.
The 40-year-old Kinahan gunman who has forty previous convictions previously served eight years for an armed robbery during which he held Gardai at gunpoint and hijacked a patrol car. He was also arrested and questioned about the Hutch Kinahan feud murder in 2016 of rival gang leader Gerry Hutch's brother Eddie.
Byrne was caught with a loaded 9mm Polish pistol as well as a magazine for the weapon, a holdall bag, gloves and a balaclava. He also had over €3000 in his pocket. The father of three children, one of whom he hasn't seen, was jailed for nine years.
Trevor Byrne is the 40th gang member to be convicted and jailed for Kinahan feud related crimes in the last three years in Ireland, the UK and Spain. 11 more have been charged and are awaiting trial before the courts, the most recent two days before Christmas.
36-year-old Colin Slater, from Carnlough Road in Cabra in Dublin, was charged with the murder of Michael Barr who was shot dead in the Sunset House pub in Dublin on 25 April 2016. He has been remanded in custody.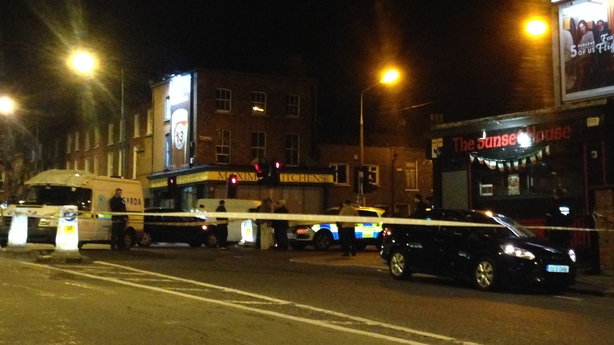 Over €30m in cocaine alone has been seized this year along with €17m in cash, the highest figure ever. Kinahan money laundering operations have also been broken up, arms dumps and armouries discovered and houses, cars, jewellery and designer clothes and handbags seized. Gardaí say, however, the threat from the criminal gang remains.
There has been one gangland murder in the State this year, that of a child who cannot be named for legal reasons. The murder is linked to the ongoing feud in Drogheda. One man has been charged with the child's murder and is currently before the courts.
This unprecedentedly low figure can be attributed to a combination of successful garda operations and the difficulties gunmen and drug dealers are having moving around in the restricted Covid-19 environment where their activities are more likely to be noticed.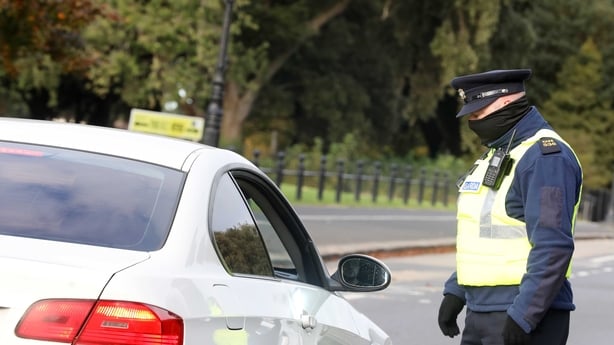 The drop in the gangland murder rate for 2020 is stark. Last year (2019) there were ten gangland murders, seven in each of the two previous years and in 2016, the year the Hutch-Kinahan feud dramatically escalated, there were 18 gangland murders, half of them feud murders.
There hasn't been a Hutch-Kinahan feud murder in almost three years since Jason 'Buda' Moyneux was shot dead in James Larkin House, a Dublin north inner city flats complex, on 30 January 2018.
Victims' families have understandably, been slow to publicly speak out against the Kinahan gang. One notable exception this year has been the family of Michael Barr, the eighth feud victim. David Hunter, a hired killer from the UK was sentenced in November to life in prison for killing. Michael's father Colin described it as "a good day" for his family and insisted that he wasn't afraid of the Kinahan gang.
"These boys need to know there are consequences for life, that they will have to pay a price," he said. "We know who's behind this, everyone knows and people are prepared to take money to take a human life. I have no fear of them,they can do what they want."
The Barr family's response to the court's ruling this year is in marked contrast to the devastation experienced by the Byrne family last year following the collapse of the trial for the murder of their son and brother David. Patrick Hutch Junior was accused of the murder but in the middle of proceedings the charges were dropped and the 27-year-old, who had pleaded not guilty, walked free.
"All I wanted was justice for my child. What can we do? Where can we go?" David Byrne's mother Sadie asked afterwards. "The police don't want to know. The papers don't want to know. No one wants to listen to me. Nobody."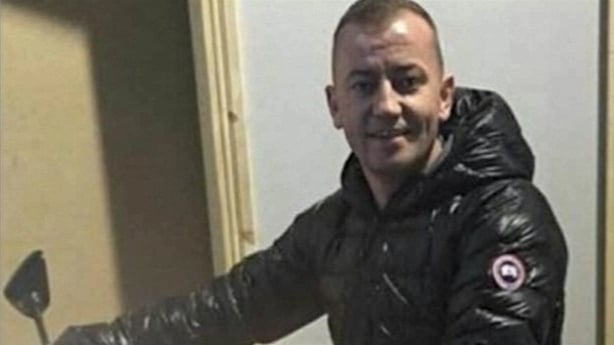 Nobody has been convicted of the murder of David Byrne (above) at the Regency Hotel in 2016 and no charges are pending against anyone.
Kinahan gangsters also made Irish criminal justice history this year. Patrick Curtis became the first person to be convicted and jailed in Ireland for the offence of directing the activities of a criminal organisation. The hitman, Mark Capper, became the first person to be publicly named in court as a Kinahan gang member.
Both men are however indicative of the type of people identified, cultivated and recruited by criminal gangs, particularly the Kinahan gang. They are broke, incompetent and dispensable.
"The risks", as Mr Justice Tony Hunt pointed out, " are subcontracted to vulnerable, desperate and foolish individuals….. and for very little gain".
However even the Kinahan' gangsters serving the longest sentences, life in prison for feud murders, have a better chance of getting out of prison before Aaron Brady. His family say he did not get justice and claim to have evidence proving his innocence.
However it's not clear what that evidence is and they didn't produce it during Aaron's trial. The Brady family only made this claim of 'injustice' outside on the steps of the Courts of Criminal Justice on the day their son and brother was sentenced to a minimum of forty years in prison.
Aaron Brady has also lodged an appeal against his conviction. It will be heard at the Court of Criminal Appeal.
Gardaí point to the propaganda similarities between the 'justice for Aaron Brady' campaign and 'the reinvention of Daniel Kinahan.' The public remains to be convinced of the merits of either campaign and so far neither has had much success.
In the meantime the 29-year-old convicted garda killer remains in his cell in Portlaoise Prison. He can however still see and speak to his family something he has forever denied to the family of Adrian Donohoe.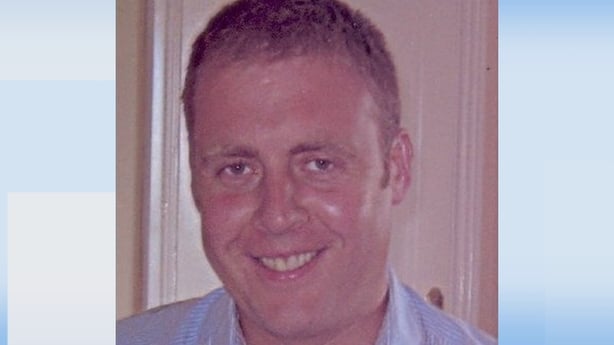 As Adrian's sister Anne remarked in her victim impact statement on the day last October Aaron Brady was sent to prison for life, "I don't think Aaron Brady will ever comprehend what he has done to our family."
And even if he's granted the full 25% remission for good behaviour, the south Armagh man has 30 years to come to some understanding of the gravity of what he has done.