Despite knowing that Covid-19 was going to hit New York at some stage, having observed the spread of the virus in Europe, Dr Noelle Breslin began to realise last March just how serious the situation was going to be on her way to work.
"I think one of the times I realised 'Oh, this is getting bad', was when I was walking into work one day at 6.30am and this huge truck was outside the hospital just packed with huge oxygen tanks," she said.
For Dr Breslin, who is originally from Donegal town but living in New York since 2015, a new workflow was needed to be put in place by herself and her colleagues at the Columbia University Irving Medical Center, in order to protect themselves against the virus.
New York was the epicentre of the virus in the US last spring and in time, Dr Breslin and her colleagues in the labour ward learned that even though they were not based in intensive care, where Covid patients were being treated, they were being exposed to the virus while treating patients who were asymptomatic.
"So it meant that during our time in labour and delivery, a lot of staff had been exposed to Covid-19 unknowingly, I guess. And that was a source of huge anxiety to us," she said.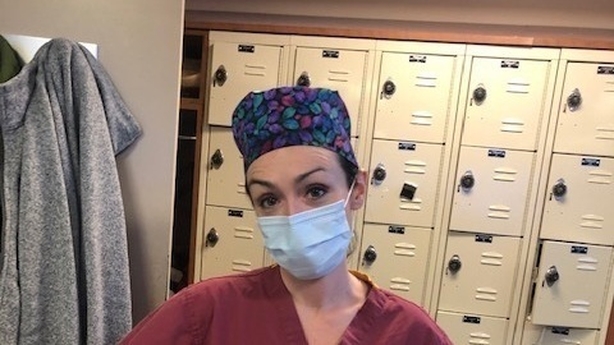 The hospital then decided to carry out coronavirus tests on all patients they had, and not just the ones who had symptoms.
"From doing that, we realised that one in seven people presented to our labour ward were positive for Covid-19. So that was a huge change in how we manage people."
In order to protect themselves and care for their patients, PPE was worn by staff at all times which, inevitably, led to a shortage in supply - this was on top of a huge global demand for them.
"A lot of our PPE supplies would have come from China or abroad, and now there was a worldwide need for them so we were facing shortages in that and I think that that was a huge source of anxiety for all of us - just to be able to care for our patients properly and also care for ourselves," Dr Breslin said.
Among the vital equipment that were constantly used by hospital staff were N-95 masks and surgical gowns.
Such was the demand that the reuse of some masks became very common practice during the height of the pandemic.
Dr Breslin says that while there were enough PPE to get by in the early days of the pandemic, uncertainty over just how long this would last lead to a call for help.
A GoFundMe page was set up by her and she also put a call out on WhatsApp groups, which was picked up by other Irish people living in New York.
"Like most people, I'm in a couple of WhatsApp groups and one of them is with Shaunagh Connaire, who runs the Media Tribe podcast, and a bunch of Irish-American people here in New York.
"Shaunagh posted on her Instagram and she was contacted by so many people from here and from home. One of the people who contacted her was the wife of a gentleman who runs a business in Brooklyn called Gotham Dry Wall, with two other Irish men."
They thought it was so generous of people from the Irish community to donate to us and they were really delighted.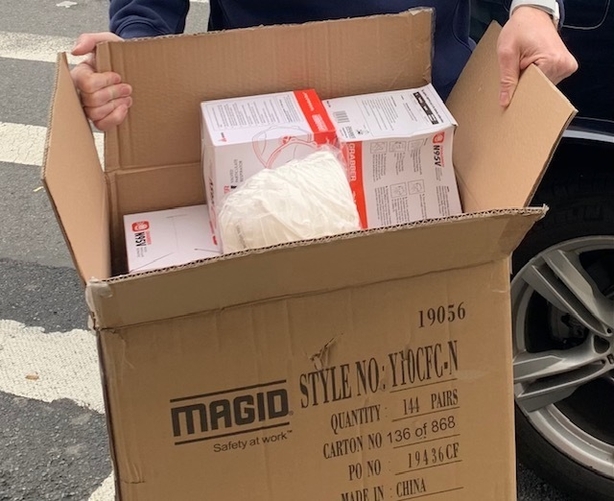 Michael Coyle, along with his colleagues John Fitzpatrick and James Dolan, offered 400 face masks not only to the hospital Dr Breslin worked in, but also other hospitals in Brooklyn.
"It was like as if Santa came early for us," she said.
Another donation of masks was made a couple of weeks later, and Dr Breslin said that the generosity of the Irishmen came as a great surprise to all her colleagues.
"I think they were delighted, they called it my 'Irish mafia' - that I had some secret supply from the Irish mafia. But they couldn't believe it.
"They thought it was so generous of people from the Irish community to donate to us and they were really delighted. They said to tell them: 'Thanks so much - it means so much to us during this time.'"
The strong sense of community with Irish people became something that Dr Breslin experienced throughout the pandemic, which she says brought comfort to the challenges that she has faced and yet to face.
"People have contacted me over my social media to give their support and say that they are thinking about all of us on the frontline and I think that has been really lovely," she said.
To see the generosity of the Irish people - it's really heart-warming
"Other people have been saying that they want to try and meet up after the pandemic is over and they can't wait to all head to the pub together afterwards.
"Another thing was that I did watch the Late Late Toy Show a couple of weeks ago and to see the generosity of the Irish people - it's really heart-warming. Obviously I have experienced it first-hand myself, but to see it happening at home is just so nice and it makes me feel so proud to be Irish actually.
"It just makes the experience here a little bit easier to deal with to know that they have that community behind you - either at home or abroad."
"I mean, we are not over it yet, things are rising again here in New York but I think knowing we got through it the first time will help us go through it this time as well."
In the first of a two-part series, RTÉ News spoke to Irish people who are living and working abroad and experienced a great sense of community with other Irish people during the coronavirus pandemic.