When students began jumping subway barriers in Santiago in protest at metro fare hikes last October, nobody expected it would lead ultimately to an overhaul of the Chilean constitution.
Among those most taken by surprise was Chile's president Sebastián Piñera. On paper, his country's economic indicators were healthy with per capita GDP among the highest in the region. Upheaval like that seen in Venezuela had passed Chile by. He felt comfortable telling The Financial Times that his country was an "oasis" of stability in Latin America.
Within weeks of this positive assessment, riots had broken out in several cities across Chile, tanks were deployed on the streets, buildings were being burnt, protestors being shot and maimed and thousands arrested.
The UN COP25 Climate Summit, which was due to be held in Santiago, was moved to Madrid amid fears that stability may not have been restored by December. Under severe pressure, the government announced a package of measures to placate outraged citizens, but deeper reform was demanded.
Eventually President Piñera agreed to hold a referendum next April to allow the people have their say on a constitution to address the many inequalities in society.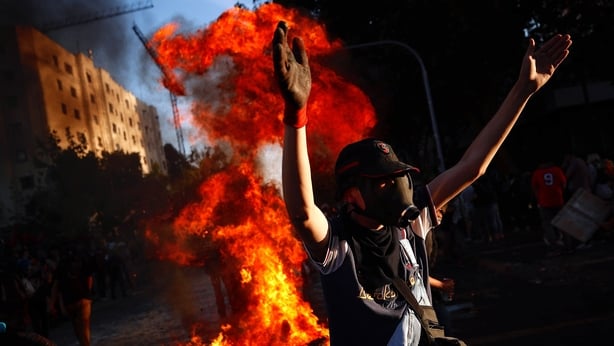 The metro-fares misstep and the government's reaction to protests at it cut to the heart of what citizens (some of whom paid 10-15% of their income on metro travel alone) had long suspected: The government had lost touch with their daily, difficult reality.
Bríd McGrath, a former NGO and government adviser from Co Tipperary moved to Chile about a year ago with her Chilean partner. They had just started a family in the lead-up to the riots in October. She recalls how quickly the whole situation blew up in the early days after metro protests started on 23 October.
"It happened really quickly from the morning to the night time the situation completely changed from localised metro protests to fires all over the city, to burning buildings, to burning supermarkets, to the army and the police all over the streets. It went from zero up to 100 in less than 12 hours."
We need your consent to load this rte-player contentWe use rte-player to manage extra content that can set cookies on your device and collect data about your activity. Please review their details and accept them to load the content.Manage Preferences
The cost of living in Santiago had surprised Bríd when she moved there. She wondered how such high prices were affordable for Chileans on low pay. As the growing protests showed, they were not at all affordable.
"Wages would be on average maybe one third of what they would be in Ireland. What I found, even having moved to Santiago relatively recently, [is that] the prices are higher than in Ireland. The only things that are cheaper are alcohol, taxis and fruit. Even your weekly grocery shop would be more expensive in Santiago than it would be in Dublin. Your purchasing power would be way lower than it would be at home.
"So, I could never understand how people - in Santiago particularly - could make ends meet. I just could not understand it and I could see then why they were working two or three jobs and doing nothing but working."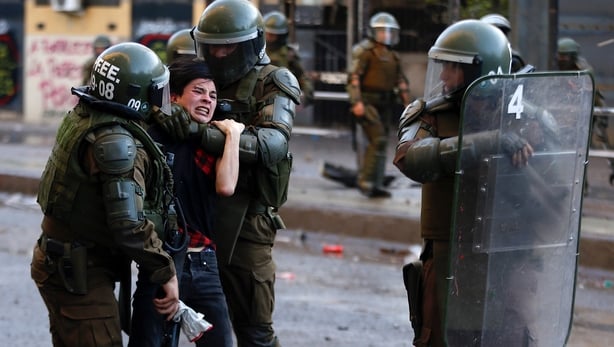 But it was not just the wage levels and cost of living that fuelled the anger, it was also stark inequality, says Ms McGrath.
"The inequality here is extreme. The top 2% in Chile is equivalent to the top 2% in Germany, money-wise. But the bottom 5% is the equivalent of the bottom 5% in Mongolia, so it's massively unequal.
"There's no sense of what a public good is. If you want any kind of a decent education you have to pay for it and pay handsomely. If you want any kind of a decent health service you have pay for it. So most public goods that we would consider universal are out of the reach of the normal person in Chile. There was no way that that was sustainable."
We need your consent to load this rte-player contentWe use rte-player to manage extra content that can set cookies on your device and collect data about your activity. Please review their details and accept them to load the content.Manage Preferences
When the metro protests started, the government response was clumsy. Throwaway remarks incensed the public, she added.
"In the very beginning, on that first day, everyone was in favour of the idea that they shouldn't increase the metro prices, particularly because government ministers said, even the day before 'Oh, but the flowers are cheaper - you can buy more flowers and be happy with that'. Or another minister said 'If you get up earlier in the morning the metro is cheaper'. So people were angry with that - and that has some resonance in Ireland."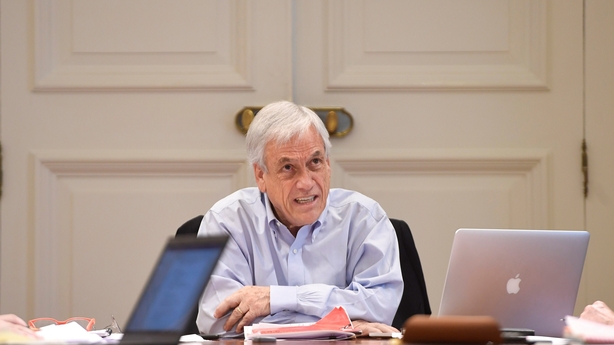 For McGrath herself, the scale of the protests and the security response meant her life and that of her new baby were in effective lockdown.
"We stayed in for at least three weeks because it was genuinely too risky to go outside. A friend of mine who lives near Plaza Italia and has a four-month-old baby now, she had to decamp to the north of Chile because her child couldn't breathe, such was the preponderance of tear gas.
"You really could not go out with a small baby into a volatile situation where you could hear the sounds of explosions at any given moment. There were sirens. I think tear gas was my great fear. It would be awful for a baby to encounter that. So essentially, for three full weeks we did not leave the apartment."
The high profile role of the armed forces in the government's response to the protests rang alarm bells with Chileans, for whom Augusto Pinochet - whose military dictatorship ended in the late 1980s - is a recent memory.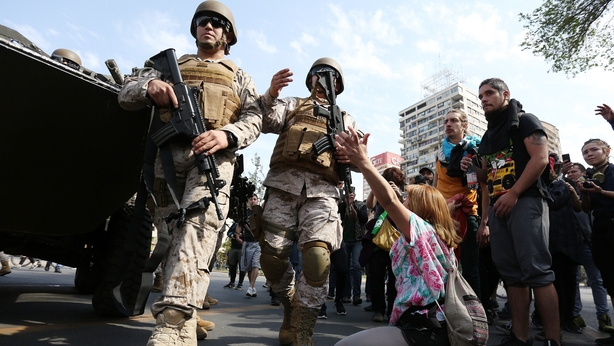 "The kind of turn in public opinion, I think, was when you could see on the news - every TV station turned to this crisis - and you could see the heads of the armed forces, the army, the air force, the navy, walking in in full uniform into La Moneda - the presidential palace - and the state of emergency being declared by Piñera - the president.
"The sight of those people walking into the presidential palace, whether you were alive for the Pinochet era or not, or whether you were even Chilean, that was chilling," says McGrath.
When the security forces made their presence felt on the street, even citizens whose sympathy for protests was hesitant because of violence and looting picked a side. By 25 October, the third day of protests, more people went to the streets.
We need your consent to load this rte-player contentWe use rte-player to manage extra content that can set cookies on your device and collect data about your activity. Please review their details and accept them to load the content.Manage Preferences
"People who wouldn't think of protesting got extremely afraid and angry at that point and said: 'No, this is not your state, Piñera, this is not the army and the police's state. This is our state and we're going to take it back'.
"That's when the movement became properly mainstream and became peaceful. That's when you could understand that the violence, such as it was, was really more young people, fringe elements, a little bit hyped by the media possibly, but that Chile was going to stand up against state repression."
Tanks on the streets amplified echoes of repression in previous decades too.
"That again, it's the folk memory. But it's particularly scary because ... there are protests, and the tanks will come; the water goes over all the protesters, the tear gas is used at all times with no difficulty whatsoever. That is a state in crisis if it cannot listen to its people ... But the reaction of a government when people say 'No more inequality' - to put those tanks on the streets, to shoot deliberately, to blind more than 200 people ... There are people going to work that are now blind because of the use of rubber bullets - that makes any right-thinking person very, very angry."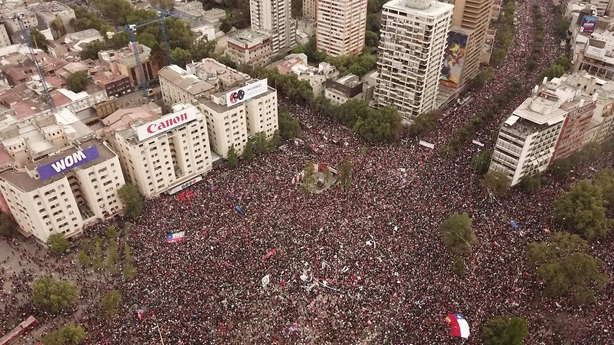 Pensions have been hiked by 20%, the monthly minimum wage raised by around $400 and the government backed off the metro hikes. But even with the promise of reform, accountability is still high on the agenda, says McGrath.
"Now, [the government] ultimately ended up listening to the people in agreeing to a new constitution and there is a process in place, but it's not over by any means. The state has yet to account for its crimes. 26 people that we know of - possibly more - some say more than 30 have died over the course of these protests so this is a conversation that Chile absolutely needed to have."