A six-year-old girl from Dublin is the latest recipient of a 3D-printed prosthetic hand from a team of students and staff at Technological University (TU) Dublin.
Eva Reynolds was born without her right hand and lower arm.
Her father Noel said: "It will give her more options if she wants to try different things, or use the arm for sports. She does a lot of sports like horse riding, gymnastics and kickboxing."
Eva's new 3D-printed prosthetic was made by 3D Assist Tallaght.
The charity was set up in 2015 by lecturer Robbie O'Connor.
"It takes about 20 hours to 3D print a prosthetic. We create a very simple mechanical device that allows them to open and close fingers by bending their wrist or elbow," said Mr O'Connor.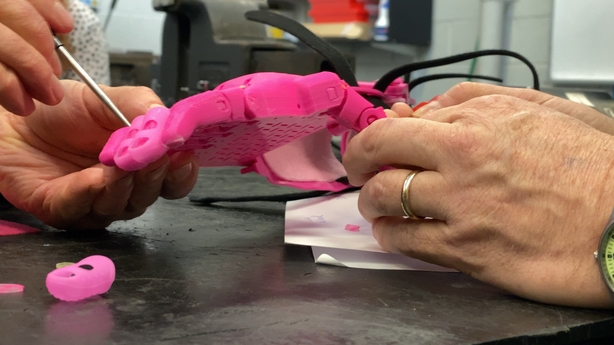 Each prosthetic is customised to suit each child.
3D Assist Tallaght has made more than 50 free prosthetic arms and hands, in a range of themes.
The group says the devices are cheap to make, with only €6 worth of materials required for each one.
"The kids love it. It's really about getting rid of that self-consciousness. It largely suits the smaller children hence why the theme is so important. It's something special to them. It gets them over that awkwardness, especially when starting school," said Mr O'Connor.
Eva chose a pink design for her prosthetic, with YouTuber JoJo Siwa's dog BowBow on it.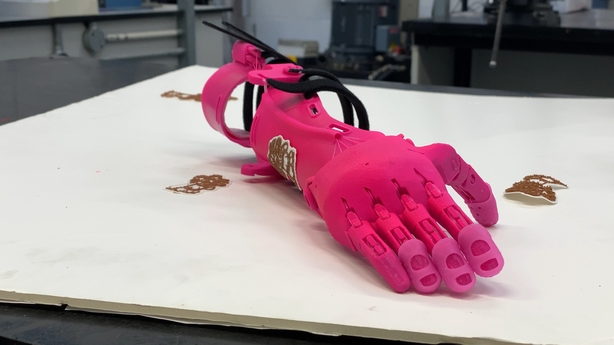 3D Assist Tallaght is part of the E-Nable community.
E-Nable is a worldwide community of volunteers who create free 3D-printed devices for children and adults who have wrists but no fingers or elbows with no wrist or hands.