A UK exit poll has projected a large Conservative majority in the 2019 General Election.
The exit poll suggests that British Prime Minister Boris Johnson's Conservative Party will win a majority of 86 seats in the general election, giving him the numbers in parliament he needs to deliver Brexit on 31 January.
Britain voted in a deeply divisive election that posed a historic choice between an imminent split from the European Union and another referendum that could scrap the entire Brexit process.
The exit poll showed Mr Johnson's Conservatives would win 368 seats, enough for a comfortable outright majority in the 650-seat parliament.
Labour were forecast to win 191 seats, the Scottish National Party 55 seats and the Liberal Democrats 13.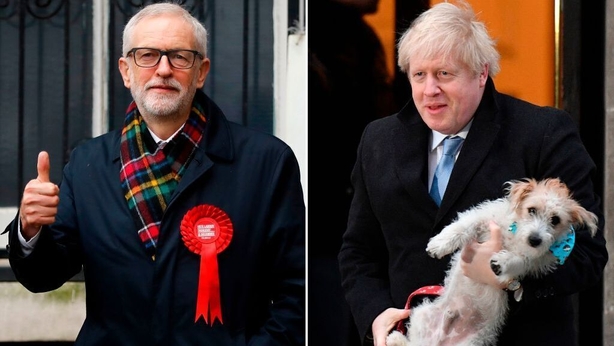 Labour, who had 243 MPs when parliament was dissolved last month, is forecast to have lost 52 seats.
Official results will be declared overnight and into the early hours of the morning.
If Mr Johnson's bet on a snap election has paid off, he will move swiftly to ratify the Brexit deal he struck with the European Union so that the UK can leave on 31 January - ten months later than initially planned.
The UK exit poll is projecting a large Conservative majority in #GE2019 pic.twitter.com/ydzOIzuVKp

— RTÉ News (@rtenews) December 12, 2019
The exit poll was produced by three broadcasters - the BBC, ITV and Sky - who teamed up to jointly produce similar surveys in the last three elections, held in 2010, 2015 and 2017.
In 2010 and 2017, their exit polls accurately predicted the overall outcome and were close to forecasting the correct number of seats for the two main parties.
However in 2015, it predicted a hung parliament when in fact the Conservatives won a majority, taking 14 more seats than forecast.
---
Read more:
---
In Northern Ireland, the DUP is hoping to return with at least the ten MPs it won in 2017.
A result that landed it a pivotal role as Westminster kingmakers and led to the confidence and supply deal with the last Conservative government.
Sinn Féin won seven seats at the last election and said it hopes to make gains, while the 18th outgoing MP, independent Sylvia Hermon, has stepped down.
The UUP, SDLP and Alliance are all hoping to make a return to the green benches in the House of Commons.