A conference on coercive control has heard that between 500 and 600 calls about domestic violence are made to gardaí every week in Ireland.
The conference also heard that following the introduction of new laws on coercive control last January, there are already cases before the courts.
The conference in Letterkenny was organised by agencies from both sides of the border to educate professionals at the front-line in dealing with domestic violence on one of the most pernicious and hidden aspects of the crime, coercive control, described as an insidious crime.
Almost 400 people drawn from An Garda Síochána, the Police Service of Northern Ireland, Tusla, the Health Service Executive and community and voluntary groups attended the conference to hear from a number of victims and support groups working in the field about their experience of coercive control and recovering from it.
A key aim was to encourage co-operation among all agencies involved and highlight how dangerous a crime coercive control is.
Following the new law, Supt David Kelly said that in Donegal, gardaí are investigating a number of cases of coercive control and there are now some cases before the courts in the county.
About 60 gardaí attended the conference and Supt Kelly said for them it is about learning more about what is involved in this crime.
We are all aware of domestic violence he said, but that is what is above the water, coercive control is what lies below.
Supt Kelly said gardaí will do their best to investigate coercive control and encouraged those who are suffering it to come forward and contact them.
He also emphasised the importance to the force of working closely with other agencies to tackle the crime.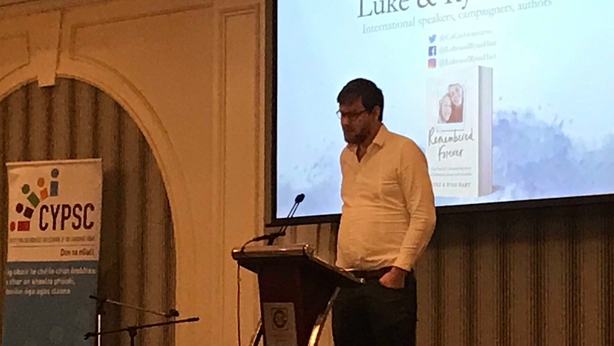 Sharing his family's tragic experience, Luke Hart, whose father murdered his mother, Claire and his sister Charlotte in Lincolnshire in 2016, said they did not consider themselves to be victims of domestic violence.
It was only in the police station after the murders that he and his brother Ryan saw a poster which outlined the warning signs that they realised they ticked all the boxes.
He said they hated their father - he controlled everything and even created poverty to control their mum. She, however, was very resilient and encouraged them to work at school so they could create better lives for themselves.
He and his brother were high achievers, he said, but they were emotionally and socially underdeveloped, they had shut down and were like little islands with no friends.
Nobody noticed though, because they were achieving so no concerns were ever raised by teachers or social services.
Mr Hart said coercive control is very hard to articulate, it is so complicated, insidious and like a list of non-criminal offences and he warned that there may be no actual violence involved until a sudden escalation to murder as in the case of his family.
One woman, "Anne", told the conference that she had gone from thinking she had found the love of her life to to a hellish situation mentally and physically.
She said she was very quickly isolated from her family and friends, was brainwashed, degraded and humiliated and in the first year, she said, she lost all sense of herself and her life revolved around this man, his needs and his wants.
"Anne" said she eventually escaped the situation and has been rebuilding her life but she still looks over her shoulder and she wants the professionals to know that when they meet women like her they appear distressed while the perpetrator appears calm.
It is all smoke and mirrors though, she said, nothing is as it seems, and if you listen closely to what the perpetrator is accusing the victim of, that is what he is doing. People need to listen to victims and believe them, she said.